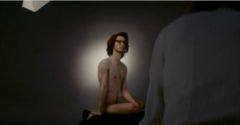 YVES SAINT LAURENT (France 2013) ***
Directed by Jalil Lespert
The film opens in 1957 with the camera on the back of a young Yves Saint Laurent (Pierre Niney of the Comédie-Française) as he sits at a desk working gazing out of the window. But the man is sketching dresses rather than writing and his elegant attire coupled with the antique furniture prepares the audience to an immaculately art and wardrobed designed biopic.
Lespert's stylish film traces the start of YSL's career just as Christian Dior passes on and wills him the prestigious spot of the one taking over the Dior house. His mental instability erupts but the film does wise not to dwell too much on this dark side of the designer genius. Laurent's drug use is also just shown in passing of him doing a line of cocaine. The film concentrates on the human aspects, particularly his relationship with his business partner, Pierre Berge (Guillaume Gallienne, also of the Comédie-Française). The love/hate relationship portrayed is typical not only of gay designers but of many gay couples - so nothing too much shocking here. Laurent is displayed occasionally as a spoilt child, but not without some good sayings: "Without inspiration, there is no life!" But the man's occasional foray into the dangerous zone is still scary. Lespert does well to end the film on a high note.
As expected, the film is not always easy to watch. But the designer gowns are gorgeous and the various shows are themselves worth the ticket admission price.
Young Pierre Niney is really good (and sexy, especially in the scene in his swimming trunks) as Saint Laurent and manages to carry the film's heavy tone from start to finish. Charlotte Le Bon (THE HUNDRERD-FOOT JOURNEY) has the role of Victoire, Laurent's model and muse.
There are no French films that made a commercial release this year except this one. Hopefully its deserved success will spurn more interest in French fare.