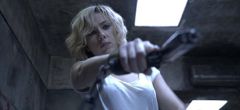 LUCY (France 2014) **
Directed by Luc Besson
Excellent premise and trailer that sadly does not transform into the exciting film that is expected of French Master Luc Besson. LUCY combines the femme fatale of NIKITA and LE CINQUIEME ELEMENT with the innocent Lucy (Scarlett Johansson) forced to transport a satchel of drugs sewn into her body. When her body absorbs some of the chemicals, her brains begin operating at higher capacity from over 10 % to 100% by the film's climax.
To tie in credibility to the plot, the script by Besson incorporates a character who is a professor and expert of brain neurology, Professor Norman (Morgan Freeman). As he lectures his students, the audience is fed cinematic sci-fi bullshit that somehow sounds credible to action movie fans. The audience is delighted then when Lucy uses her super powers to turn the tables on her enemies that include drug dealers, Korean thugs or anyone who stands in her way.
Besson is known for his cinematic excesses. One can become immune to them quite soon. After all the shootings, bloodshed and violence, the segment in which Lucy puts her hand into a carrier's body to retrieve another satchel of CPH4 hardly seems shocking any more. The film works better in the first third where there are lots of action with Lucy thrashing all her Korean captors. Once the film settles into its sci-fi component, the momentum slows down and interest wanes. It is worse when Besson begins displaying his style of philosophy on life, knowledge and the future. The last part of the film, a high adrenaline paced 2001 A SPACE ODYSSEY segment looks silly and does not really come off as believable or innovative. There are points that could have turned the film around. The sweet kiss Lucy plants on her French detective, Pierre Del Rio (Amr Waked) is not developed into any romance. Nothing is known too, about Lucy's family except for a brief call she makes to her mother. The reason she is abroad studying is just left hanging. (All is said in the film is that she has to study for examinations.)
Besson builds up the film's pace with Lucy's brain raging from 20% to 99% to final 100% utilization. But what occurs on screen, action-wise does not match the brain build-up.
Still it is entertaining fun to see an attractive lady (like Anne Parrillaud in NIKITA) kick butt. All else, like the rest of the film looks pale in comparison.
Trailer: https://www.youtube.com/watch?v=RnKVv8Lp_xU