VOLEUSES (Wingwomen) (France 2023) ***
Directed by Melanie Laurent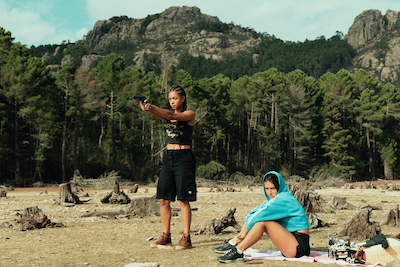 Action flicks are a dime a dozen, yet the female nation flick (think CHARLIE'S ANGELS) are still a rarity. The film opens with two gorgeous women in action in the midst of a diamond heist. The women, Alex and Carole are played by well-known international female stars Melanie Laurent (INGLORIOUS BASTERDS) and Adèle Exarchopoulos (L'HISTOIRE D'ADELE more commonly known as BLUE IS THE WARMEST COLOUR). A third reason to watch this film, star wise is the presence too, of Isabelle Adjani (first famous for Truffaut's L'HISTOIRE D 'ADELE H. In the first action, one will be definitely impressed by the introduction of modern weaponry in the form of drones pursuing the two women.
Alex and Carole, friends since childhood, are now (literally) partners in crime. But the heist to steal the Ingres painting The Grande Odalisque from the Louvre in Paris is too much for the duo to handle, so they bring in Clarence, a bureaucrat's son with a price on his head by a Mexican drug cartel and, more importantly, an arms dealer. Next is Sam, a stunt motorcyclist and boxer by trade, who proves trigger-happy with tranquilizer darts. Using soda can smoke bombs, rocket launchers, and hang gliders, Alex, Carole, and Sam set off a set of circumstances that results in a battle with the French Special Forces and their partnership, which was on the rocks, will never be the same again.
The film contains lots of impressive action set pieces, and though lacking in the emotional department, (relationships are brushed away as humor in the film), VOLEUSES or Wingwomen should entertain action fans - sans problem!
Trailer: