CINEFRANCO 2023 Capsule Reviews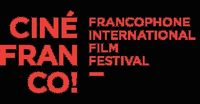 Paris is the city of Love. And L'Amour is the theme of Cinefranco 2023 a celebration of French and Quebec cinema in Toronto, courtesy of ever hard-working and cheerful directrice of CineFranco, Marcelle Lean.
Love in all its many shades runs through Cinéfranco 2023's lineup of 19 features and 2 shorts programs, spanning film genres celebrating queer love, romance, the comedic as well as the dark sides of love, odd couples, dynamic duos, and the unbreakable bonds of family. Also featured is a six-film Spotlight on the African Diaspora and 4 new Quebec features curated by La Tournee Quebec Cinema.
The fete runs from Friday, November 3 – Saturday, November 11 at the quaint and cozy downtown Carlton Cinemas. Cinéfranco 2023's program includes feature films exploring stories by Francophone filmmakers in Senegal, Congo, France, Tunisia, Belgium, Morocco, Quebec, Algeria and Ontario reflecting the diversity of the Francophone world. The festival also celebrates short filmmakers from Ontario, Quebec, and Cameroon with the return of the popular Courts toujours (In Short) programs.
"Love always" is the thread running through this year's film lineup", said Marcelle Lean festival founder and Artistic Director. "It's the life force that keeps us going especially in these dark and dangerous times and guides us towards the empathy we need to embrace rather than fear what we don't understand. After 26 years. it's a privilege to continue sharing the gems of Canadian and International Francophone cinema with our audiences."
The capsule Reviews include reviews of 4 films that were screened at Cannes, only one of which was picked by TIFF. Three of these films are nothing plain of excellent as are many of the other French films screened at CineFranco. My personal Favourite is Un Homme Heureux with Fabrice Luchini and Catherine Frot, providing laughter non-stop.
Capsule Reviews of Select Films:
(Screeners provided courtesy of Cinefranco)
L'AMOUR ET LES FORETS (Just the Two of Us) (France 2023) ****
Directed by Valerie Donzelli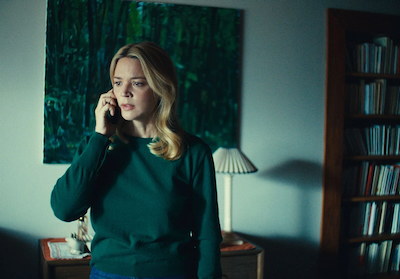 The French title translates to Love and The Forests which is more metaphorical than the English title of Just the Two of Us which sounds more like a comedy. Director Monzelli's film begins with the introduction of twin females as they discuss their love options, Blanche never expected but finds that she imagines the perfect man at a party her twin sister invites her to, They make love and before one can say family, they are married with two children. It seems like an idyllic and perfect romance. Greg, he husband loves her and moves her away from the family and the sea. Blanche leaves her family to reinvent herself with Greg but finds herself caught in the grip of a deeply possessive and dangerous man. There are only two ways out. Either Blanche breaks, or she frees herself. The dark side of love is revealed in the toxic, abusive marriage with powerful performances by the luminous Virginie Efira and the poisonous jealous husband played by Melville Poupaud. Director Donelli's film changes mood right near the one-third mark where things begin to get really weird as the film shifts from romance to psychological thriller. Director Sonzelli's shows obsessive love at its most destructive, with Greg not jealous of other men but jealous of every particular person or thing that comes between them. A totally compelling and intriguing and in a way, groundbreaking look at l'amour in detail.
Trailer:
LE BLEU DU CAFTAN (The Blue Caftan ) (France/Morocco//Belgium/Denmark 2023) ***
Directed by Maryam Touzani
The Blue Caftan (released in France as Le Bleu du caftan) is a 2022 Moroccan Arabic-language drama film directed by Maryam Touzani, and written by Touzani with the collaboration of Nabil Ayouch. It depicts a woman and her closeted gay husband, who run a caftan store in the medina of Salé, Morocco, and hire a young man as an apprentice. The film premiered in the Un Certain Regard section at the 2022 Cannes Film Festival. The film is a slow burn but takes its time to show the love and trust involved in a relationship at the expense of all adversities. The customs of Morocco are also on full display as well as its prejudices and treatment of homosexuals. Though a winner of multiple awards owing to its brave depiction of the taboo topic in Morocco, there is nothing really fresh or revealing on the story.
Trailer:
TIRAILLEURS / FATHER AND SOLDIER (France-Senegal, 2023) **½
Dir. Mathieu Vadepied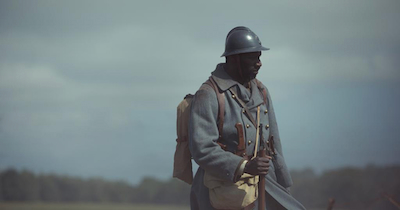 Omar Sy (Lupin) stars in this drama about a Senegalese father who joins his 17 yr. old son Thiernos in the trenches of WWI. The film also reveals a little-known, repressed piece of French history - the African soldiers in colonial France forcibly recruited to fight for France with the Senegalese Tirailleurs. FATHER & SON is a well-filmed First World War trench film that unfortunately fails to hold interest despite its intriguing subject of a father and son embroiled in the same fighting unit. The son wants to fight on while the father wishes to save his teenage son's life at all costs including bribing a cook to hire them to prevent them from fighting in the front line. The Senegalese war was more and best effectively portrayed in the other war film CAMP DE THIAROYE also known as The Camp at Thiaroye, a 1988 Senegalese war-drama film written and directed by Ousmane Sembène and Thierno Faty Sow. This is CineFranco's closing night film.
FOUR DAUGHTERS (France, Tunisia, Germany, Saudi Arabia 2023) ****
Directed by Kaouther Ben Hania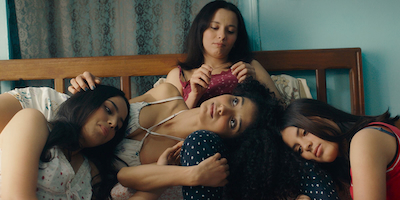 FOUR DAUGHTERS is a film about the four daughters of Olga, a Tunisian, the film's French title being LES FILLES D'OLFA. This is hardly the subject of a film that might sound interesting to a male audience but this prize winner for Best Documentary at this year's Cannes Festival is a powerful piece of filmmaking that both genders should watch. Using actors to fill in the gaps, the film documents the story of Olfa, a Tunisian mother of four daughters, with her two eldest disappearing as teenagers. The two have been taken away by a wolf, Olfa says of the two older daughters on camera while the two youngest daughters Eya and Tayssir (as themselves) are still living with her. The missing ones are Ghofrane (Ichraq Matar) and Rahma (Nour Karoui). Olfa plays herself, with actor Hend Sabri also standing in. Majd Mastoura plays all the disappointing men – Olfra's husband, her lover whom the kids initially see as a step-dad and a Tunisian officer who refuses to help. A compelling, very personal and effective documentary about female abuse with a strong statement that the female gender is just as strong if not stronger than their male counterpart and will do anything in order to prove themselves and to survive!
Trailer:
UN HOMME HEUREUX (France 2023) ****
Directed by Tristan Seguila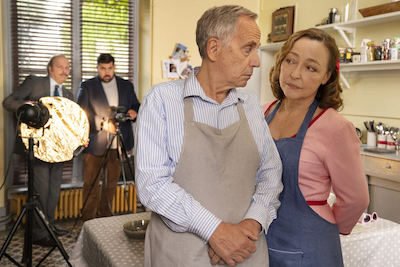 Who can resist a romance comedy starring Fabrice Luchino and Catherine Frot? As Jean (Luchini), a conservative, campaigns to be reelected mayor of a small town in northern France, Edith, (Frot) his spouse of 40 years, tells him a secret he can no longer repress: in his heart, he is - and always has been - a man. At first, Jean thinks he is joking, but he quickly understands that Edith is determined to transition. Both his marriage and his campaign are in for a serious shakeup. Edith's coming out scene is priceless when she comes out to her husband in a restaurant, he freaks out, and then she cooly orders a whiskey after. The sight of Frot for the first time in a man's suit and donning a mustache is simply hilarious. The film also gets powerful its message in trangendering, especially in the trans support group. But love conquers all. Frot, one of my favourite actresses is simply marvellous to watch, Thus is a film begging for a Hollywood remake. The absolute delight of a film is a must-see!
Trailer:
MAESTRO(S)
MAESTRO(S) (France/Belgium 2021) ***
Directed by Bruno Chichi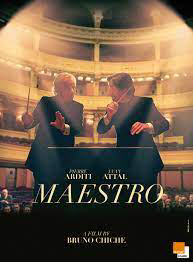 Francois Dumar (Pierre Arditi) has just won an umpteenth classical music award. When François is chosen to be the head of the Scala, his ultimate dream, he can't believe it. Happy at first for his father, Denis (Yvan Attal) quickly becomes disillusioned when he discovers that he was, in fact, chosen to go to Milan. The organizer's secretary had called the wrong Dumar. MAESTRO(S) is a classy comedy/drama complete with orchestral classical pieces conducted by both Attal and Arditi. Attal is both a film director and actor (husband of Charlotte Gainsbourg, having starred and directed her in MA FEMME ESTUNE ACTRICE). The script could have been better, opting for a happy ending that just does not seem believable. Despite the weak script, the performances stand out, all there - Attal, Arditi and Miou-Miou as Francois' long-suffering wife.
Trailer:
SEXYGENAIRES (SWEET SIXTY )(France 2023) ***
Directed by Robin Sykes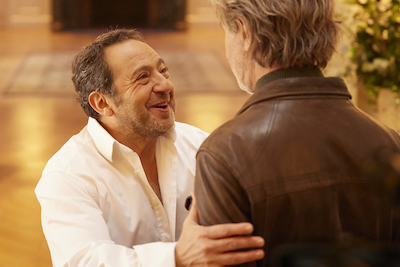 SEXYGENAIRES has been chosen as Cinefranco's opening night film for the reason of the star power of its main actor Thierry Lhemitte, one of the most handsome actors in his prime, now still looking distinguished and mature at the age of sixty-something, The film exploits Lhermitte's good looks, and with reason. His character, Michel is a newfound 60ish model who is the new matured look of commercials. His modeling helps his failing restaurant business. The story is also about two good friends, Michel and Denis (Patrick Timsit), the latter who is so obnoxious and parasitic that one wonders the reason Michel puts up with him. The film, however, is only mildly funny, the only laugh-out-loud scene (for me) being one when Michel hallucinates a horse talking to him during a desert shooting scene. Michel also attracts all the women. The film is clearly a Lhenitte vehicle, a point that would attract many a public audience.