REEL ASIAN FILM FESTIVAL 2023
The Toronto Reel Asian International Film Festival (Reel Asian), Canada's premier pan-Asian festival, will open with Canadian filmmaker Fawzia Mirza's debut feature The Queen of My Dreams. From November 8 to 19, 2023, the Festival will take audiences on a cinematic journey, transcending borders and bringing the world closer together. This year's lineup consists of 15 features and 57 shorts from Canada, India, Iran, Japan, Lebanon, Malaysia, Pakistan, Singapore, South Korea, Taiwan, the United Kingdom, and the United States. Reel Asian will also present three thoughtful and creative multimedia experiences through their RA:X program and welcome a number of esteemed industry professionals for their Reel Ideas conference. For the full programming lineup and ticket information visit reelasian.com.
"The continued success and popularity of Asian cinema in Hollywood has brought our collective stories and experiences to the forefront, leading to significant growth in our community's industry both abroad and in Canada," said Deanna Wong, Executive Director, Reel Asian. "We're so proud to welcome audiences back to the festival, which aims to bridge cultural divides, inspire meaningful conversations, and celebrate Asian voices. There is a need for our stories now more than ever and we hope to continue offering a bigger and better festival each year."
Capsule Reviews of Select Films:
BABY QUEEN (Singapore 2023) ***½
Directed by Lei Yuan Bing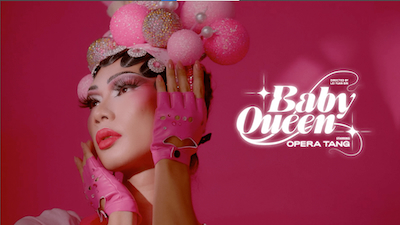 Singapore is well known for its Bugis Street and female-dressing males, though today modernized beyond recognition recently due to 'progress' BABY QUEEN, a very personal exploration of the practically non-existent drag scene in Singapore is told from the point of view of 'Opera" her drag name, as she/he makes a name for him/herself and his/her ethnicity. The doc opens with the boy as a child dancing to Cinderella before moving on to the present where the boy is now an adult putting on makeup to become a gorgeous-looking drag queen, that would make many a female jealous. The film is shot in the many languages spoken in the city island state, including pigeon English, Chinese dialects and Malay. The film is an easy-going watch and avoids making a statement or any criticism of Singapore laws which are well known for its general un-acceptance of homosexuality. The film or doc runs a little over an hour and makes itspoint. Very persona, very effective, and very representative of Singapore,
OKIKU AND THE WORLD せかいのおきく
Directed by Junji Sakamoto 攫㘭朇㮼 | Japan 2023 | ***½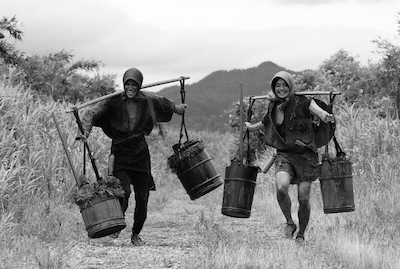 OKIKU AND THE WORLS is a gorgeously framed period black and white piece (though there are a few splashes of colour) with convincing sets and a wonderfully created atmosphere that gives the film the look of the classic Samurai films, like those helmed by Master Akira Kurosawa. The audience is told that as the samurai world opens to the outside world, everything is turning to shit as the scene shifts to its protagonist, collecting shit (for manure) and making a living. Set near the end of the Edo period around 1958, the film presents a fresh take on samurai culture. Okiku (Haru Kuroki) is the daughter of a fallen samurai. The two of them now live in a tenement far from luxury. One day, she meets Chuji (Kanichiro) and love blooms. The problem is that Chuji is a manure man who collects excrement to sell to farmers. Despite the downfall of the Shogun era, there is still a social gap between them. The film is told in 7 parts, the last part is called OKIKU AND THE WORLD. Shit has never been so hilariously depicted in a film.
RELICS OF LOVE AND WAR (Canada 2023) ****
Directed by Keith Lock
There is much to learn and discover in this amazing 40-minute film by filmmaker Keith Lock, the film told mainly with a voiceover that puts together an amazing true tale using old photographs. Lock narrates the story of how his mother (directly from China, a petite 4 ft 10 inc but very pretty lady) married his father in Australia, who was training with other Chinese Canadian veteran volunteers for the top secret suicide mission, Operation Oblivion. This incredible story is set against the backdrop of the Second World War, at a time when Chinese Canadians could not vote, swim in pools, or hire white women for their businesses. Canadians were to sit at the back of the cinema, not allowed to vote and were only allowed to work in grocery stores, laundry, or restaurants. Yet they showed resilience and were found to show leadership and intelligence when trained by the military instructors. Lock's film is a powerful yet nostalgic film that makes Asians (this reviewer included) stand proud and tall in an unjust world that needs them more than they need them.
Trailer:
SEAGRASS (Canada 2023) ***½
Directed by Meredith Hama-Brown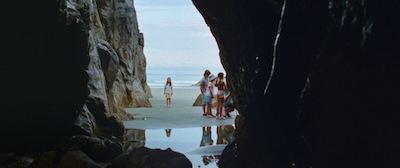 SEAGRASS has an idyllic opening on a ferry where two young sisters (Remy Marthaller and Nyha Huang Breitkreuz) playfully run around enjoying the view and the trip aboard the ferry. They are going to a retreat with their parents traveling via the ferry. Set in the mid-1990s, a Japanese Canadian woman, Judith (Ally Maki, THE BIG DOOR PRIZE) grappling with the recent death of her mother brings her family to a self-development retreat. When her distressed relationship with her husband (Luke Roberts, GAME OF THRONES) begins to affect the children's emotional security, the family is forever changed. The film covers several key issues and explores questions relating to fear and security, it is about a distressed family, motherhood, grief, shame, intergenerational trauma and racial identity. It is about all these seemingly disparate things, but the thematic tissue that connects them all is "fear" and the various ways that uncertainty affects our relationships and sense of stability. Director Hama-Brown steers her relationship family drama into its emotional climax that includes a little suspense to boot in what can be termed s meticulously crafted gem.
SMALL FRY (South Korea 2023) **
Directed by. Joongha Park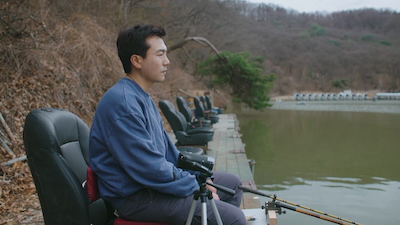 A three-handler about three teens meeting with not much really happening. Ho-jun, a flailing actor, has found relative success as a social media influencer, hawking fishing hacks. He preps his live stream at his preferred fishing spot, only to be disrupted by an obnoxious stranger, Director Nam, a hotshot independent film director about to shoot his first feature. He has invited rising actress Hee-jin for a quiet pondside chat to convince her that his film will be a star-making breakout role—only Hee-jin isn't sure about Director Nam's film, or his ulterior motives. As the day progresses, links between Ho-jun, Director Nam, and Hee-jin entwine and unravel to reveal each character's ambition, pettiness, and pathos as they try to reel in their respective dreams. Director Park devotes almost equal screen time between the two males with the female bridging the gap between the two male egos.