PASSAGES (France/Italy 2022) ***½
Directed by Ira Sachs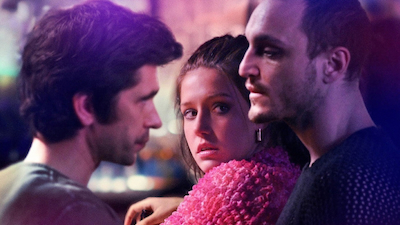 The film PASSAGES explores the explosive love triangle between an established male couple, Tomas and Martin, and Agathe, a woman who enters their lives in modern-day Paris. The couple also own a home in the French countryside. Agathe is a girl whom film director Tomas meets in a bar, right after wrapping up his latest feature, also titled Passages.
For Tomas, being with a woman is a novel and an exciting experience that he is eager to explore, despite being married to Martin. However, when Martin starts his own affair, the mercurial Tomas refocuses his attention on his husband.
Director Sachs delves into the destructive aspects of love rather than its charitable nature, a theme that has been prevalent in his previous films. The gay couple, Tomas and Martin, are long married, but they struggle to understand each other fully and often succumb to bursts of anger despite still loving each other. Martin cannot comprehend Tomas' new found attraction to a woman, and Tomas, in turn, grapples with his own intense desires for the opposite sex. This disparity in their understanding of love and relationships reveals their emotional immaturity, and it becomes evident that they have reached a critical juncture in their maturity as a couple. The love triangle involving two men and a woman, rather than three individuals of the same sex, is a fresh perspective that aligns with what Director Sachs intends to portray.
The film is based on a script co-written by Sachs himself and Mauricio Zacharias, and it feels honest and authentic, drawing from the director's emotions and experiences. The lead character, Tomas, is also a film director, mirroring Sachs' own profession.
Director Sachs skillfully captures both the explosive and intimate moments within relationships, sometimes occurring within moments of each other. When Tomas confesses to Martin that he slept with a woman for the first time, they argue and fight, with Tomas even threatening to move out of their apartment. However, in a tender moment, Martin kisses Tomas on the lips and confesses that he still loves him.
PASSAGES boasts an exceptional cast, featuring three of Europe's leading actors - Adèle Exarchopoulos, Ben Whishaw, and Franz Rogowski. German actor Rogowski has already won several acting awards and has been seen in films like A Hidden Life, Transit, and the recent Freaks Out, which was screened at the local Italian International Film Festival. British actor Whishaw is unforgettable in Women Talking and as the limping man in The Lobster, while Exarchopoulos gained fame for her role in Blue is the Warmest Colour.
Director Sachs skillfully brings the tale to a logical and satisfactory conclusion, creating a cautionary yet realistic film that explores the destructive effects of love and lust.
PASSAGES, shot in both French and English, opens on August 11 in Toronto (TIFF Bell Lightbox) and Vancouver (Vancity), followed by August 18 in Montreal and Quebec City, and will be screened throughout the spring in other Canadian cities.
Trailer: