CASH/ GOLD BRICK (France 2023) ***
Directed by Jérémie Rozan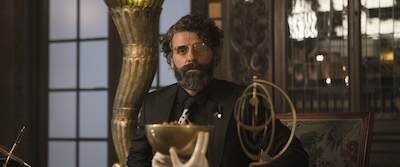 Men are Born free and equal by law. Then humans wrote them over. These are the words splashed on the screen at the start of the comedy caper CASH/GOLD BRICK when the audience is introduced to the wealthiest of families Les Breuils who practically won the whole town of Chartres. Almost everyone works for the family including the film's hero and protagonist, Daniel Sauveur (Raphaël Quenard). How did the Breuils get where they are? There is nothing to learn, the audience is told. You either have it or not.
The film is in one single phrase Daniel Sauveur vs. The Breuils.
The setting of CASH/GOLD BRICK is the French city of Chartres.
Chartres, a city in north-central France southwest of Paris, is famed for its massive Cathédrale Notre-Dame. The Gothic cathedral, completed in 1220, features 2 towering spires, flying buttresses, Romanesque sculptures, pavement labyrinth and elaborate rose windows. The interior's blue-tinted stained glass is distinctive, and the nearby Centre International du Vitrail has workshops and exhibits on stained-glass art. This cathedral is not featured in the film - nor is there any mention of any company called Les Breuils owning the city. The only perfume and fashion company in the city is a company called Puig, a Spanish company. But this is a French comedy and not one that should be critiqued for its geographical or historical accuracy.
Daniel ends up getting a job in the warehouse of the Breuil's. He finds a way to divert the products into hisahnds for sale and makes a bundle. Greed is in the air. Daniel's embezzlement grows to include a large number of employees including the girl he loves, who has moved to the company fro Paris.
The film is less a comedy than a fable of the oppressed fighting against the wealthy. The film is a crowd pleaser as no one loves a better story than one seeing an underdog making good. The story gets a bit complicated at points and is hard to follow, but writer/director Rozantries his best to make history credible.
CASH/GOLD BRICK is an entertaining fable of underdog against the wealthy. The only thing to note is that the wealthy is just wealthy but not really evil by any means, Not really hilarious as a comedy but the film succeeds in credible and detailed storytelling. Definitely worth a watch.
Trailer: