ICFF 2023
The Italian Contemporary Film Festival (ICFF) 2023 takes place from June 27 to July 21 2023 at the historical Distillery District incToronto.
The best of Italian cinema a\will be on display. For more details and date of the films and program, please check the ICFF website at iff.ca
Capsule Reviews of Select Films:
THE FIRST DAY OF MY LIFE (El Primo Giorno della Mia Vita)(Italy 2023) **
Directed by Paolo Genovese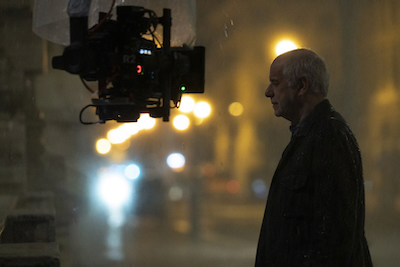 Feel-good fantasies are difficult to pull off. But film history has proven that made well, like IT'S A WONDERFUL LIFE and AFTER LIFE, the result came near masterpieces. Unfortunately THE FIRST DAY IF MY LIFE dealing with a mysterious man (Tom Servillo) offering a second chance at life to 4 recent suicides fails miserably. The man gives them a week to give themselves a second chance, to fall back in love with life and save themselves. It's a sort of limbo in which the four protagonists observe what the world would be like without them and decide to return to life. Day after day, these four dead men walking are alternately confronted with their traumas. They are at first deprived of their senses, which they then gradually. Initially mistrustful of each other, the four would-be suicides begin to sympathize and make new connections with each other, even if not all of them will be able to reverse their decisions and re-emerge from their darkness. The ambiguity of the man makes the exercise not too convincing and the film just gets marred down by predictability and melodrama.
Trailer: https://www.imdb.com/title/tt6832210/
DIARY OF SPICES (Diario di Spezie)(Italy 2021 ) ***½
Directed by Massimo Donati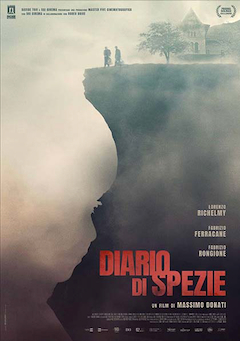 Luca Treves, famous chef and spice expert is hired by wealthy and connected Andreas Dürren- Fischer, famous restorer of Flemish paintings on a trip of the restorer's work in and around Germany. Luca and Andreas belong to two different worlds, art and cooking, and they have two opposing characters: the first is shy and awkward, the second is self-confident and worldly. Luca is looking to expand his horizons with wealthier clients while maintaining his restaurant. He also discovers a rare white caraway spice, the plant he had believed extinct, Thisstory is intercut with another, a doggedly obsessed detective over a child trafficking case, in which he is impersonally involved owing to his own missing daughter. The stores are eventually connected in this taut and well paced thriller worthy of a Claude Chabrol murder suspense thriller.
LA NUIT DU 12 (The Night of the 12th) (Frame 2022) ****
Directed by Dominik Moll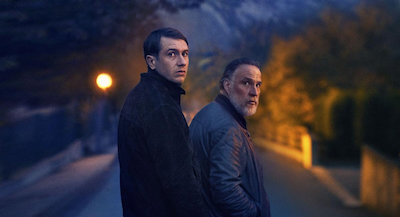 Detectives based in Grenoble, south-east France, investigate the death by burning of a young woman, Cara Royer (Lula Cotton-Frapier) walking home from a party. While there are suspects a-plenty, there's no smoking gun or conclusive proof of guilt. The case soon becomes an obsession for the newly appointed police captain, Yohan Vives (Bastien Boullion). The film has already won 7 Cesars (the French equivalent of the Oscars) and won the most prestigious prizes of Best Film and Best Director for Dominik Moll. Moll's only film that have been released in Canada is HARRY, HE'S HERE TO HELP in 2000, his breakthrough film followed after 5 years by the Cannes opener LEMMING s brilliant sophisticated thriller that almost no one in Canada saw. LA NUIT DU 12, based on a true crime book by Pauline Guéna, is a brilliant piece of filmmaking, sensitive, gripping, moody and taut from start to finish. Director Moll is more interested in the emotions and reactions surrounding the murder from the victim's parents, friends and acquaintances to the police investigators. The whodunit element is still there but is secondary to how the murder investigation is taking place.
Trailer:
L'OMBRA DI CARAVAGGIO (CARAVAGGIO'S SHAD OW)(Italy 2022) ***
Directed by Michele Placido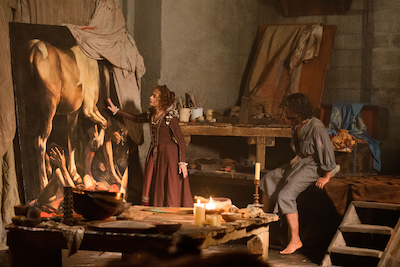 The film is an intricate and adventurous existence of Michelangelo Merisi, aka Caravaggio, already a pop star in his time, told in his profound contradictions and in the darkness of his impenetrable torment. As a character says in the movie, he is an extremely talented painter but just a troublemaker, getting into fights and trouble half the time. Rebellious and restless, devout, and scandalous, independent, and transgressive, the Caravaggio that Placido stages is a cursed artist of absolute talent, but above all a rock star ante litteram, a rebel without a cause forced to face the disturbing implications of a reckless life - with its women and demons - in which genius and unruliness coexist to give us a timeless character and a fascinating and universal icon. The film opens with him being attacked with his face disfigured. The film shows only a potion of his life, is not always pleasant watching but feels realistic and accurate. His homosexuality which was suspected is examined only in the second half of the movie. The film also stars French heavyweights Isabelle Huppert and Louis Garrel.
Trailer:
LE OTTO MONTAGNE (THE EIGHT MOUNTAINS) (Italy/Belgium/France 2022) ***½
Directed by Felix van Groeningen and Charlotte Vandermeersch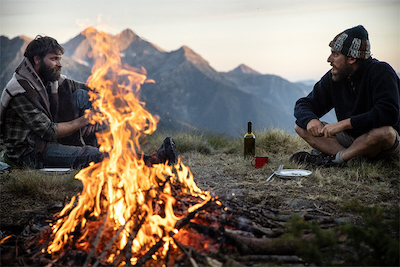 It is a long running time of 147 minutes for this epic journey of two males experiencing life and all that life can deliver. The film opens with two boys, both at the same age of 12, Bruno and Pietro meet each other for the first time in a remote mountain village at the base of the Alps. Directors an Groeningen and Vandermeersch realize the power of the setting of the film, which is adapted from the award-winning novel by Paolo Cognetti, portraying through observant detail and stunning landscape photography the profound, complex relationship between Pietro (Luca Marinelli) and Bruno (Alessandro Borghi), who first meet as children there. Pietro and Bruno remain as boys during the first 30 minutes of the film. The transition of the two protagonists from boyhood to 31-year old men is unfortunately abrupt, occurring at the 45 minute mark of the film. One would automatically try to associate each man with the boy that the audience remembers instead of imagining the women as individual characters. The main lead of the film Luca Marinelli, still relatively unknown in Canada, is a famous star in Italy. Quite a few of his films have screened locally at the Contemporary Italian Film Festival. The film ends up a slow but captivating epic journey of friendship and self-discovery set in the breathtaking Italian Alps. THE EIGHT MOUNTAINS (Le Otto Montagne) is filmed in Italian with a little local Italian dialect. The film is the Winner of the Jury Prize at the 2022 Cannes Film Festival.
PERSIAN LESSONS (Russia/Germany/Belarus 2020) ***½
Directed by Vadim Perelman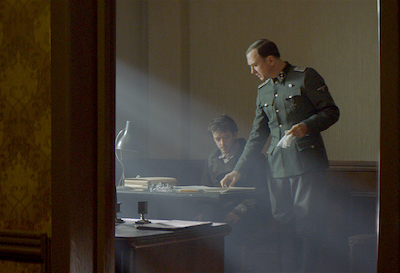 Directed by Vadim Perelman, PERSIAN LESSONS is a captivating Holocaust drama set in occupied France in 1942. The film tells the story of Gilles (Nahuel Pérez Biscayart), the son of a rabbi from Antwerp, who is captured by SS soldiers and sent to a German transit camp along with other Jews. In order to escape sudden execution, Gilles pretends to be Persian, inventing a fake "Farsi" language. However, his survival hinges on a life-or-death mission: teaching Farsi to Nazi camp leader Koch (Lars Eidinger), who dreams of opening a restaurant in Iran after the war.
PERSIAN LESSONS boasts stunning cinematography that vividly captures the WWII era, with scenes of trucks transporting prisoners at night and chilling lineups of Jews awaiting execution. The film's production values are exceptional, contributing to an immersive atmosphere enhancing credibility and adding depth to the story. Overall, PERSIAN LESSONS is an intriguing Holocaust movie that explores the horrors of war while injecting a fresh perspective into a well-worn genre.
IL RITORNO DI CASANOVA (Casanova's Return )(Italy 2022) **
Directed by Gabriele Salvatores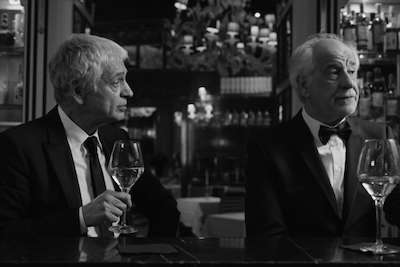 An ambitious film within a film which the principal protagonist of the film , Casanova, the famed director known as the maestro is making is his alter ego. And the word ego is the word. Both have egos so inflated that they downright spoil the entire movie for the reason that these two characters are totally unlikeable and in many ways disgusting. All they care for is themselves which makes the audience care less for them, and also for this sad movie, which does contain excellent production period values. The film in the film is shot in colour while the actual events are in black and white. Leo Bernardi (Toni Servillo again in no fewer than 3 films screened at the ICFF) is an experienced and acclaimed director at the end of his career, who has no intention of accepting his own decline. For his latest movie, Leo has chosen to tell the story of Arthur Schnitzler's Casanova, who is incredibly like himself, more so than he can imagine. This Casanova is one who has passed his youth: he no longer has his charm and power over women, he no longer has money, and he no longer has the pleasure of travelling around Europe. After years of exile, he has only one goal: to return to Venice, his home. On his journey home, Casanova meets a girl, Marcolina, who awakens his desire for conquest. While trying to seduce her, Casanova will come to the most tragic conclusion: he has become old. Leo has become tragic as well. But who really cares?
LA STANEZZA (The Strangeness) (Italy 2022) **
Directed by Roberto Ando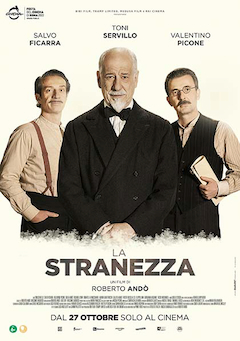 La Stanza is less a biopic of famous Italian playwright Luigi Pirandello than the development and success of his most famous play entitled 'Six Characters in Search for An Author. The film is set in Girgenti, 1920. Nofrio and Bastiano are gravediggers, but also "professional amateur" actors engaged in staging the tragicomedy "La trincea del rimorso, ovvero Cicciareddu e Pietruzzu". Giovanni Verga's 80th birthday brings Luigi Pirandello back to his hometown, and the death of the playwright's nanny encourages his meeting with the two gravediggers. The Maestro is in a creative crisis, and by secretly observing the rehearsals of the amateur company of Nofrio and Bastiano he draws inspiration for one of his most important works, Six Characters in Search of an Author. Toni Servillo, immediately recognizable from Paolo Sorrentino's films, THE HAND OF GOD and THE GREAT BEAUTY plays Luigi with great aplomb and charisma, making the film worth seeing. The production values are nothing short of excellent as well. But director Ando's film struggles hard to hold interest unless one is well versed with the works of Luigi Pirandello. Otherwise, no one really cares how this play evolves and how this playwright achieves his success.