MON CRIME (The Crime is Mine )(France 2022) ***½
Directed by Francois Ozon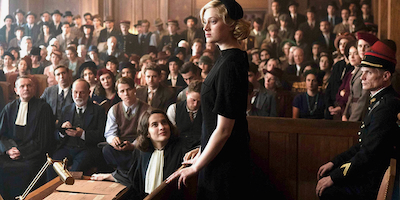 In the 1930s, a young struggling actress becomes famous after being accused of the murder of a producer that the audience is led to believe she did not commit. Or maybe she did actually commit the murder. The truth comes out at the film's half mark.
Everyone loves a good play about murder. THE CRIME IS MINE or MON CRIME is adapted from the Georges Berr and Louis Verneuil's 1923 French theatre play. The play survives the test of time and director Ozone (my personal favourites SITCOM, LES AMANTS CRIMINELS) ensures one is constantly watching a film based on one as the film is stagey, but in a good way.
As in any play with murder as its subject, there is a host of suspicious characters. MON CRIME is not the typical whodunit, but it contains vert intriguing characters.
Pauline (Nadia Tereszkiewicz) an up and coming lawyer who is unable to pay rent but ends up defending her roommate, Madeline
Madeline (Rebecca Marder) first seen escaping from the residence of a producer who promises her a role in bis latest production.

There is a 5 minute introduction of the film as Madeleine leaves hurriedly and with distress.
Andre (Édouard Sulpice), Pauline's lover who is the wealthy lazy sleaze ball who has never done a decent for of work in his life.

His rich father's allowance is spent on gambling and he wishes to marry another in order to enjoy his current living.

But Pauline loves this lovable lout.

Maybe there is some good in him and he can change
Odette Chaumett (Isabelle Huppert), a silent film star wishing to have a comeback at all costs.

Huppert plays her with all the charm and nastiness, making an appearance at the film's halfway mark and lifting the film just as it begins to lag.
Ozon has managed to amass quite the French talent available. This includes Fabrice Luchini as an somewhat inept judge who constantly mistreats his over enthusiastic clerk, Dany Boon as a Master plumber who helps the girls solve more than their plumbing problems and Andre Dussollier as the head of a tire factory (Bonnard's tires go faster. longer!) facing financial troubles,
Ozon tackles the #MeTooMovement with sexual abuse with scarlet and famous producer here as in the Harvey Weinstein case. Ozone also champions the power of women, especially when they stick together.
In the midst of Madeleine being accused of murder, friends Madeleine and Pauline go to the cinema to watch Billy Wilder's BAD SEED. A delicious reference is made in the cinema of a newsreel telling of another famous previous murder during the same 30's era, of VIOLETTE NOZIERE, the murder later made into a film that starred Isabelle Huppert when she was much younger.
Ozon gets to deliver his elaborate act of female injustice when the prosecutor and defending attorney summarize the case. It is over-the-top deliberation, full of current references to the Weinstein case.
A new Ozon film is always a sheer delight and he manages to deliver a new one every year, most of them of consistent quality comedies or drama. MON CRIME is pure period fluff set in the 20's featuring all the flair of colour, costumes and melodrama that Ozone is famous for.
THE CRIME IS MINE is now available on demand June 13 from digital TIFF Bell Lightbox.
Trailer:
.