OTHER PEOPLE'S CHILDREN (LES ENFANTS DE LES AUTRES) (France 2022) **
Directed by Rebecca Zlotowski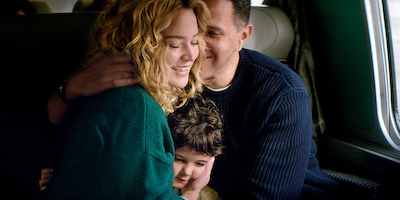 Virginie Efira stars as a teacher whose new relationship with a single father becomes complicated when she begins to connect with his young daughter, Lelia, in this romantic drama. For Rachel (Virginia Efira), each moment with her new boyfriend, Ali (Roschdy Zem), is pure bliss. They share everything, including his precious four-year-old daughter Leïla (Callie Ferreira-Goncalves). The situation is precarious: the more time Rachel spends with Leïla, the more she cannot help but feel like a mother to the child. But Leïla already has a mother, Alice (Chiara Mastroianni) . Rachel also has a younger sister who is pregnant. Rachel wants a child of her own but her biological clock is running out.
It is all about other people's children. The film plays like a Truffaut movie with the camerawork and focus in and out shots. The kindness to Rachel's student is reminiscent of the kindness shown to students in L'ARGENT DE POCHE. The trouble with this movie is everything falls into place for a happy ending all too easily ending all the drama created into meaningless fluff.
OTHER PEOPLE'S CHILDREN is director Zlotowski's most personal film to date and is inspired by past relationships. She aimed to make a sensitive, nuanced portrait of "that secondary character in the story who is usually the stepmother", with a view to deconstructing the stereotypes of this figure.
OTHER PEOPLE'S CHILDREN which premiered at theVenice Film Festival i competition followed by a Canadian premiere at the Toronto International Film Festival last year will be released in select theatres in Toronto (Carlton Cinema), Ottawa (ByTowne Cinema), Vancouver (VanCity) and Edmonton (Metro Cinema) this Friday June 16th.
Trailer: