CINEFRANCO Returns March 2023 with A Special Program
Please see Cinefranco's announcement below regarding their March lineup to celebrate Francophonie (world) month. The celebration kicks off Mar 8 (International Women's Day) with special screening, TO Premiere of SimonVeil A Woman of the Century at the Varsity.
For more details, check the website at
Simone Veil A Woman of the Century
(Simone Le Voyage du siècle)
launches Cinéfranco's celebration of
Francophonie 2023 throughout March
Lineup also includes a youth program, online screenings and a special screening of
The Kitchen Brigade/La Brigade at The Royal
Simone A Woman of the Century/Simone Le Voyage du siècle
Varsity Cinemas, Wed Mar 8, 7pm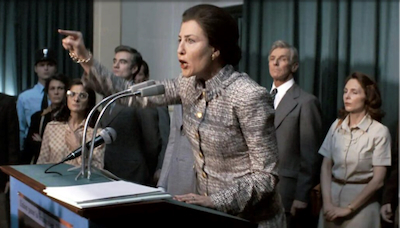 This is the most viewed film in France in 2022, where half a million attended the film's opening week and over 1.5 million tickets have been sold.
Director Olivier Dahan (La Vie en Rose, Grace of Monaco) brings the extraordinary life of beloved French feminist icon Simone Veil to the screen in his moving and sweeping feature starring Elsa Zylberstein (An Irrepressible Woman) and Rebecca Marder (A Radiant Girl). A holocaust survivor, Veil's pioneering career in politics including her successful campaign to legalize abortion in France as Health Minister and her role as the first president of the European Parliament.
Simone Veil offers an intimate and epic portrait of a singular woman who eminently challenged and transformed her era defending a humanist message still keenly relevant today.
Online film screenings
Friday, March 10 – Sunday, March 12

Youth Program/Le Programme Jeunesse
Wed Mar 1, Thurs Mar 2, Fri Mar 3,Mon Mar 6
Cineplex Empress Walk
Cinéfranco's annual Youth Program/Le Programme Jeunesse that began on February 21st continues through March with in-cinema screenings on March 1st (School Society/L'École est à nous), March 2nd & 6th (Neneh Superstar), and March 3rd (The KitchenBrigade/La Brigade) at the Cineplex Empress Walk.
The Kitchen Brigade/La Brigade
co-presented with ACAF
Wed Mar 22, The Royal, 7pm
Tickets available to purchase online:
Simone Veil A Woman of the Century/
Simone Le Voyage du siècle - March 8th: Eventbrite.ca
The Kitchen Brigade/La Brigade - March 22: Eventbrite.ca
Online Screenings, March 10-12: Eventive
The Youth Program/Le Programme Jeunesse is sold out
For further information including the complete Francophonie program: www.cinefranco.ca
Capsule Reviews of Selected Films:
GULLIVER RETURNS (Ukraine/Cyprus 2021) **
Directed by Ilya Machismo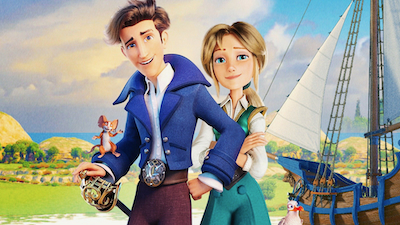 Thew new adventures of Jonathan Swift's Gulliver's Travels is given a makeover as a children's animated film from the Ukraine. The tale is similar to Swift's classic only remotely.
World traveler and adventurer Gulliver is invited to return to Lilliput, the town he previously saved from the enemy fleet of the neighbouring Blefuscu. When he arrives, he only finds indignation, panic and a hopeless crowd, as the King of Lilliput made his people believe that the legendary Giant Gulliver was returning. Instead, they discover an ordinary man, when the whole town had been getting ready and building accommodation to welcome a giant. Disappointed, the King orders Gulliver's execution. Meanwhile, the invincible Blefuscu armada is at the gates of the city and threatening again. As much as one wants to support Ukraine in her animated feature, GULLIVER RETURNS is hardly very good, with ok animation, silly rather than funny/goofy humour that would be catered to younger kids.
Trailer:
ROSIE (Canada 2022) ***1/2
Directed by Gail Maurice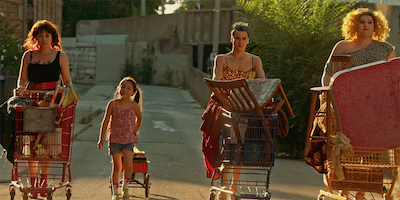 ROSIE follows the trail of an orphaned Indigenous girl by the name of Rosie (Keris Hope Hill). Her mother's sister, Frederique (Melanie Bray) is forced by social services to look after her. Fred has her own plate full, being evicted and out of a job. She can hardly care for herself less than one else. The story does not sound fresh or like anything new. In fact the story is rather predictable. But first time Metis director Maurice shoots her film as if it is totally fresh material injecting humour and spirit in a 80's Montreal setting, with English, French and a little Metis spoken. This is also a seondary story of poor people surviving on the fringe. Two of Fred's friends are drag queens Flo (Constant Bernard) and Mo (Aex Trahan) who spice up the proceedings. Director Maurice also adds a bright note to a homeless Cree (Brandon Oakes) who shows kindness to the child. ROSIE is an entertaining and insightful debut from Gail Maurice.