PACIFICTION (France/Spain/Germany/Portugal) ***½
Directed by Albert Serra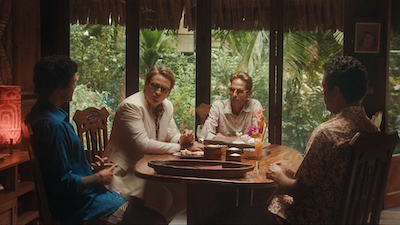 On an island in French Polynesia, the Haut-Commissaire, a man, de Roller (Benoit Magimel, who first well-known film was LIFE IS A LONG QUIET River by Etienne Chatiliez, way back when in 1988) with a turbulent naturalness and high diplomacy, lives between the highest echelons of politics and the lowest social stratum of his co-citizens. Conflict as a way of life will lead him to take reckless decisions against his political status, as the film examines. Director Serra introduces him in a 'questionable' club where he goes backstage to look at the costumes, and perhaps flirt with the dancers.
About 500 hours of footage were shot during the production, including about 200 hours with dialogue and sound recording. Director Serra explained that since the beginning of his career, he tried to use the advantages of shooting digital and therefore shoots long, improvisational scenes with 3 cameras at once, which results in a lot of footage to work with in post-production. From the dialogue of the characters, particularly noticeable in the one dinner segment in which the topic of nuclear thing is brought up, a certain point can go on and on, with the characters beating around the bush in which nothing concrete is said.
Serra's film turns out to be a really lengthy 2 hours and 44 minutes, so one has to be prepared to be patient to sit through his film. It is a long process, and whether one will be satisfied to decipher though all the material is entirely up to the nature of the individual.
But the cinematography is stunning, as stunning as the French Polynesian Islands.
PACIFICTION is shot in French mainly, and also in English and Portuguese.
PACIFICTION plays at the TIFF Bell Lightbox.
(full review of the film will be posted the weekend)
Trailer: