CALVAIRE (originally tilted THE ORDEAL)(Belgium/Luxembourg/France 2022) ****
Directed by Fabrice du Welz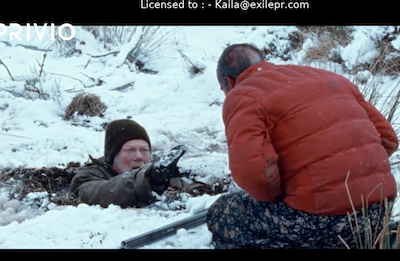 These few weeks sees the opening of a number of horror films, many streaming also on Shudder, the horror streaming service. Among them are the really nasty SPOONFUL OF SUGAR, NOCEBO from the Philippines and Ireland and HUESERA, THE BONE WOMAN from Mexico and the found footage low-budget horror THE OUTWATERS, Joining the ranks of these horror flicks is what might arguable be the best of the lot, a neat little low budget cult film way back from 2004, from then first time feature director Fabrice du Welz who wrote the screenplay with Romain Protat, best known as Gasper Noe's cinematographer for IRRESISTIBLE, which is currently enjoying a rerun.
The protagonist of the story is a travelling singer called Marc Stevens (Laurent Lucas also seen in various suspense classics like Dominik Moll's LEMMING) . Marc is a lonely, rather handsome man, first seen using makeup in his dressing room before singing on stage with his costume that includes a cape like a lonely action super-hero.
Nothing much appears to happen at first, but it is these sparseness of events that makes the atmosphere of the film scary, like a nightmare. The protagonist is Marc (Laurent Lucas), a lonely man on the road. There is hardly anyone around him. When his van breaks down, he cannot find the innkeeper, Mr. Bartel (Jackie Berroyer), who at first seems jovial but then transforms into something else. The inn is in a remote place in the country. The man that shows Marc the inn, Boris, has lost his dog Bella. Everyone in the story appears lost and nothing would satisfy them. There is so much space that there is nowhere to run. When the film opens, Marc has just performed in an old aged woman's home and all the lonely ladies are making sexual advances on Marc who drives away alone in his van, relieved. They all meet by coincidence. When humans live a lonely life, they are unmoderated by a spouse or another human being, and they can turn out pretty weird and exhibit odd behaviour.
Because of the film's setting in hillbilly country backwoods, the film (which is set in the swampy Hautes Fagnes region of Liège), has a feel and atmosphere of horror classics like John Boorman's DELIVERANCE, Stephen King's MISERY or THE TEXAS CHAINSAW MASSACRE and THE HILL HAVE EYES and even Hitchcock's PSYCHO. (The dinner 'chat' scene between mr. Martel and Marc was actually modelled after tan identical scene between Marion Crane and Alan Bates in the Bates Motel in Hitchcock's 1960 PSYCHO, according to imdb trivia.
CALVAIRE (which was first released way back in 2004 premiering at Cannes and actually screened at TIFF Midnight Madness) opens in select theatres now re-mastered, beginning February 24th, followed by a release on Digital Platforms on March 3, 2023. A CALVAIRE collector's edition BluRay is also slated for release from Yellow Veil Pictures. A must-see horror cult classic for horror fans.
Trailer: