CONFESSIONS (English title: Confessions of a Hitman)(Canada 2022) ***1/2
Directed by Luc Picard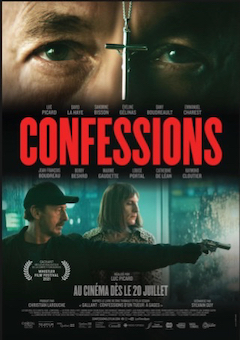 Starring and directed by Luc Picard, CONFESSION, based on the novel, is the no-nonsense story of Quebec's most notorious hit man Gérald Gallant. It plays like a biopic but the titles at the film's start are quick to emphasize that this is a fiction film based on true characters.
Gallant is one of the most prolific hitmen of our time, a paid assassin who worked for the biker gangs of Quebec from 1978-2003. Yet with twenty- eight murders and 12 attempted murders across 25 years, Gérald Gallant surprised and confused. How did a stuttering "average Joe" with fragile health and a modest IQ, living a conventional lower-middle-class life with a deeply religious wife in a quiet neighborhood, manage to outsmart both the most hardened criminals and the smartest lawmen for decades while continuing to ply his "trade"?
Gallant (Picard) was brought up by a tough and severe mother (there is no other person I hate more in the world, Gallant says of her) who did not hesitate to belittle him in the eyes of everyone. The stuttering man in fragile health suffering from heart disease, now leads a peaceful existence in a quiet neighbourhood with his wife, Pauline. Gallant loves her but carries on a passionate affair with another woman, Yet this uneventful facade hides serious sins. Gallant's roadmap includes no less than twenty-eight murders and fifteen attacks, mostly bikers and high-ranking mafiosos. Gallant also works in conjunction with the police and doesn't hesitate to sell out those around him. Picard portrays Gallant as a despicable personality with no oils lying about his guilt and everything else.
This is also Quebec's history where biker gangs terrorized the streets, and society had moved away from the traditional constraints of the Catholic church. The banality of evil has never been more forcefully depicted. CONFESSIONS has the feel of a real gangster movie.
CONFESSIONS OF A HITMAN captured Best Director at the Whistler Film Festival and a trio of Canadian Screen Award nominations.
CONFESSIONS premiered in Toronto at Cinefranco 2022 and premieres on VOD and Digital December the 2nd.