TORONTO REEL ASIAN INTERNATIONAL FILM FESTIVAL 2022
The Toronto Reel Asian International Film Festival (Reel Asian), Canada's premier pan-Asian festival, announces its full 2022 programming lineup including its Opening and Closing Night Galas. From Canadian filmmaker Anthony Shim, Riceboy Sleeps (this year's TIFF Platform Prize winner) and closing with Topline, created by this year's Canadian Spotlight Artist, Romeo Candido, with a live musical accompaniment. This year's lineup consists of 77 films from regions including Canada, the United States, South Korea, Taiwan, Japan, India, Pakistan, Iran, Indonesia, Australia, Cambodia, Malaysia, Philippines and Singapore. Taking place November 9 to 20, 2022, this year's Festival will welcome audiences back to more in-person programming while continuing to offer digital programming to a wider audience across the country. For the full programming lineup and ticket information visit reelasian.com.
"There has been a creative explosion of Asian talent both on screen and behind the camera this past year, as our collective storytelling gets stronger," said Deanna Wong, executive director, Reel Asian. "This year, we are incredibly fortunate to be able to share an abundance of outstanding films with our audiences and also expand our offerings to both in person and digital experiences as we continue our commitment to showcasing the best in Asian cinema."
CAPSULE REVIEW OF SELECTED FILMS:
DREAM PALACE (South Korea 2022) **
Directed by Ka Sung-moon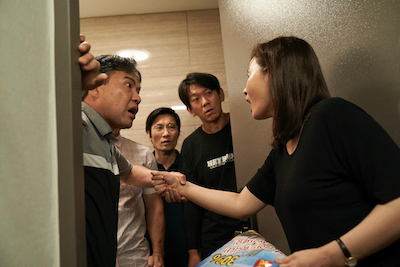 DREAM PALACE is the name given to the new block of apartments the developers are hoping to sell. Into her new apartment comes a troubled Hye-jeong, a single mother and her son, but they face rusty running water that the developers refuse to solve. Hye-jeong had previously left a protest group of closely knit families, mourning the victims of an industrial accident, to which she also lost her husband. To move on with her life, she buys a sparkly new apartment with the settlement money, but things go awry when she notices the unit's construction defects that render her and her son without any usable water. When she attempts to get the problem fixed, an unexpected group stops her in the act: her new neighbours. Beyond being ostracized and called a traitor for accepting the settlement money, Hye-jeong must now stand up against her It take a while before director Ka lets the audience know what is going on. The film lasts almost 2 hours, and meanders around with Hye-jeong running all over the place like a chicken with its head cut off. One wonders what is the real aim or message of the film. Ka's film is watchable as he got Asia audience to sympathize with his protagonist but he could have come up with a shorter and more effective story.
NOISE (Japan 2022) ***1/2
Directed by Ryūichi Hiroki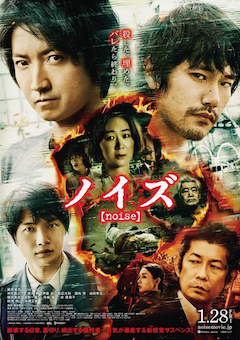 This marks the Canadian Premiere of NOISE, a reflective and compelling drama, playing like a whodunit mystery set on a Japanese island community which is based on a manga by Tsutsui Tetsuya. The central family is the Kieto family who owns a fig plantation that employs most of the island's aging community. The female mayor is all out to obtain funds to open a new hospital that will attract more residents while making her more famous. The mayor is a loud mouth lady who abuses those under her. When an accident takes place and a rehabilitating criminal is killed, Kieto and other islanders attempt a cover up. The coverup gets more and more complicated with more and more people involved as two mainland policemen uncover the real truth about what happened. The film occasionally feels like a satire on Japanese community. The mystery and interesting enough to keep the film going though it fizzles out at the end with the twist in the plot occurring a little too early.
(Nov 10 at 8:30 PM, TIFF Bell Lightbox)

RICEBOY SLEEPS (Canada 2022) ***
Directed Anthony Shim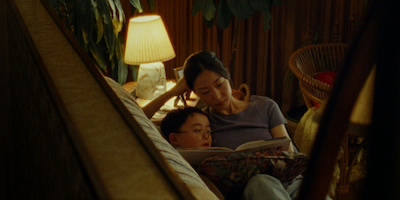 A South Korean mother and son struggle with their new life in 1990s Canada and the growing rift between them, in Anthony Shim's assured second feature. After losing her husband, So-young (Choi Seung-yoon) relocates to Canada with their young son, Dong-hyun (Dohyun Noel Hwang as a child, Ethan Hwang as a teenager) in tow. There, they must fight for acceptance and respect. Dong-hyun is brutally bullied by his classmates, and he isn't helped by the timid, distinctly Canadian racism of his teacher and principal, who consider the family "troublesome." At work, So-young battles loneliness and racist and sexist comments. There are many issues tackled in Shim's film - racism; bullying; mother and son relationship; ancestry; mental health among others - but none so well resolved. The film's best segments demonstrate the importance of family. In the film's best scene, Dong is in Korea having drinks for the first time with his uncle and grandfather even though he is just 15. RICEBOY SLEEPS had its world premiere at this year's Toronto International Film Festival where it won the Platform Prize.
(Wed, Nov 9 • 7 PM • Hot Docs Ted Rogers Cinema)
SOME WOMEN (Singapore 2021) ***
Directed by Sun Wong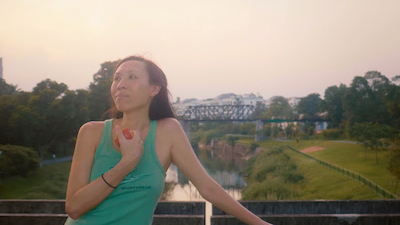 SOME WOMEN is a film from Singapore that the government does not like as it showcases a seedier side of the island state with red-light transvestite areas like Bugis Street. Peter Bogdanovich's film of a ex-soldier operating a brothel in the same area was banned in Singapore. Bugis Street has now changed as the film informs. I n this reflective documentary, director Quen Wong turns the lens toward the intimate and vulnerable in her own life as a trans woman in Singapore, making time and space to honour acts of looking and being seen, moments of being fearful and working to communicate, and reflecting on past decisions in order to make new ones. Though gentle and quiet, these gestures are powerfully earnest, and refreshingly honest. Against the context of a conservative nation-state, Some Women also uses dialogue and gathering to address a fuller spectrum of queer life on the island, threading Wong own story with recollections and perspectives from other generations of trans women, through the accompaniment of Sanisa and Lune Loh. These moments in the film archive and celebrate trans and queer folks' evolving strategies for survival, protest, celebration, and continuance. A realistic and educational look at trans life in an otherwise unseen side of Singapore. (Note: This reviewer lived his first 17 years in Singapore.)
(Sat, Nov 12 • 2 PM • TIFF Bell Lightbox)
STAY THE NIGHT (Canada 2022) ***
Directed by Renuka Jeyapalan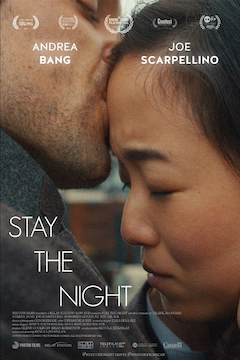 STAY THE NIGHT begins with a girl, Grace denied a promotion at her job, the reason given being that she is not outgoing enough. The following scene shows Carter Stone, a NHL player demoted. Both end up at the same bar in downtown Toronto. It does not take a genius to guess that what follows is a romantic comedy between these two very different persons. When reserved, late-bloomer Grace (played by KIM'S CONVENIENCE's Andrea Bang) gets passed up for a major promotion at work, she tries to break out of her shell by pursuing a one-night stand at the club. Her choice in partner, Carter Stone (Joe Scarpellino), an NHL player at a crossroads, is having an equally rough night. After an initial meet-cute and disastrous attempt at a hookup, the two walk Toronto's wintry streets, wandering from bar to skating rink to office, slowly but surely finding common ground as the night progresses.
STAY THE NIGHT bares some differences from the typical romantic comedy. There is no silly obstacle that is revealed, like a secret not told, that has to be resolved so the couple gets back together. The familiar Toronto locations are immediately recognizable though the filmmakers appear keen on changing the names of bars or banks in the downtown area. Another variation is that the couple is different racially, as Grace is Asian. Grace is 27 and has never had sex, but the word virgin is never used as it puts stigma over her character. The two do make a workable chemistry.
The film opens in theatres in Toronto, Vancouver and Ottawa on Friday, Nov 18th and then will be available across Canada on VOD on Dec 2nd
Trailer: