CINEFRANCO 2022
2022 marks CINEFRANCO'S 25TH anniversaire. The Toronto French Film Festival returns to Toronto theatres at the Royal, Ted Rogers Cinema and the Scotiabank Theatre. Cinefranco celebrates French commercial films. It is only chance to watch French commercial cinema on the big screen and this year brings a big treat with many heavyweghts including Claude Lelouch (a doc on the legendary director of UN HOMME ET UNE FEMME), Patrice Leconte, Gerard Depardieu, Robert LePage and Josiane Balasko.
I had a chance to chat with Marcelle Lean, the directrice of Cinefranco during this year's TIFF. She expressed great pleaasure at obtaining the opening and closing night films, a doc about Claude Lelouch (she regrets it too costly for the festival to fly Lelouch over from France for the opening) and a Robert LePage tribute respectively.
"It's hard to believe 'my baby' is 25 yr. old, said Cinéfranco founder and artistic director Marcelle Lean. As a famous mother said 'it takes a village' and I have so many dedicated colleagues, funders and sponsors to thank for their contribution to the growth of Cinéfranco and so much gratitude to our audiences who have stuck with us through thick and thin."
Marcelle adds, "Cinéfranco 2022 is a particularly bittersweet anniversary as we celebrate without my dear colleague and friend Bernard Lecerf who passed away this summer. For 6 years, Bernard was the glue of Cinéfranco tirelessly and gracefully working behind the scene to make us look good. His Cinéfranco family misses him terribly as do I. Here's to you mon cher ami, Bernard".
Opening Night Film – Tourner pour vivre / Shoot to Live
A true celebration of French cinema through the eyes, words and work of acclaimed French director Claude Lelouch who's still directing films at age 84 yr. His 60 features over a 60+ year career includes such classics as "A Man and A Woman"; "Far from Vietnam"; "Les Misérables"; "Live for Life" Philippe Azoulay's documentary captured Lelouch working over 7 years and features Anouk Aimée, Sandrine Bonnaire, Johnny Hallyday, Karl Lagerfeld, Christopher Lambert, Quentin Tarantino and Jean-Louis Trintignant
Closing Night Film – Les 12 Travaux d'Imelda
Adapted from Quebec director Martin Villeneuve's shorts trilogy and inspired by his grandmother's life story, Robert LePage, Ginette Reno and Villeneuve star in this feature film opening in Quebec Oct 28 2022. Imelda is not at peace and wants to settle things with family before her 100th birthday.
Below are capsule reviews of selected films. For the full program, please check the Cinefranco website at https://2022.cinefranco.com/index.php/en/
CAPSULE REVIEWS OF SELECT FILMS:
CONFESSIONS (Canada 2022) ***1/2
Directed by Luc Picard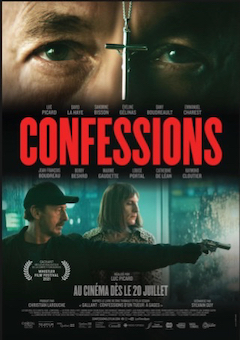 Starring and directed by Luc Picard, CONFESSION, based on the novel, is the no-nonsense story of Quebec's most notorious hit man Gérald Gallant. It plays like a biopic but the titles at the film's start are quick to emphasize that this is a fiction film based on true characters. Gallant was brought up by a tough and severe mother (there is no other person I hate more in the world, Gallant says of her) who did not hesitate to belittle him in the eyes of everyone. The stuttering man in fragile health suffering from heart disease, now leads a peaceful existence in a quiet neighbourhood with his wife, Pauline. Gallant loves her but carries on a passionate affair with another woman, Yet this uneventful facade hides serious sins. Gallant's roadmap includes no less than twenty-eight murders and fifteen attacks, mostly bikers and high-ranking mafiosos. Gallant also works in conjunction with the police and doesn't hesitate to sell out those around him. Picard portrays Gallant as a despicable personality with no oils lying about his guilt and everything else. CONFESSIONS has the feel of a real gangster movie.
Trailer:
EN ROUE LIBRE (FREESTYLE) (France 2021) **1/2
Directed by Didier Barcelo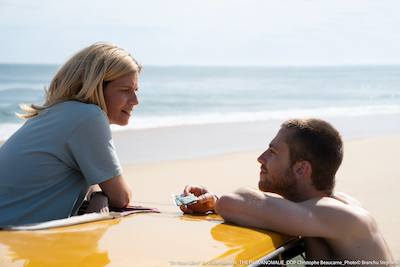 One morning, Louise (Marina Fois) , 45, is suddenly unable to step out of her car. If it sounds too weird and unbelievable, the film makes a big effort to convince the audience that this situation could happen from a panic attack and psychological point of view. Sweats, anxieties, palpitations... she is having an inexplicable panic attack. She is tetanized and simply cannot set foot outside. Louise starts hysterically driving around with no goal. That's when Paul (Benjamin Voisin), 20, breaks into her car with one obsession : drive to the ocean at Cap Ferret (a visually stunning place, opposite the more popular le Dune du Pilat, that many like myself have visited, near Bordeaux. The credibility of the story is the film's main problem though director Barcelo almost gets away with it from the energy he infuses to his character and incidents of the story.
L'HOMME PARFAIT (France 2021) ***
Directed by Xavier Durringer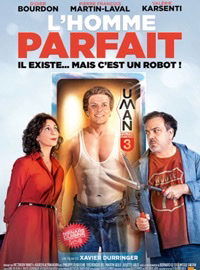 The film begins with the typical chaotic family, lawyer wife Florence (Valerie Karsenti) who has it all together, a lazy plump out-of-work actor husband (Didier Bourdon) and two fighting kids, a son and younger daughter. The house is a mess, she is overworked and the husband is not helping either. Florence decides to buy a humanoid robot, UMAN -3 Deluxe, the h'homme parfait, with a perfect physique. The robot meets all her expectations: maintain the house, take care of the children, and more. By maliciously disrupting their daily routine, the robot also arouses the jealousy of her self-centred careless husband, Franck, who suddenly realizes he must make some efforts not to lose the love of his wife. The robot, Bobby, with blond highlights and beautiful blue eyes, charms the family but can he also charm the audience? Pierre-Francois Martin Laval plays the robot with gorgeous grace, able to deliver scrambled eggs doing the moonwalk. L'HOMME PARFAIT is the typical CineFranco type of commercial comedy directrice Marcelle Lean loves to program for her fete du cinema. The film works with a parfait blend of comedy and little family drama - no sex but lots of implications of it, no foul language, and entertaining and charming the way French comedies usually are.
MAIGRET (France 2021) ****
Directed by Patrice Leconte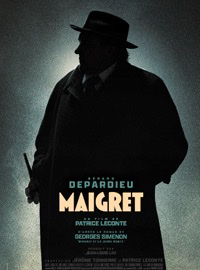 Two heavyweights in this Cinefranco entry makes this film the best of all the films screened at the French festival. A total delight of 90 minutes that teases, amuses and finally astounds. The first heavyweight is Patrice Leconte who for the second time adapts the Belgium sleuth writer George Simenon's novel. Leconte remade the totally entertaining MONSIEUR HIRE in 1989 with Michel Blanc adapting the Micehel Simon 30's film LES FIANCAILLES DE M. HIRE. With MAIGRET, he teams with star Gerard Depardieu who plays the title character adapting Simenon's novel MAIGRET ET LE JEUNNE MORTE. Maigret investigates the death of a young girl. There is nothing to identify her, no one seems to have known her or remember her. He meets a delinquent, who strangely resembles the victim, and awakens in him the memory of another disappearance, older and more intimate… MAIGRET is Simenon's famous commissioner of the Quai des Orfèvres. Leconte demonstrates that the investigation and solution of a murder involves all parties of the police force with doggedly determination and stakeout. A period piece, the film also points a finger at the nasty practices of the wealthy and privileged who believe they can get away with anything.
MES TRES CHERS ENFANTS (Bad Parenting) (Franc 2021) ****
Directed by Alexandra Leclere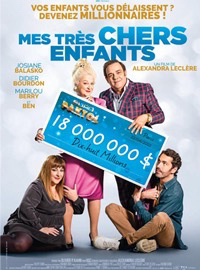 Chantal and Christian live a peaceful retirement. But since their children Sandrine and Stéphane left the nest, they no longer give much news. Opportunities to get together as a family are becoming increasingly rare... When the offspring announce that they won't be coming to celebrate Christmas, it's too much for Chantal and Christian! They then decide to make them believe that they have hit the jackpot (le lotto). If the film's premise sounds lame, it is a bit, but the film surprisingly turns out to be the funniest film I have seen this year - a laugh out loud moment every minute, thanks two the two stars, Josiane Balasko and Didier Bourdon who play the parents. (Be patient and let the first so-so 15 minutes play out.) Balasko is a Toronto favourite with her films arriving at TIFF regularly. She is a master at comedy. Bourdon who also appears in this year's Cinefranco's L'HOMME PARFAIT is also a delight, the two making a winning pair and a hilarious film. This film can be obtained online. Go to the cinefranco.com site to order.
ROSIE (Canada 2022) ***
Directed by Gail Maurice
ROSIE follows the trail of an orphaned Indigenous girl by the name of Rosie (Keris Hope Hill). Her mother's sister, Frederique (Melanie Bray) is forced by social services to look after her. Fred has her own plate full, being evicted and out of a job. She can hardly care for herself less than one else. The story does not sound fresh or like anything new. In fact the story is rather predictable. But first time Metis director Maurice shoots her film as if it is totally fresh material injecting humour and spirit in a 80's Montreal setting, with English, French and a little Metis spoken. This is also a seondary story of poor people surviving on the fringe. Two of Fred's friends are drag queens Flo (Constant Bernard) and Mo (Aex Trahan) who spice up the proceedings. Director Maurice also adds a bright note to a homeless Cree (Brandon Oakes) who shows kindness to the child. ROSIE is an entertaining and insightful debut from Gail Maurice.
LA VRAIE FAMILLE (France 2021) ****
Directed by Fabien Gorgeart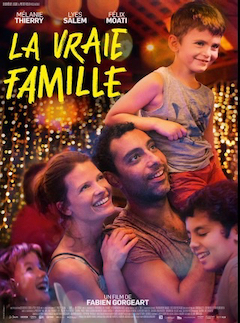 Anna, 34, lives with her husband, her three young children, seen at the film's start as a happy family enjoying quality time at an amusement park) including Simon, a child placed with them by Social Assistance since the age of 18 months. Simon is now 6 years old. One day, Simon's biological father expresses a desire to regain custody of his son. It is heartbreaking for Anna, who loves Simon, as does her entire family. She cannot bear losing Simon though she understands the deep feelings for the father as well as the strong emotions Simon has of his father and his current family. Director Gorgeart's film is real winner that pulls at the heartstrings while being totally charming at the same time - getting my vote as the most charming film I have seen this year. The film works because there is no easy target in the equation. Simon's father has a real reason for giving up the child and wanting him back. Anna understands and is sympathetic for his situation as well. With no villain in the film, the audience is sympathetic to both Anna and the father. Simon is also totally adorable as a child, one that no one can dislike. A real life drama that could happen to any family that is delicately handled making LA VRAIE FAMILLE a totally entertaining delight.