Capsule reviews are from selected French Fiilms:
French films are classified as French if they are from France or a French co-production (that could be in French or non-French); or in the French language, partially or fully
The ones listed will be posted once the emabrgo has been lifted. Embargo gates are stated.
Capsule Reviews:
EL AGUA (THE WATER)(Spain/France/Swirtzerland 2022) ***1/2

Directed by Elena Lopez Riera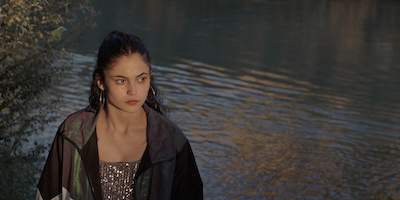 Water is a force of nature that is often impossible to control. The Segura River floods regularly, destroying local crops and residences. But water also has the devastating effect on a family of three single women, the townsfolk believing, thanks also the the grandmother spreading tales that water will consume them. The youngest teenager is looked down upon for this reason for not being a candidate for dating. The headstrong and mature-beyond-her teenage-years Ana (a magnetic Luna Pamies, lives with her mother (Bárbara Lennie) and grandmother (Nieve De Medina) in a sun-dappled southern Spanish town near the Segura river, where local legend dictates that women are destined to disappear every few decades when the river floods. Its overflow is fuelled, the legend follows, by the river's desire to claim for itself a woman who has recently fallen in love. Director Riera's film concentrates the story on Ana, making her film a part coming-of-age story in which she has to decide her own destiny. Strong drama but hampered by a weak ending.
Trailer: https://www.sensacine.com/peliculas/pelicula-285786/
ASHKAL (Frane/Tunisia/Qatar 2022) **
Directed by Youssef Chebbi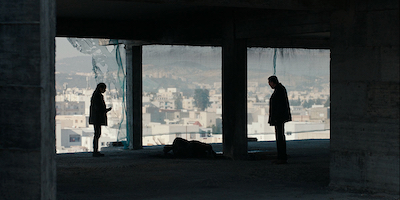 The film begins with a series of mysterious deaths in an abandoned development north of Tunis that sends two detectives down an all-consuming rabbit hole. In the Gardens of Carthage, a district in the north of Tunis, sits a row of abandoned concrete buildings once intended to house government dignitaries of the old regime. Developments in the district stopped in 2011, when the self-immolation of a Tunisian street vendor initiated an historic revolution that would spread and be seen across the world. Police detectives Fatma (Fatma Oussaifi) and Batal (Mohamed Houcine Grayaa) investigate. Director Chebbi poses more questions and provides a few hints with no solutions. The ending scene which poses as the answer turns out more confusing than anything else. ASHKAL is a cat and mouse game and the mouse that is finally caught and eaten is the audience.
AUTOBIOGRAPHY (Indonesia/Singapore/Philippines/France/Qatar/Germany/Poland 2022)
Directed by Makbul Mubarak
(Embargo lifted Sep 12th at 10 pm)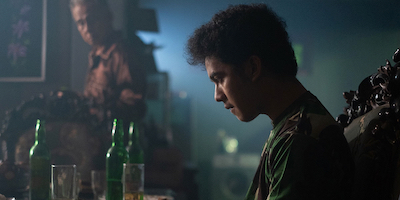 Eighteen-year-old housekeeper Rakib (Kevin Ardilova) has been living idly in a gloomy rural mansion when Purna, the lord of the house, unexpectedly returns. A retired general, Purna aims at winning the local mayoral election, running a campaign focused on modernization and development which involves evicting poor farmers in order to build a power plant. With his father in prison and his brother working abroad, there is a void in Rakib's life that Purna suddenly promises to fill.
UN BEAU MATIN (France 2022) ***1/2
Directed by Lia Hansen-Love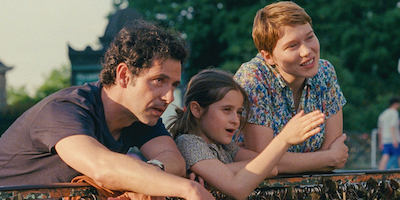 Director Mia Hansen-Love tackles once again her favourite genre of nuanced romantic relationships, the time between Sandra (Léa Seydoux) and best friend, but a married one, Clément (Melvil Poupaud), before they befores they turn into best friends with benefits. There are of course complications and baggage. Sandra works as a freelance translator, being an attentive single mother to her eight-year-old daughter (Camille Leban Martins), and caring for her father (Pascal Greggory), a retired philosophy professor slowly losing his sight, memory, and independence to a neurodegenerative disorder. It is her father that brings Sandra to tears so often. Clement, is hewer, married with a son. Director Hansen-Love is an expert in creating and developing emotional and realistic characters making UN BEAU MATIN immensely watchable and compelling. The film has a commercial release soon.
UNE BELLE COURSE (Driving Madeleine)(France 2022) ***
Directed by Christan Carion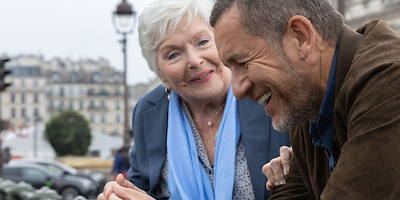 Charles (comedian Dany Boon in a more serious mood) is a taxi driver in Paris, and he is having a very bad day, which is everyday for a Parisienne cab driver. Some pressing personal debts are due, he's in danger of losing his driver's licence to numerous traffic infractions, and his marriage, like Charles himself, is strained to the point of snapping. He takes a quick but long fare in the suburbs that turns out to be Madeleine (Line Renaud), an immaculately groomed 92-year-old woman, who informs Madeleine reveals her true life story to the reluctant listener, Charles. This is a sentimental feel-good movie with director Crion attempting to push too many right buttons. It does not take a genius to guess the film's happy ending which is supposed to be a twist in fate but turns out to be a predictable fable. The audience at least get a good tour of the in and outs of Paris.
BONES OF CROWS (Canada 2022) **
Directed by Marie Clements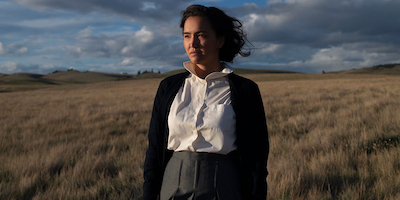 Inspired by true events, the words are splashed on the screen at the start of the film. This obviously does not imply that the story about to be told is true. BONES OF CROWS is a too ambitious historical epic told through the eyes of Cree Matriarch Aline Spears (Grace Dove), as she survives Canada's residential school system to continue her family's generational fight in the face of systemic starvation, racism, and sexual abuse. The epic unfolds over one hundred years with a cumulative force that propels us into the future. The film switches time and places at least a dozen times during the film. The audience first sees Aline as a child then as an adult at various stages, at courtship, after marriage, at the end when she is old with grandchildren. It is disorienting for a film to be screened in non-chronological order and here not once or twice but too many times. The story is overdone in order to get a message across. There are too many coincidences. The whites are easy targets but at least writer/director Clements show a few good points in the characters. The film's production is to be commended as well as the film's effort to get its message across. .
CORSAGE (Austria/France/Germany 2022) ****
Directed by Marie Kreutzer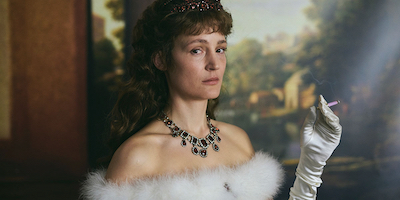 A beautifully crafted period piece shot in German and a little French with exceptional costumes and cinematography by Judith Kaufmann telling the life and demise of Empress Elisabeth of Austria (Vicky Krieps), whose beauty and corsetry was famed in lands far and wide.
The setting is Christmastime, 1877, in the Austro-Hungarian capital of Vienna, and Empress Elisabeth of Austria is celebrating her 40th birthday alongside her husband, Emperor Franz Joseph (Florian Teichtmeister), and their hoity-toity royal guests. Whispers murmur that it's all downhill from there, and her image — including her infamously ever-cinched corset — is under increasing scrutiny. After the festivities, with her roles increasingly reduced to that of ceremonial appearances such as visiting injured soldiers and waving to her hardscrabble and often uncongenial subjects, Elisabeth blanches at the thought of wasting away (as, unbeknownst to her, the empire is doing). The period piece is not as dull as it sees but as director Kreutzer injects lots of humour spaced with gorgeous interior and external settings. She does not judge the controversial Empress who does whatever she wants, leaving her to annoy all her family and servants while entertaining us.
Trailer:
LE COYOTE (COYOTE)(Canada 2022) ***
Directed by Katherine Jerkovic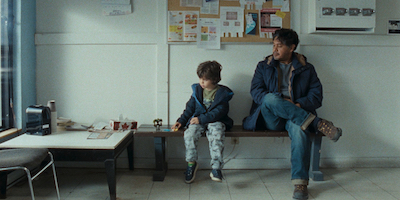 Reserved and reticent Mexican immigrant, Camilo, a fiftysomething widower, works for a cleaning company in Montreal. Back in the day, he ran a successful restaurant called Le Coyote that, for reason his substance abuse daughter, went under. Since then, he has doggedly pursued culinary jobs, to no avail. But an old friend and fan of Le Coyote has just asked him to work as a chef in the suburbs. But daughter Tania enters the picture with the shocking news that Camilo has a grandson, Zachary begging him to care for Zachary while she is in rehab. But Camilo reluctantly acquiesces, despite his misgivings and Zachary's apparent distrust of him. This is a depressing film all the way about a depressed past middle age man who when finally given a second chance might lose it alliance agin. The daughter continues the substance abuse, her son is difficult and he has to work hard at his own job as well. Director Katherine Jerkovic has her audience rooting for poor Camilo from the very first frame and her film is a difficult. watch.
LES ENFANTS DES AUTRES (France 2022)
Directed by Rebecca Zlotowski

Embargo lifted Sep 16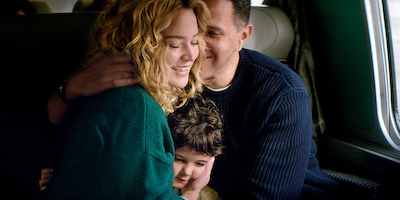 Virginie Efira stars as a teacher whose new relationship with a single father becomes complicated when she begins to connect with his young daughter, Lelia, in this romantic drama.
FALCON LAKE (Canada 2022) ***1/2
Directed by Charlotte Le Bon
Canadian actor Charlotte Le Bon's directorial debut, FALCON LAKE based on Bastien Vivès's graphic novel, is part summertime coming-of-age story and part eerie gothic film that follows the one lazy summer of a 14-year old boy, Bastien (Joseph Engel). When the film opens, Bastien arrives with his little brother Titi (Thomas Laperrière) and his mom Violette (Monia Chokri) at a lakeside cottage in rural Quebec to spend time with Violette's BFF Louise (Karine Gonthier-Hyndman) and her 16-year-old daughter Chloé (Sara Montpetit). When Titi and Chloe have to sleep in the same room with Bastine, trouble arises. One wonders why the parents do not think about these things. Bastine and Chloe create a strong bond of friendship. Bastien is beguiled by Chloé's moodiness and relative worldliness. Though their difference in age feels immense, Chloé is charmed by Bastien and invites him along to parties. Two wonderful, innocent and honest performances from the two young leads Montpetit and Engel as Chloe and Bastien. Nothing much else happens but need not. FALCON LAKE is beautifully photographed with haunting music. One can enjoy the film FALCON LAKE as lazily as just resting and rejuvenating by a lake beach.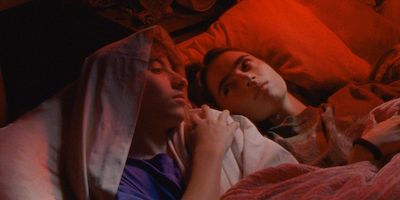 LA GRAVITE (The Gravity) (France 2022) **
Directed by Cedric Ido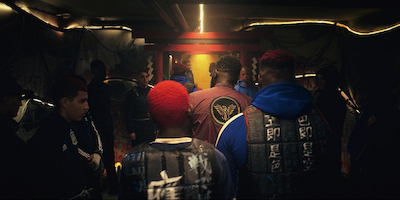 At the TIFF screening director Ido mentions that he loves cinema genres. H did not mention any one particular, so it is assumed that he liked to concept of them. On his latest film encompasses a few of them - sci-fi; family drama; gangster; action. The trouble with this is evident- too many cooks spoilt the broth. It is better to stick to one and do it well. he sci-fo genre looks does not work at all and appears to be a cop-put for an ending. Ido works best with his action sequences with the fights exciting and realistic. Story-wise, Udio is not that good a storyteller, jumping form one character to another just as the hand that rules the projects changes.
HAWA (France 2022)
Directed by Maïmouna Doucouré
Review emabrgoed till Sep 13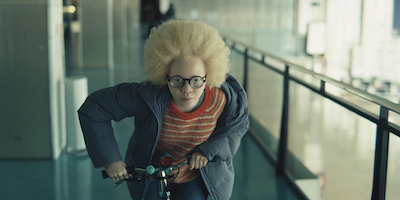 A 15-year-old girl with a beautiful blond afro, and coke-bottle glasses, and an innate disregard for social niceties, Hawa (Sania Halifa) is not your typical Parisian teen. Maminata (famed Malian singer Oumou Sangaré), her beloved grandmother and sole guardian, is terminally ill, hasn't long to live, and has yet to secure a new family for her granddaughter. Luckily, Hawa has come up with a perfect solution to their problem. Michelle Obama is visiting Paris to have an audience with singer Yseult and do a book signing event. She has stated publicly that she misses her daughters, who are now adults and have moved out. Clearly, according to the 15-year old, Obama should adopt Hawa. Hawa simply needs to meet and ask her.
This is a charming and feel-good fairy tale in which director Doucouré
quickly gets her audience to root for her fearless protagonist Hawa who believes that nothing is impossible. And in fact, almost nothing is impossible in the film for Hawa in the film. She tries everything including gate crashing Yseult's concert, diving into the airport baggage chute to meet Obama.
One thing while watching the film is whether the filmmakers would have got celebrities Yseult, Thomas Pesquet and Michelle Obama in their movie before their appearance (or not). Chanteuse Yseult appears and is given substantial screen time as well
A few flaws in the story is that a 15-year old should realize the impossibility of Obama to adopt her, besides the fact that everything turns out to have a happy ending. But it is the charm of the film and the winning performance of Halifa as Hawa that makes HAWA so entertaining.
.
HOLY SPIDER (Fr/Ger/Swe/Den 2022) ***** Top 10
Directed by Ali Abbasi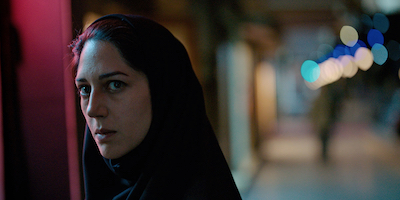 Like Jack the Ripper, someone is brutally killing the street prostitutes in the holy Iranian city of Mashhad. The serial killings are nicknamed spider killings. As the serial killer, the identity revealed to the audience very early in the film as a devout jihad, the film is thus called referring to the killer, HOLY SPIDER. Saeed (Mehdi Bajestani) is a worker, doting family man, veteran of the Iran–Iraq War, and a devout Shia Muslim. He appears to live simply with his wife Fatima (Forouzan Jamshidnejad) and two children. Director Abbasi shows the brutal stranglings in detail, just as Hitchcock did in FRENZY. The victims are struggling to breathe, their faces distorted while badly beaten by Saeed. With no end in sight to the slayings, a Tehran-based journalist, Rahimi (played by Zar Amir Ebrahimi, who won Best Actress at Cannes 2022, where the film screened in competition), arrives on the scene, determined to uncover the killer's identity. Soon, a dangerous cat-and-mouse-game is underway, where each player's and onlooker's own interpretation of justice casts a unique prism of doubt. Like a Hitchcock film, HOLY SPIDER is an engrossing watch from start to end.
LA JAURIA (Columbia/France 2022) ***1/2
Directed by Andrés Ramírez Pulido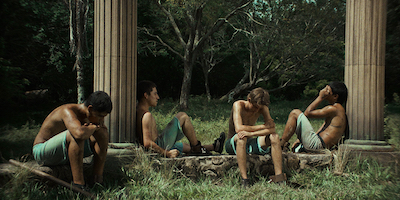 Troubled teenagers are forced to fend for themselves after they are locked away in an experimental tropical-forest prison, LA JAURIA. The story focuses on Eliú (Jhojan Stiven Jiménez) and his friend El Mono (Maicol Andrés Jiménez), who begin the film in the midst of a frenzied night — one that ends in murder. They meet again as prisoners in the centre, where they're heavily medicated and forced to do intense labour. Álvaro (Miguel Viera), the good cop to bad cop Godoy (Diego Rincón), leads dubious therapy sessions and seems genuinely intent on helping the kids. But when he starts crumbling under the pressure, the boys are left to fend for themselves. Everyone from guard to the boys undergo a gruesome life with hardly a way out. The result is expectedly disastrous. Almost the entire film is used to depict the harsh conditions of the boys. Working 4-5 days without food, they are too tired to sleep and one they do, they have to lay down on planks and be bitten by bugs. A twist of fate occurs at the end where a ray of hope appears for Eliu. An impressive piece of filmmaking full of cruelty and despair.
WINTER BOY (Le Lyceen) (France 2022) ****
Directed by Christophe Honoré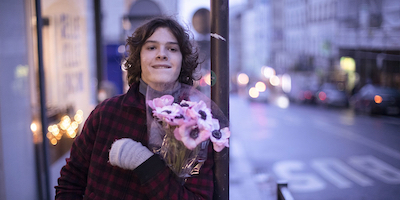 WINTER BOY is Christophe Honoré's most autobiographical film to date starring Paul Kircher as a young man who is sent reeling by an unexpected tragedy of his father played by Christophe Honoré himself. Young and uncontrollable, Lucas looks for comfort in all the wrong places. He drifts blithely through his last year of boarding school and looking forward to life as an attractive, out young man in Paris. His older brother, Quentin (Vincent Lacoste), already lives there; his parents will take care of everything. It'll be nice. And then, one day, a sudden tragedy strips away everything Lucas took for granted, leaving him filled with anger and despair, his future in shambles. Quentin is lost in his own pain. Their mother, Isabelle (Juliette Binoche), tries her best often without success to reach out to the young man Lucas is becoming. Sweet and charming and occasionally brutal in life's outlook, Honoré's film works as his sincere and honest storytelling carries across he screen. One can immediately recognize his traits in his film like using scenes with amplified sounds of traffic with imminent danger possible when driving or with cars nearby.
SAINT OMER (France 2022) ****
Directed by Alice Diop
Fresh from winning a top prize and the Venice Film Festival, this is one extraordinary narrative debut by acclaimed documentarian Alice Diop. Her doc roots are evident in the film as there are lots of actors speaking to the camera just as interviewees do, especially in the long takes of the court scenes. The incidents are never shown on screen but unfolds in the words of the actors, and more effectively so. A young novelist, Rama (Kayije Kagame), is working on a contemporary retelling of the ancient Medea myth. In the Greek mythology, Mdea is a mother who murdered her children. Pregnant herself and increasingly uneasy, Rama's own family history, doubts, and fears about motherhood are steadily dislodged as the life story of the accused woman, Laurence Coly (Guslagie Malanda), is gradually revealed. From a stern upbringing in Senegal to gradual isolation from family and society on her arrival in Europe, Coly's experiences expose the traumas of racism and emotional manipulation that can remain unspoken while insidiously and irrevocably corroding a person's well-being. Never has a film with so much dialogue been so exciting and compelling. The courtroom drama played out by director Diop looks so much like a true crime drama. SAINT OMER where the baby was drowned is west-northwest of Lille on the railway to Calais, and is located in the Artois province. The town is named after Saint Audomar, who brought Christianity to the area.
Trailer:
L'ORIGINE DE MAL (The Origin of Evil)(France/Canada 2022) ****
Directed by Sébastien Marnier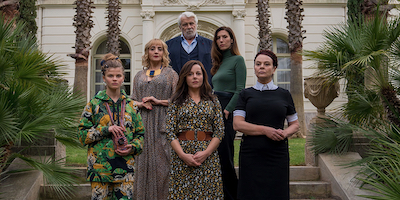 Murder among the bourgeoisie is the setting of the superb mystery thriller THE ORIGIN OF EVIL that feels like a Claude Chabrol classic. A young lady who steals the identity of Stephane (Laure Calamy) shows up at the family door of patriach Serge (Jacques Weber) claining to be his long lost daughter. His wife and daughter treats her like shit believing her to be an imposter and demands her i.d.. The plot thickens in this deliciously wicked fable which contains more servings than expected. The daughter, George (Doria Tiller) and wife (Dominique Blanc) wants Serge committed to get his wealth. Serge wants Stephane to testify that he is still mentally apt. Just as one thinks writer/director Marnier has exhausted all possibilities in plot twist, he surprises. Serge is aware that the girl is an imposter. The girl gets Stephane's id. as she is sleeping (as she is a lesbian) with the real Stephane in prison who is serving a 5 -year sentence. The film comes with a complete abrupt but excellent surprise ending worth of Chabrol's LE CRI DE HIBOU.
TRIANGLE OF SADNESS (Sweden/UK/USA/France/Greece 2022)
Directed by Ruben Ostlund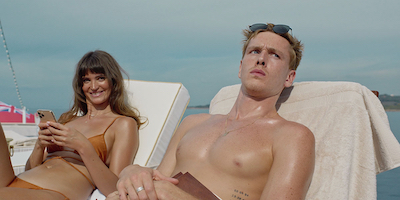 Swede filmmaker Ruben Östlund might be a difficult name to remember but one that should be remembered for his groundbreaking film FORCE MAJEURE and the Palme d'or Winner THE SQUARE. This year Ruben Östlund returns with another grand Cannes Palme d'or Winner, a wicked and delicious satire on the rich and wealthy as they grapple with their power and 'lack of' in order to survive a shipwreck or rather a luxury yacht wreck. TRIANGLE OF SADNESS is flawed but improves from the first to the third chapter and still makes it one of the top 10 films of the year.
TRIANGLE OF SADNESS is publicized as a film best seen with a full house. This is true if everyone in the audience laughs together but in this case, the laughs, especially in the first and second chapters are derived from other films, so not laughing and finding everyone else doing the opposite might be extremely irritating. I previewed the film at a quarter full pre-TIFF screening, a perfect compromise of a full and not so full house.
The film is so called as in the first segment, Carl, a model is asked to rid himself of that triangle of sadness that appears above his eyebrows in order to win the male model audition. It is apparent that this look is more deeply rooted in his character as he tries in the whole film to rid himself of the inherent sadness within himself, but without success but not for want of trying.
TRIANGLE OF SADNESS unfolds in three chapters. The first is entitled Carl and Yaya, the perfect human specimen of male and female played by Harris Dickinson (last seen in WHERE THE CRAWDADS SING) and the recently passed on (on the day of my screening) and beautifully talented Charlbi Dean. The first chapter introduces the audience to the troubled couple, always arguing. The argument at the restaurant is similar to the one in Östlund's THE SQUARE where the couple just after sex, have a lengthy argument of who is going to throw away the used condom. This time Carl and Yaya fight over who is paying the bill, Carl insisting that she always gets away with not paying (it) and when she insists, he says no, only to find that her credit cards have been refused. The second chapter entitled THE YACHT has this couple win a cruise on a luxury yacht where they meet a bunch of wealthy people above their station. In a key scene during the Captain's (Woody Harrelson) dinner, the guests spew out their dinner, each getting sick from the rocking ship. The segment is over played especially when the vomiting dinner scenes were already used in MONTY PYTHON'S MEANING OF LIFE, though in a different context. The film improves tremendously in the last segment called THE ISLAND where a grenade explosion leaves the surviving guests shipwrecked on an island where LORD OF THE FLIES style, the balance of power changes into the hands of a Filipino worker, Abigail (Dolly De Lion) on a ship, previously the toilet manager now self promoted to Captain as she is the only one who knows how to fish and start a fire. Everyone depends on her. The scene where she hands out cooked octopus to her followers is genuinely hilarious.
The yacht's passengers is comprised of a eclectic bunch of wealthy misfits including a British couple involved with weaponry, a German lady with a stroke who can only utter the words "In Den Wolken", which she repeats no fewer than a dozen time in the film, and still being funny, a Russian oligarch, Dimitry (Zlatko Burić, from the PUSHER trilogy) who loses his wife among others.
Though the vomiting and shit toilet-overflowing humour and the bill paying segments might not have been that funny, the film contains two of the best jokes seen at TIFF films this year. When asked by Carl what he does for a living, Dimitry the oligarch answers: "I sell shit!". When the passengers are throwing up, the captain and Dimitry debate social/political issues exchanging famous quotes. Dimitry argues with this quote: "Socialism only works until it runs out of other people's money - Margaret Thatcher."
TRIANGLE OF SADNESS is a film everyone would delight in viewing. There is the 99% of the less wealthy audience who would cheer to see the undeserving rich and wealthy get their comeuppance and also hopefully the other 1% of the audience as represented by the yacht's passengers who are able to laugh at themselves.
The film opens in theatres October 7th.
Trailer:
WILL-O'-THE WISP (Portugall/France 2022)
Directed by Joao Pedro Rodriguez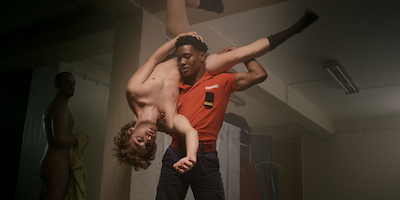 Categorized in the Wavelengths Section of TIFF implying the film to be experimental or cinema-verity in nature. Rodriguez's mesmerizing and meticulously constricted musical fantasy is as impossible to describe as it is to explain. But running only at 67 minutes, this homo-erotic fantasy is as pleasurable to watch as it is to comprehend. The film follows a royal prince though different time periods as he volunteers and trains in the local fire brigade in order to protect the royal woods in danger of destruction by fire due to climate change. The film begins from his deathbed in the auspiciously erotic year of 2069 when King Alfredo is transported back to our present day, when a walk through a scorched, phallic forest prompts the sensitive and cherubic prince (Mauro Costa) — not yet beset by the responsibilities of ruling — to pursue firefighter training in service of an increasingly overheated planet. At the academy, young Alfredo meets and falls in love with instructor Afonso (André Cabral). The fiery passion of the interracial couple is inextricable from the spectres of class, race, and colonialism swirling around them,
THE WORST ONES (Les Pires) (France 2022) **
Directed by Romane Gueret and Lise Akoka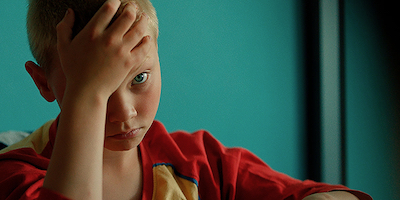 In the film within a film THE WORST ONES, Flemish director Gabriel (Johan Heldenbergh) is 54 and making his first film at the age, a gritty portrait of troubled kids called Pissing in The North Wind. He conducts a casting call in Cité Pablo Picasso, a poverty-stricken housing project in the suburbs of Boulogne-Sur-Mer, France, picking out the worst ones to make his film more interesting. Unfortunately picking troubled kids only means more trouble in controlling them during the shoot. Garbiel himself is a troubled human being and so what happens is a toxic environment filled with destruction. The film goes nowhere and one wonders the aim of the film, except to show the real poverty of the people, which is already known. The kid actors are the best thing in this depressing film.