SALOUM (Senegal 2021) ***1/2
Directed by Jean Luc Herbulot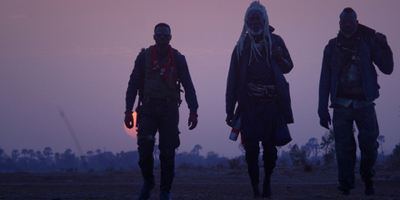 Shot mainly in French though set in the poorest regions of Africa. A trio of mercenaries navigate a mysterious region of Senegal, in Jean Luc Herbulot's perhaps coolest film of the festival. His film demonstrates great ingenuity and spirit with lots going on in each layered scene that might be overlooked. Amidst Guinea-Bissau's coup d'état of 2003, Bangui's Hyenas, an elite trio of mercenaries, skillfully extract a drug dealer and his bricks — both gold and narcotic — from the chaos and make tracks for Dakar, Senegal.
Shot down while fleeing a coup in Guinea-Bissau, the legendary Bangui's Hyenas mercenaries - Chaka, Rafa and Midnight - have three goals: stash their stolen gold bounty, lay low long enough to repair and refuel, and escape to Dakar, Senegal. Taking refuge at a holiday camp in the coastal region of Sine-Saloum, they'll do all they can to blend in with their fellow guests, including deaf-mute Awa, with secrets of her own, an artist couple looking for inspiration and a policeman who may or may not be on their tail. But Chaka is hiding the deepest, darkest secret of them all, and unbeknownst to the Hyenas, he's brought them there for a reason. As his past catches up to him, his decisions will have devastating consequences, and threaten to quite literally unleash hell on them all…
The film is not perfect, as it is messy and occasionally confusing, but SALOUM is definite evidence that Herbulot has the best that is yet to come.
Taking West-African cinema to new genre heights, SALOUM is both an unexpected and unashamedly pulpy thrill-ride inspired by true-life mythology, and a meditation on the nature of "heroes". It's a film that questions the nature of 'heroes' and 'villains', selfishness vs sacrifice, and the consequences of choices good and bad.
SALOUM was unexpectedly selected for the Midnight Madness Section of last year's Toronto International Film Festival. The filmmakers rushed to finish their final cut and have it ready for TIFF. SALOUM might not have been the best film at TIFF but it is one of the most energetic.
Trailer: