LUX AETERNA (France 2019) **
Directed by Gasper Noe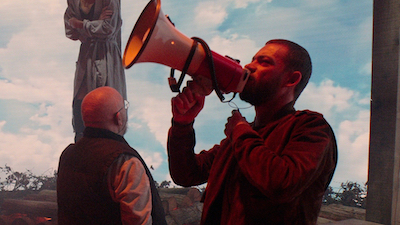 LUX AETERNA arrives in Toronto after VORTEX though it was made and released in France and premiered at Cannes before VORTEX. For commercial audiences, beware as this is an experimental film, which means that there is no head or tail and this is true for the film. It is a 2019 French independent experimental art film written and directed by Gaspar Noé, screened out of competition at the 2019 Cannes Film Festival. The film makes heavy use of epileptic imagery, split-screen, and 1920s-esque documentary footage involving witchcraft. Though running at only an hour and 5 minutes, it is a hard watch.
The film's premise follows two actresses who are to play the part of two out of three witches burnt at the stake in a film about witches. The third witch is played by Abbey Lee. The first part of LUX AETEERNA has them, mainly Dalle talking shit - about witches and about other things. Then the film shoot starts and everything goes wrong. But according to the director, it is perfect for the film to be shot and he continues shooting, much to the anger of Dalle.. Nothing makes much sense! The chaos at the film's end is observed with strobing lights and screeching sounds. The film occasionally uses split screen, again more utilized in Noe's VORTEX.
To Noe's credit, he has enlisted two of France's most respected actresses , Beatrice Dalle who rose tofu from Jean-Jacques Beineix's BETTY BLUE. Dalle has had quite a reputation in real life. The other is Charlotte Gainsbourg, wife of filmmaker Yvan Attal. Both play themselves in the film.
LUX AETERNA is an often frustrating experimental film that leads nowhere and comes across as pretentious and confusing. Gaspar Noe fans would be the only ones who would forgive the director for his major excesses as in this film and in the recent CLIMAX. There is a bit about art in films from Noe.
The film ends after the end credits: "Thank God I'm an atheist." Noe has paid respect to great directors like Jean-Luc Godard using his colourful titles in his first film CARNE and now does likewise with the end credits quoted from Luis Bunuel.
Trailer: