PETITE MAMAN (France 2021) ****
Directed by Céline Sciamma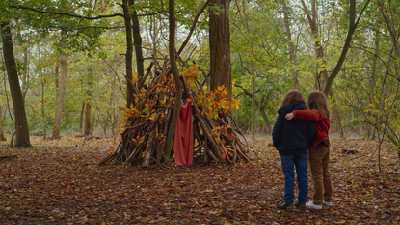 Mesmerizing, beautiful and magical, director Céline Sciamma's latest film about loss and discovery from the point of view of a young girl, Nelly (Josephine Sanz) is an unforgettable film that is a must-see. This is the director that has amazed critics with festival hits like PORTRAIT OF A LADY ON FIRE and demonstrated her smarts with her script for the amazing animated MA VIE EN COURGETTE, nominated and should have won the Oscar for Best Animated feature.
When Nelly's granny dies at the film's start, she goes to her home with her parents and meets a girl her age, also long somewhat like her. As she plays and gets acquainted with Marion, it turns out that the new friend is her mother when her mother was her age. The film moves in and out comfortably, between times, between personalities as Nelly learns about her mother. The two often play in the woods, made colourful by the multicoloured leaves, beautifully shot, assumed in the autumn when leaves change colour. There is immense intelligence and sensitivity and remarkably thought-out scenes like the connection between the two girls while having soup, making pancakes or playing. The two girls look very alike and it is difficult to distinguish one from another. The mother has lighter hair and is called Marion while the other has darker hair, called Nelly. The English translation of the title LITTLE MOTHER prepares the audience for Nelly to meet her maman when she is little.
PETEI MAMAN treats the innocent girls as adults with maturity in their thinking, unadulterated by the grownup world. Example: Nelly's secret is not shared not because she keeps it hidden but for the reason that there is no one to tell the secret to.
PETITE MAMAN premiered at Cannes and was screened at the Toronto International Film Festival. A superb and delightful gem about girls in their fantasy yet mature world! Film is playing at the TIFF Bell Lightbox.