LES OLYMPIADES (PARIS, 13TH DISTRICT) (France 2021) ***
Directed by Jacques Audiard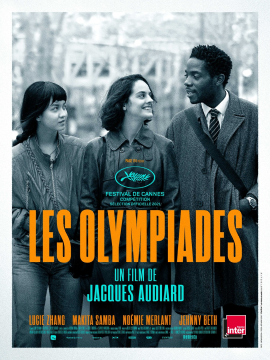 These two weeks sees the release of two French films by two French Masters, a rare treat for French film aficionados like myself. Last week saw the opening of Francois Ozon's excellent EVERYTHING WENT FINE and this week Jacques Audiard's PARIS, 13TH DISTRICT. Both are arresting films and worth a look. If only there would be more French films commercially released in Canada.
The film is based on the graphic novels of American cartoonist Adrian Tomine.
French writer/director Jacques Audiard is a talent to be reckoned with ever since he helmed one of the most outstanding French prison dramas UN PROPHET. He also made the recent THE SISTERS BROTHERS, a flop at the box-office though that was quite a good, as well as the Tamil film DHEEPAN. His latest film, PARIS, 13TH DISTRICT (the English title) is a film totally different from his other works, a film about sexually active youth living in the 13th arrondissement of Paris. The film reminds one of the free love practiced by the teens in the Eric Rohmer films wth one difference - Audiard's film is full of sex.
To examine the film on its own, one must give director Audiard credit for making a film completely different from his previous body of work. It shows an artist willing to experiment and try alternative art, a good thing for sure. His best work was UN PROPHET, a prison drama that demonstrated the rise of a petty criminal to master criminal, attaining his full criminal potential. Audiard managed to get the audience to root for the monstrous protagonist. In PARIS, 13th DISTRICT, it is more difficult to root for his 3 characters. They are less likeable, though there are segments in the film that make them more likeable. Despite Emilie's totally unethical sexual practices, she does care r her grandmother who suffers from Alzheimer's and living in a home. Then, Emilie gets someone else to visit her grandmother to pretend to be herself for a reason unexplained. It is also difficult to identify with her black roommate, Camille who is all over the place with regards to his career. The third character is Nora, mistaken for the cam prom star, Amber Sweet because she looks like her when she wears a blond wig. This is a lady who takes control of both the problem and her life. The best thing about the plot is the three characters coming together as a story.
This is a story of three people who are surrounded by many. Emilie is constantly surfing for dates on a dating app and full of family responsibility. Her black roommate, Camille, has plenty of student acquaintances from his teaching profession. He is always invited to parties. Nora frequents clubs. Yet, each is so alone without any emotional connection to any other.
One has to give director Audiard credit for making a compelling film about characters that his audience do not really care for. This is quite a feat. One cannot help but eagerly anticipate what will happen to each person.
The compelling PARIS, 13TH DISTRICT is not Audiard at his best, but not for want of trying.
Trailer: