TOUT S'EST BIEN PASSE (EVERYTHING WENT FINE) (France 2021) ****
Directed by Francois Ozon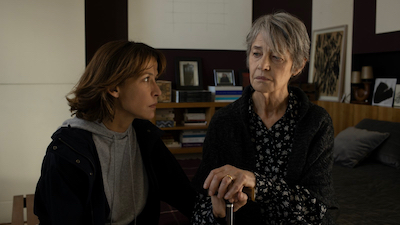 A new film by French auteur Francois Ozon is always something to look forward to, since Ozon is now in top form with his recent hits like L'ETE DE '85, L'AMANT DOUBLE and THE NEW GIRLFRIEND. This is Ozon's most serious film, where all his details in the film appear to be a premonition of the worst that is yet to come.
The serious premise of the film: When André (Andre Dussollier, who is 77), 85, has a stroke, Emmanuele (Sophie Moreau) hurries to her father's bedside. Director Ozon spends 5 minutes or so showing the hurried journey, taking the stairs instead of waiting for the elevator and then going back to her apartment because she has forgotten her contact lenses. Sick and half-paralyzed in his hospital bed, he asks Emmanuele to help him end his life. But how can she honour such a request when its one's own father? The sight of her father with a half paralyzed face is not a pretty sight.
Ozon, being so well-known, is able to attract the best of French actors like Sophie Moreau in the title role. Andre Dussollier, plays the role of his career, the father suffering from a stroke. When his wife visits, the audience should be pleased to see Ozon's sometime collaborator Charlotte Rampling (SWIMMING POOL, SOUS LE SABLE) enter the hospital and soon saying: "I am going home." The father's bed neighbour is played by veteran Jacques Nolot, also suffering fut recovering from a stroke.
Nolot has one of the film's most moving scenes. When his character recovers, he meets Emmanuele just as her father is transferred to another hospital. "You are lucky," she tells him after hearing that he will be returning home the next day. "No, he is the lucky one." surprised at his reply, he adds: "He has you as his daughter. This is just at the film's 25 mark when Andre, in his hospital bed tells his daughter:"I want you to help end it all." as a tear rolls down the side of his face.
EVERYTHING WENT FINE, based on the script adapted by Ozone based on the novel written by Emmanuèle Bernheim, the name of the main character of the story is a layered one with many other important subplots related to the theme of the subject of medically assisted suicide. There is much research that goes on behind the scuicide as to how it is legally done in France. The relationship between father and daughter Emmanule is also of paramount importance in the plot. The decision of why the father asked her and not her sister to look into the suicide is also is examined as it the relationship between the family and her brother. Ozon is a gay writer/director and the theme of homosexuality appears in one scene where the father reveals the reason he hates his in-laws with such venom being that they never accepted their daughter's marriage to a homosexual. Nothing else is said about the subject whether Andre is gay, as gay males are often found with families.
French films seldom get a release in Toronto lately. French film cineastes should be pleased with the release of Ozon's relevant new drama.
Trailer: