Article to be updated as more shorts are seen.
This program opens at the TIFF Bell Lightbox on Feb 25th 2022. An absolute annual delight of excellent gloal shorts.
OSCAR SHORTS 2022
ANIMATION:
AFFAIRS OF THE ART (Canada/UK 2021) ****
Directed by Joanna Quinn and Lee Mills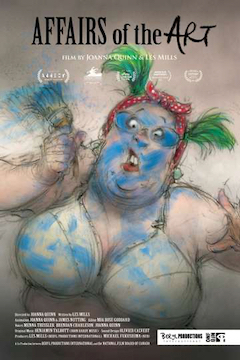 AFFAIRS OF THE ART is a film about obsessions - obsessionss of Beryl's family. Beryl is obsessed about drawings, her grandmother on pickling amid other obsessions. This animated short feature has already won numerous awards in festivals world wide and might be a shoo in for a win for the Oscars. It is also my favourite. The animation is fresh and different and the short feature is inventive, hilarious, insightful and totally entertaining. The film follows the thoughts of Beryl, the character who has previously appeared in Quinn's Z(a British animator) other shorts. Beryl is pregnant with Colin's child, Colin who is equally interesting. Colin rescued an in cured pigeon and became inseparable with it till it was killed by a cat, that Colin killed with precision with his crossbow. The less said about this featurette the better, as it is full of surprises at every turn. This one is worth watching multiiple times - an instinct classic. The NFB is bringing all Canadians into the Oscar celebration with free streaming of AFFAIRS OF THE ART from February 8 to March 27 on NFB.ca.
Trailer:
AUDIBLE (USA 2021) ***
Directed by Matt Ogens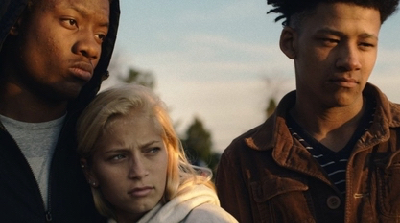 Matt Ogens' 38-minute doc short tackles the series epic of coming-of-age of the deaf, set in the Maryland School of the Deaf. It begins with the subject, with headphones on, screaming in silence before it is revealed that he is deaf. Ogens then takes his audience to the football field where Amaree (the subject) takes his anger out on the field. Athlete Amaree McKenstry and his close friends face the pressures of senior year and grappling with the realities of venturing off into the hearing world. They battle to protect an unprecedented winning streak, while coming to terms with the tragic loss of a close friend. Though deaf, these kids still face the identical challenges of the world, showing they do not need to shout to be heard. Three main issues are dealt with in the story. One is the death of the friend, Teddy who was transferred to an all hearing school. Another is the relation between Amaree and his father who left the family when he was 25. After being saved by Jesus Christ after dealing heroin on the streets, father and son are finally reunited. The other and main issue is dealing with the world after graduation from the school of the deaf. Though over-serious, a little humour would do the film some good, Ogens gets his message across.
BESTIA (Chile 2021) ***1/2
Directed by Hugo Covarrubias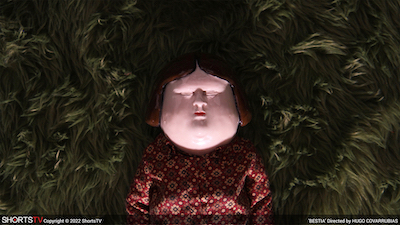 From Chile comes this short that begins with an image of a tray of plane food that looks glazed and artificial. The camera moves on to the image of a woman, slightly stout, the animation of her head looks like a porcelain doll, but actually created using ceramics. looking equally glazed and shiny. A close up reveals a hole in the side of her head. BESTIA unfolds without any dialogue, so it is up to the audience to figure out what is going on. The woman apparently works as a kind of torturer for the Chilean Intelligence, as she is seen disposing of bodies and doing clandestine activities. She is seen as morally disturbed. He fleets between reality and fantasy of her dreams. She has a connection with her Alsatian dog who eats, sleeps and plays with her. The sort is a bit confusing but it is the way it is supposed to be. The animation is what makes this short stand out among the others.
Trailer:
BOXBALLET (Russia 2019) ****
Directed by Anton Dyakov
A romance that blossoms between two distinctly different people is examined with keen observation in BOXBALLET. One day, a delicate ballerina named Olya meets the rough, surly boxer Evgeny. The contrast between their worlds and their philosophies is so sharp that even the possibility of these two characters crossing paths seems incredible. But it happens. Still there are similarities between the two sports, as observed by director Dyakov. Both demand great strain on health. The magic of this short not only lies in its quaint premise but in the delightful detailed animation that captures the nuances of the drawing of each character in every frame. The animated ballet sequences are also a treat to watch. Men are portrayed in a different light from women here, perhaps a reflection of Russia. The men are dirty, ugly and one ballet instructor sexually abuses one of his dancers in a fleeting moment. The boxer is big and has a bruised face while the ballerina is slim, mannered and pretty. A very delightful and sweet short done entirely without dialogue.
Trailer:
ROBIN ROBIN (UK 2021) ***
Directed by Daniel Ojari and Michael Please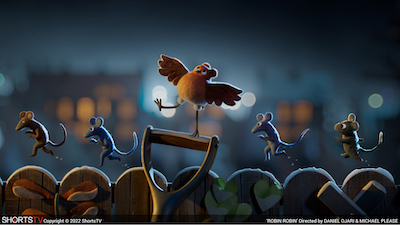 Hooray again for Netflix for coming aboard with this new Aardman Studios (WALLACE AND GROMIT, SHAUN THE SHEEP) animation nominated for the Oscar. Personally, I did not think it is better than their previous works particularly WALLACE AND GROMIT, but this rather more childish effort still has appeal. It has a loose storyline about an egg found by a family of mice. The egg hatches into a robin called Robin and reared by the mice family. Robin the robin was to be a mouse and learns to steal crumbs and other food by the mice family. In its clumsiness, it seeks to surprise the family by going out of her own to bring back food. She encounters an eagle with a broken wing whilst learning to fly. Great animation, once again from the Aardman Studios. Richar . Grant and Gillian Anderson lend their voices in the featurette.
Trailer:
THE WINDSHIELD WIPER (USA/Spain 2020) ****
Directed by Alberto Mielgo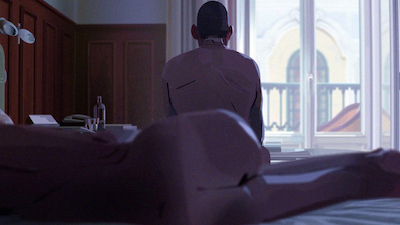 For those unfamiliar with animator Alberto Mielgo, this artist has already a large body of work as evident in the stunning animation of THE WINDSHIELD WIPER. A chain-smoking man in a restaurant contemplates the question; "What is love?" as the short globe-trots all over the world in a series of vignettes that illustrate the director's thought on the subject. There is a couple sitting on a beach, a Chinese schoolgirl jumping from a tall building, a man and woman missing an opportunity for a perfect match because they are too busy searching in the internet for a partner among others. The soundtrack is equally romantic and haunting and captures the mood of mystery of love. Filmed in English, Spanish and largely silent bu accompanied by music. The main attraction of this short is the detailed animation so real that it feels like the actual thing - like the rain puddles and the burning of a cigarette.
DOCUMENTARY:
QUEEN OF BASKETBALL (USA 2021) ***1/2
Directed by Ben Proudfoot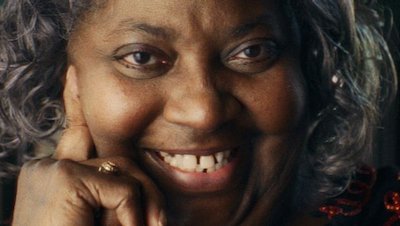 The queen of basketball from a small Mississippi town an all black neighbourhood , Lusia Harris is introduced by an elderly black woman who soon admits that she is that star, now retired and living happily ever after. Through archive footage and a very exuberant, spirited voiceover from Lucy herself, while laughing half the time, this exciting short records the glory of the baseball player, focusing also on the pull and rise of female basketball. The segment of one of Delta state university's key games, with Lucy scoring multiple goals is as exciting as the climax of any sports few-good dramas. Another game has Lucy playing in the Montreal olympics in Montreal. The film is also a brief biopic of Lucy, coming from sharecropper parents with a family of 11 children. The short is a feel-good drama also demonstrating that all can be possible with dreams coming true for anyone despite their colour and background. "Long, tall and that's not all!" Lucy turns her height disadvantage to good use. The sad thing is that Lucy suffers from mental illness, being bi-polar that surfaced only after she stopped playing basketball.
THREE SONGS FOR BENAZIR (Afghanistan 2022) ***
Directed by Elizabeth Mirzaei and Gulistan Mirzaei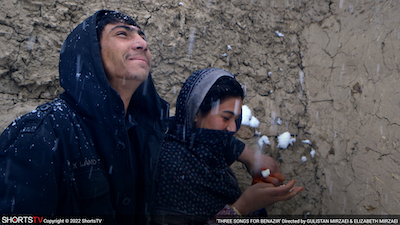 This is a very sad portrait of a father who wishes the best for his wife and soon to be born child. The film begins with him singing a song to his wife, Benazir. Unfortunately he is uneducated and lives in poverty. The only way out is to join the army but his father refuses to grant him permission. As a result, he has to work in the poppy fields to earn money and becomes an addict as a result. 4 years later, he is out and re-unites with his family. The gut wrenching short shows how lucky North Americans are compared to the poor family who is living in a camp for families displaced by the war. The ending shows the father's happiness reunited with the family, having a snowball fight. Indeed it is the little things that bring happiness. The simple but effective short is dedicated to the people of Afghanistan which this short clearly shows deserves not only our respect but our alms.
Trailer:
WHEN WE WERE BULLIES (USA/Germany 2021) **
Directed by Jay Rosenblatt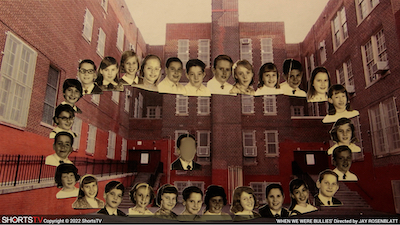 A well intentioned film that goes nowhere except to stress the negative effects of bullying. The director is a filmmaker who teaches film. When he is seeking a person for the Voiceover for another film; THE SMELL OF ANTS BURNING, he interviews Mark who turns out to be his classmate form the same school and the same class. It turns out that he and Mark were involved in a bullying incident. The director, Jay cannot get the bullying out of his mind and goes to great lengths at interviewing all of the ex-students of Grade 5 including the teacher who caught them bullying Dick, the fat victim who was traumatized by the incident. The short seems to be all over the place (as in the scene Jay climbs over the closed gate of the school on a weekend) and one really wonders at the length Jay has gone through to find out more, instead of paying compensation and seeking apology from Dick who he had found in the process. What is interesting is Einstein's saying: Coincidences is the way God remains anonymous.
Trailer:
LIVE ACTION
THE LONG GOODBYE (UK/Netherlands 2020) ***
Directed by Aneil Karia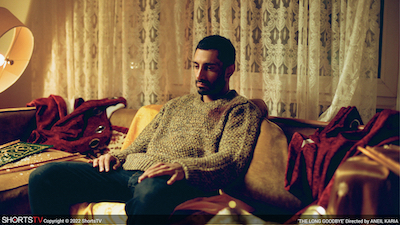 Directed and co-written by Aneil Karia and Riz Ahmed, this 12-minute short is a look at a British Pakistani's family's worst nightmare come true. While watching a 'right' riot on TV, it turns out that they are right at the family's front door. Ahmed (THE SOUND OF METAL), playing himself tries to usher his family into the cellar but is unable to make it in time. The far right rioters break into the house and force them into a van while shooting a few. Ahmed spends the end of a movie in a rap about racial violence. "Why do they hate us?" The short, though short, is a bit excessive and Ahmed in his rap dialogue claims he hates the British. Warning: This short is violent and contains mould language and is not for the family though it is centred on one.
THE DRESS (Poland 2020) ***1/2
Directed by Tadeusz Lysiak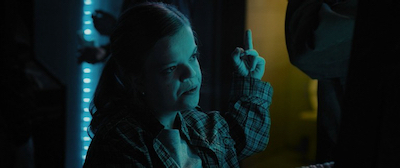 What appears to be very dark and depressing turns out to be quote an aging watch despite the rather abrupt ending. The story is about a poor midget low paid help, who works in a seedy hotel, doing laundry and the menial chores. her once chance of happiness is a sexual encounter with a truck driver who seems to fancy her, despite her stature. The big question is whether the repeated visits of an interesting man, a truck driver, change the loneliness of her situation? And what has a dress got to do with this featurette? The film is setting depressing rural Poland and is in Polish. There is also lots to read between the lines, or see between the images in the story Actress Tadeusz Lysiak is amazing in her role.
Trailer: https://www.imdb.com/video/vi2720252697?playlistId=tt12299764&ref_=tt_ov_vi

PLEASE HOLD (USA 2020) ***1/2
Directed by KD Davilla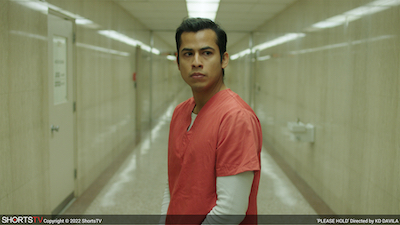 Matteo Torres is arrested by a flying drone on his way to work. It is assumed that the short is set some time in the future as everything that follows is A.I. and computerized with no human intervention. Set is in a futuristic dystopian society, a kind of Kafka-ish prison in which he is put into a cell without any explanation of his crime, Matteo communicates with the outside world via phone but he needs funds to make calls outside. He resorts to knitting as work in order to put sufficient funds in his account to make calls to secure his release. But he is always put on hold. Everything from the production sets, sound, music and props are nothing short of excellent. The actor playing Matteo, Erick Lopez, is also very good-looking and easy on the eye. PLEASE HOLD is one of the most enjoyable dystopian nightmares which seldom can be said for many mainstream films in this genre.
Trailer: