SOUMAYA (France 2020) ****
Directed by Ubaydah Abu-Usayd, Waheed Khan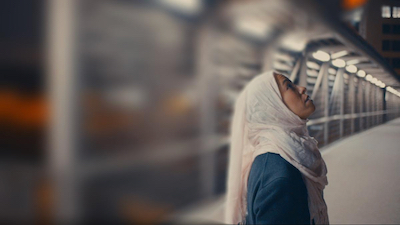 SOUMAYA is a French re-enactment of true events that plays out like a documentary. Written and directed by Ubaydah Abu-Usayd, Waheed Khan, this extremely compelling film that plays like the real thing. The film opened in France back in 2019, but the date of the film indicated in the closing credits has been changed to 2020. The storyline involves Soumaya, a practicing Muslim, is fired one day without explanation or warning. Later that night, she sees on TV that news outlets are linking her to jihadist circles.
Imagine oneself in her position. Everything is now turned upside down and it is not your fault. What would you do? Soumaya does not want to return to work in such a toxic environment but how then would she gain back the injustice done to her?
For fourteen years, Soumaya (Soraya Hachoumi), a practicing Muslim and the mother of a young girl, Jihane, had worked as a manager at a company in charge of security at Charles de Gaulle Airport. But, following the deadly, coordinated terrorist attacks that took place in Paris on the evening of November 13, 2015 -- killing at least 130 and injuring more than 350 -- life changed in an instant for her, as well as for tens of thousands of citizens and immigrants whose lives and beliefs were in the crosshairs following the attacks.
After an anonymous complaint, made by a worker, she was training, prompted the police to forcibly enter, search and ransack Soumaya's apartment, she is unceremoniously fired from her job. There is an extended scene where the personnel manager, Aurelie Soumaya's friend, has to give her the bad news. Soumaya does not take the news lightly. Aurelie (Sarah Perriez) explains she has nothing to do with this. Her religious beliefs, the headscarf she never wears to work, and her security badge - allegedly lent to a colleague who is also under investigation -- are all enough to make her a suspect, accused of being linked to jihadist circles.
Based on a true story, the compelling narrative unfolds as a series of portraits. This is the reason the film works so well. Each character has his or own opinion on the matter and the directors invest time and effort to personalize and emotionalize the firing. One portrait of Soumaya's worried mother urging her daughter not to make waves. There is the luggage handler who has rediscovered his faith through his wife, the most disturbing of all the portraits, who has converted to Islam; the lover zealous lawyer of immigrant descent, torn between his desire to fully integrate into French society and the injustices he sees all around him; Aurelie who is torn between her work duty and friendship with Soumaya and the imam whose mosque is searched on the basis of slender evidence.
The directors, Kahn and Abu-Usayd, use this scenario to explore the personal, professional and legal battles Soumaya faced in a reeling nation under a state of emergency, which lasted for nearly two years --from the viewpoint of the victims, whose post-attack experiences and violations of fundamental freedoms often goes unacknowledged. The climax of the film takes place in the court where Soumaya speaks her mind. The climax makes excellent courtroom drama though little overplayed.
The film can be seen theatrically via Virtual Cinema.
Trailer: