BENEDETTA (France/Netherlands 2021) **
Directed by Paul Verhoeven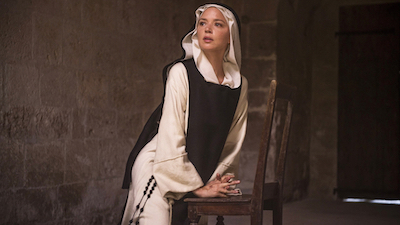 Premiering at Cannes this year, BENEDETTA is the much awaited film from Dutch director Paul Verhoeven after the immense success of his precious film ELLE, the film that should have won Isabelle Huppert the Oscar for Best Actress.
BENEDETTA is the name of the promiscuous nun that finally ascended to the privileged role of Mother Superior. The film is loosely based on the 1986 non-fiction book Immodest Acts: The Life of a Lesbian Nun in Renaissance Italy by Judith C. Brown. It is 'supposed' to be a biographical drama film of the novice nun in the 17th century who joins an Italian convent and has a lesbian love affair with another nun. BENEDETTA reminds one immediately of Verhoeven's earlier piece with Jennifer Jason Leigh FLESH ND BLOOD, a historical drama set in the 1500's for its graphic sex scenes and violence. The violence in BENEDETTA includes a almost unwatchable torture scene.
The events of the movie occur during the 17th century. The main character is Benedetta Carlini, who is an Italian nun in the abbey of a convent in Tuscany. She was considered to be mystical and venerated by her religious entourage, and finally Benedetta was arrested and judged for sapphism.
There are lots of nudity and lots of girl-on-girl sexuality. Though biographical, Verhoeven's film does not feel like one. The film comes across more like soft porn made by a dirty old man than a film that explores freedom and the dangers of religious fanatics.
The only almost saving grace of the film comes from Charlotte Rampling, who plays the ousted Mother Superior. Her character is confused and confusing and Rampling is superb at playing characters of this nature.
The film opens at the TIFF Bell Lightbox December the 3rd.
Trailer: