STUCK TOGETHER (8 Rue de l'Humanité) (France 2021) ***
Directed by Dany Boon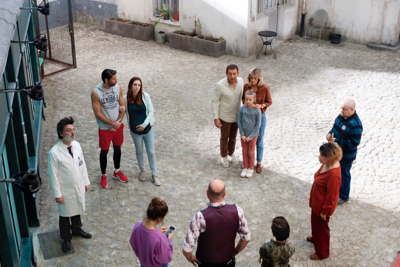 The non-French unless one is one who loves French comedies might not likely be familiar with the name of Dany Boon. To Boon's credit, he has starred and directed one of the biggest French comedy hits of all time, the 2008 WELCOME TO THE STICKS. He has at present at least a film a year, last year seen in a supporting role as an action hero in LE LION (I saw the film on an Air Canada flight) and now the Netflix original film STUCK TOGETHER (8 Rue de l'Humanité). This is a comedy about the tenants, except for one owner played by Boon of an apartment with the address of 8 Humanity Street in Paris who try to make sense and survive during the Covid-19 Pandemic. The Pandemic comedy is manic and occasionally all over the place, as it crisscrosses stories with several tenants, but there are fresh laughs around every corner.
The streets of Paris are silent and empty. While many flee the capital, seven families experience lockdown in a building on the rue de l'Humanité. Among them: A café owner who reuses her pear alcohol as a hydroalcoholic gel, a geeky Zoom sports coach who gets fatter by the week, his fiancée, a singer (she sings a really corny song though getting more hits on the internet than her husband; spots videos) who is seven months pregnant and doesn't want to go to hospital alone, a self-made man who desperately wants to be as smart as his 8-year-old son, etc. During the three months of lockdown, the families eventually meet each other - for better or worse. They argue and fight but also end up banding together to fight the difficult times. The story also involves a death due to Covid, but though a bit sappy, it brings the film to credibility levels as people do die from the disease.
The funniest tenant of the lot is the mad scientist played by Yvan Attal who is constantly searching for new animals to test the second dose of his vaccine. He eventually tests it on himself, after running out of animals, most of which had died, resulting in his hilarious uncontrollable behaviour. Attal is an actor and director of countless French films, rising to fame after his directorial debut in 2001, MA FEMME EST UNE ACTRESS (which I manage to see while in London).
The film is funniest when it makes fun of director Boon's keen Covid observations. The PCR Covid test swab with the swab more than twice in length than the actual performed on Boon's character gets the biggest laugh. Some Covid-19 lockdown practices observed in the film might be unfamiliar to outsiders. In Paris during the lockdown, residents had to carry on them, when they go out, a déclaration sur l'honneur, a form downloaded from the internet they had to fill out and carry on their person. In the film, Boon's character is stopped by the policier and him asked for the form.
It is not surprising that the French would be the first to come up with a Pandemic comedy and quite a hilarious one at that, enabling the audience to laugh at what they had to endure during these times. Time for Hollywood to do a re-make.
STUCK TOGETHER (8 Rue de l'Humanité) opens this week on Netflix.
Trailer: