Cinefranco 2021
One of my favourite local film festivals is Cinefranco for the reason I, like many others, adore French films. French films (particularly by François Truffaut) is the reason I studied French. This year, Cinefranco under the direction of the ever-energetic Marcelle Lean offers once again a wide variety of films from all over the world.
Cinefranco welcomes audiences once again to in-theatre, as well as online screenings for its 24th edition. The hybrid festival will take place Tuesday, October 26 – Tuesday, November 2, 202, with 27 features, 3 shorts programs, post-screening Conversations, and Panels, at the Ted Rogers Hot Docs Cinema and via the festival platform, accessed at:
www.cinefranco.com
Capsule Reviews of Selected films:
MARGAUX HARTMANN (France 2021) **
Directed by Ludovic Bergery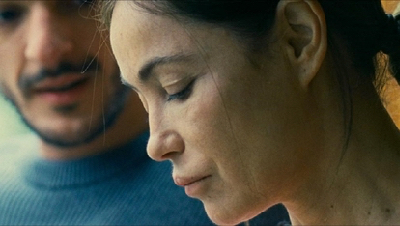 Recently widowed Margaux Hartmann (Emmanuelle Beart from MANON DES SOURCES and LA BELLE NOISEUSE) moves in with her sister. She has been and is still distraught. Looking to turn a page, she re-enrolls at university and becomes interested in new pursuits. At the same time, dark compulsions begin to arise. She succumbs to her sexual desires leading to trouble. The film gets at its most ridiculous point, a point that puts the film immediately into strapped hole when Bearts character and her professor go to a hotel room and begin sexual play. He stops and says to her: "I cannot do it. I cannot make love to a teenager." Beart is an actress as everyone knows is not a teenager. She is in fact to this date 58 years old. The film's sex scenes do not help the story's credibility either. Beart as Marguax has sex with clothes on, as if she is self conscious of her age and figure, which is probably right. A film that is supposed to go deep in the emotions of a troubled female but fails miserably, unfortunately because of the miscasting of Beart.
Trailer:
MÉDECIN DE NUIT (France 2020) ***
Directed by Elie Wajeman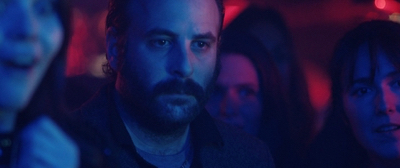 MÉDECIN DE NUIT (NIGHT DOCTOR) follows The misadventures of Mikael (Vincent Macaign), a doctor on night calls. It's a job Mikael is passionate about and will do all hurt of the night, ignoring his wife (or girlfriend, it is not made clear) and two children. Between two patient visits in slum areas, he cares for those whom no one else wants to see: the drug addicts, the homeless. He rubs shoulders with destitution, with destitution also flowing into his life. His life is in shambles. Especially when it comes to his pharmacist cousin of questionable morales who makes him write false prescriptions for Subutex. Overnight, he decides to get out of drug trafficking and rebuild his life. Touted as a psychological thriller, the film moves more like a drama with a few violent scenes. Director Wajeman makes no effort to make Mikael a likeable character - he has a mistress; he never makes up his mind; he gives in to his cousin, with the result that the audience grows more detached to the protagonist as the film progresses. Why Mikael keeps helping his course and why the cousin is so money greedy is also left largely unexplained. But director Wajeman creates a morbid, creepy and menacing atmosphere of the doctor's work with junkies at night.
Trailer:
MESSE BASSE (THE LODGER) (France 2020) ***
Directed by Baptiste Drapeau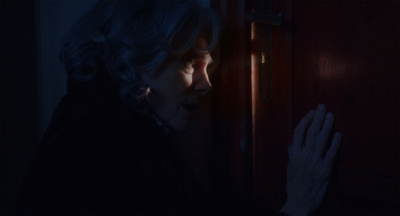 Jacqueline Bisset has a starring role in MESSE BASSE (translated literally in English to Low Mass that might mean more appropriately 'whisper') and is one of the main reasons to rush to see this film. In the film, she, an English actress (veteran of dozens of films including RICH AND FAMOUS, TOO MANY CHEFS, MURDER ON THE ORIENT EXPRESS) speaks fluent French in this film as in one of her early films, SECRETS. (She was educated in French). The story follows university medical student Julie who moves into the house of Elizabeth (Bisset), an old widow as a lodger. Elizabeth lends her a room in exchange for her help with daily chores. But things get weird as Elizabeth acts as if her dead husband, Victor, is still alive. . But soon, Julie starts feeling his presence…and an inescapable and dangerous love triangle begins. Director Baptiste Drapeau's supernatural treatment of the film encompassing romance, mystery, mental imbalance and murder does not always work but at least he tries. At best, this worthy effort has the feel of a Chabrol film but Bisset is the reason not to miss this film.
Trailer:
PREMIERE VAGUE (FIRST WAVE) (Canada 2021) ***
Directed by Max Dufad, Remi Frechette, Reda Lahmouid and Kevin T. Landry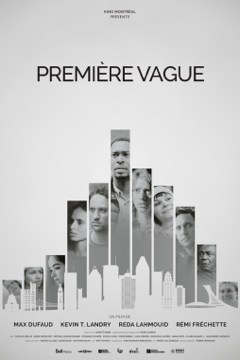 PREMIERE VAGUE is a Conicd-19 anthology comprising 4 short stories set in Montreal, Quebec during the first wave of the Pandemic. It is March 12, 2020. COVID-19 has just been declared a global pandemic and confinement measures are being implemented all across the world. Fanny, Samuel, Marianne and Daniel, four Montrealers from very different backgrounds, must now adapt to this new reality. What they believe to be a temporary situation will turn into a long ordeal that will change their lives forever. The film is framed with the province's Premier announcing on television the progressing states of lockdown as the numbers of Covid cases (deaths and new cases) rise. This is dramatic stuff that everyone has gone through, so the material transpiring on screen rings so true. Audiences have themselves experienced or had heard these stories - so to that effect the film does not offer anything new nor does it offer any new insight to the Pandemic. A cross section of characters, mostly young adults (except for the aged mother in Long-term care) form the basis of the story.
Trailer: (scroll down) https://www.cinefranco.com/premiere-vague
PROFESSION DE PERE (MY FATHER'S STORIES ) (France 2019) ***1/2
Directed by Jean-Pierre Améris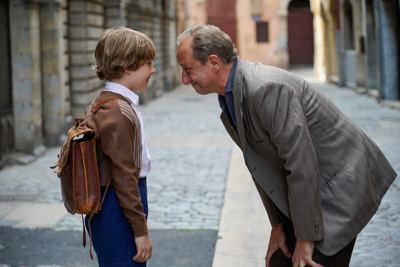 A crazy father played no better than by one of my favourite French (actually Belge) actors, Benoît Poelvoorde is the cause for alarm in this strange, wonderful but eventually disturbing story. 12-year-old Luc adores his crazy father who tells him that he is a judo champ, a parachutist, a soccer player and even an advisor to Général de Gaulle. The scene where Poelvoorde freaks out at De Gaulle on TV accusing him of betraying France is in itself worth the price of the admission ticket. Both comedic and scary (as in the scene where Luc is badly beaten with a belt) Poelvoorde portrays a violent man who needs to be understood and treated for the danger he poses to his family. Luc, who has the talent for drawing, is also coerced by his father to write the names of resistance fighters on the walls of buildings around Lyon. All these antics drive Luc's mother crazy and with reason. Set in 1960's Lyon, Jean-Pierre Améris directs PROFESSION DU PÈRE with subtlety and sensitivity the collateral damage caused by a parent's madness. The film also tackles the issue of racism as when Luc encounters a new classmate from Algeria, a pied-noir (black feet, plural, a term that refers to French and other European origin born in Algeria during the period of French rule from 1830 to 1962). The film's relevant message about mental illness comes through loud and clear!
Trailer:
TOKYO SHAKING (France 2021) ***
Directed by Olivier Pyon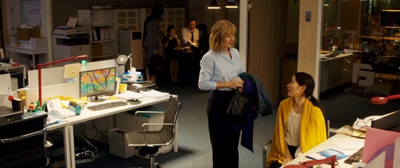 TOKYO SHAKING, set in Tokyo during the real life twin disaster of the March 2011 tsunami and the nuclear plant meltdown follows the drama of Alexandra, a valued employee at a French Bank working in risk management. Alexandra (Karin Viard) must choose between the demands of work and the demands of her family. She has two children and a husband left in Hong Kong. It is March 11, 2011. The biggest tsunami Japan has ever experienced triggers the Fukushima disaster. Risks are being downplayed for the Japanese but the foreign community in Tokyo is terrified by this tragic event and the fact that no one is capable of assessing its scope. Alexandra finds herself defending honour and given word, despite the pervading terror and chaos. Director Pyon includes some nice disaster shots in his film while creating a credible atmosphere of dread and danger. The drama that ensues is nothing short of predictable but it is actress Karin Viard as Alexandra who carries the movie successfully.
Trailer: