BERGMAN ISLAND (France 2021) ***1/2
Directed by Mia Hansen-Løve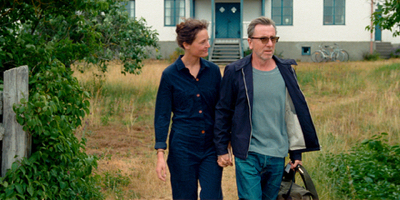 Director Mia Hansen-Løve is a master of films on relationships. She examines the mechanics of them, often offering valuable and entertaining personal insight. These deal with quite a few of young teen relationships but returns to an older couple here, as she covers the sensitive relationship between a middle-aged couple, both writers in their own right.
BERGMAN ISLAND is the island of Fårö, where legendary director Ingmar Bergman spent most of the end of his life. Bergamn was born in Upsala, not Fårö. A tourist attraction, Fårö sees Chris and Tony renting a place, in order to write. The residence holds the bedroom where Bergman shot SCENES OF A MARRIAGE, the film that caused a million people to divorce, a joke of the film. Hansen-Løve has been one of the most respected and outstanding French directors since LE PERE DE MES ENFANTS (The Father of my Children), all her films about relationships, mostly young ones. Tony's work is fêted at their artist residency while Chris struggles with her screenplay and the two, despite a tender rapport, seem to be at an unspoken impasse, navigating romantic malaise and subtle professional enmity under the spell of the stunning island and Bergman's legacy. Chris's in-development script comes to life: a bittersweet love story starring Mia Wasikowska as Amy, a young filmmaker and obvious alter ego to Chris, who is reunited with her first love Joseph (Anders Danielsen Lie) at a mutual friend's wedding on the same remote island. Hansen-Løve does Woody Allen doing Ingmar Bergman in this film, with a surprise revelation at the end that should keep audiences thinking.
Occasionally clever and vastly entertaining, BERGMAN ISLAND should not disappoint Hansen-Løve's fans.
BERGMAN ISLAND premiered at this year's Cannes and continued its run at the Toronto International Film Festival. It opens in theatres October the 15th and is available to rent everywhere on October the 22nd.
Trailer: