CAPSULE REVIEWS:
AFTER BLUE (PARADIS SALE) (France 2021) **
Directed by Bertrand Mandico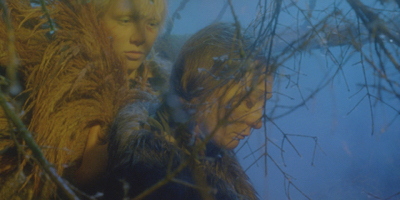 Described as a sci-fi acid western, whatever that means, in the press notes, director Mandico's sci-fi dystopian opus has the audience believe that humans have left the planet Waert and colonized another called After Blue. Males are irradiated but their sperm keep to fertile the flames and continue the human race. If here are no males around, all the females have left is to make love to each other, in what is director Mandico's gay lesbian fantasy. The story has Roxy (Paula Luna), the lonely teenage daughter of the colony's hairdresser Zora (Elina Löwensohn), impulsively unearths a notorious criminal called Kate Bush, who promises to grant her three wishes, the ensuing violence exiles mother and kin from the settlement, so they may track down and bring this legendary killer to justice. Armed with designer Gucci rifles and Paul Smith pistols, the duo ventures into a hostile alien landscape rife with toxic gases, slime-encrusted crystalline entities, and promiscuous fashionistas. From there, things get pretty weird. The film is not as good as it sounds and is likely for acquired tastes, not to mention that the film is too long, running just over 2 hour
Trailer:
LE BAL DES FOLLES (THE MAD WOMAN'S BALL ) (France 2021) ****
Directed by Melanie Laurent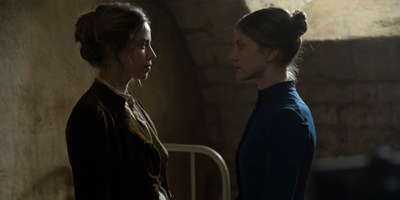 The trouble in the story begins when Eugenie becomes disoriented when combing her grandmother's hair one night. She stops and rummages through her grandmother's drawers to discover a lost locket in it, on the underside of one of the drawers. When she claims a dead spirit has led her to the locket, she is deemed crazy. This is pretty much a female movie with a tough female protagonist and with a family that is generally ruled by its women. THE MAD WOMAN'S BALL is a handsomely mounted period piece as evident from the films' art from everything to costumes and set design to wardrobe to lighting and soundtrack. Director Laurent provides some well needed humour in all the dire surroundings with Eugenie's night mate, Louise. Though described as a total nutcase, she humorously describes the illnesses of all the other inmates to Louise. Besides the suspense, there is much to enjoy and observe in LE BAL DES FOLLES. Highly recommended!
Trailer:
. Trailer:
BERGMAN ISLAND (France 2021) ***1/2
Directed by Mia Hansen-Løve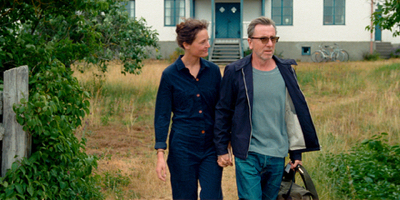 BERGMAN ISLAND is the island of Fårö, where legendary director Ingmar Bergman spent most of the end of his life. A tourist attraction, it sees Chris and Tony renting a place, in order to write. The place holds the bedroom where Bergman shot SCENES OF A MARRIAGE, the film that caused a million people o divorce, a joke of the film. Hansen-Løve has been one of the most respected and outstanding French directors since LE PERE DE MES ENFANTS, all her films about relationships, mostly young ones. Tony's work is fêted at their artist residency while Chris struggles with her screenplay and the two, despite a tender rapport, seem to be at an unspoken impasse, navigating romantic malaise and subtle professional enmity under the spell of the stunning island and Bergman's legacy. Chris's in-development script come to life: a bittersweet love story starring Mia Wasikowska as Amy, a young filmmaker and obvious alter ego to Chris, who is reunited with her first love Joseph (Anders Danielsen Lie) at a mutual friend's wedding on the same remote island. Hansen-Løve does Woody Allen doing Ingmar Bergman in this film, with a surprise revelation at the end that should keep audiences thinking.
Trailer:
CHARLOTTE (Canada/France/Belgum 2021)
Directed by Eric Warin, Tahir Rana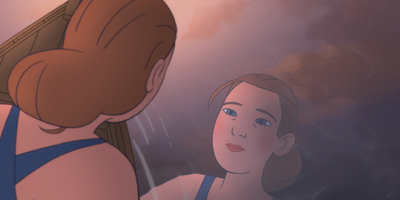 Done in glorious animation, CHARLOTTE is the remarkable true story of Charlotte Salomon, a German Jewish artist defying incredible odds to create a masterpiece during World War II. She died at the age of 26 in Auschwitz but left behind a legacy.
Charlotte Salomon is the enigmatic young German Jewish painter who created a sprawling masterpiece in the face of both private turmoil and sweeping global cataclysm. Born into a wealthy but troubled family in Berlin, Charlotte is preternaturally gifted, with a wild imagination and grand ambitions. In 1933, at age 16, she saw her dreams dashed. The antisemitic laws and violent mobs of the Nazis, who have seized power in Germany, force her out of school and later spur her to leave for the South of France, where, despite relative and temporary safety, life for Charlotte becomes increasingly difficult. Struggling to comprehend — and come to terms with — both a traumatic past and present, she sets out to paint her autobiography. Within 18 months, Charlotte completes nearly a thousand gouaches depicting the lives of everyone near and dear to her. The animation captures the period mood and despair of WWII persecution of the Jews. The animated rain, water and fire is also stunning as are the paintings seen in the film. A star that needs to be told, to remind the world of the horror of racism, non-tolerance and the danger of family pride. The film also incorporates the coming-of-age story of poor Charlotte - a doomed and gifted painter.
Trailer: none
INEXORABLE (France/Belgium 2021) ***
Directed by Fabrice Du Welz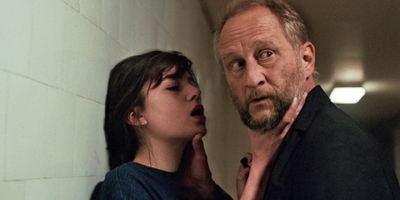 INEXORABLE stars and is largely carried by Belgium born actor Benoit Puelvoorde who rose to fame with the 1992 cult classic (that I have not seen) MAN BITES DOG. But I have recently seen Puelvoorde in comedies VENICE N'EST PAS EN ITALIE and the recent Netflix hit I AM NOT A SUPERHERO both films demonstrating his acting prowess in comedy and drama. In INEXORABLE, Puelvoorde plays Marcel Bellmer a successful author suffering from writer's block who moves into the colossal old country manor belonging to the family of his wife and publisher Jeanne (Mélanie Doutey) for inspiration. Long hidden secrets start to haunt him. Distraction and certain danger arrives in the form of Gloria (Alba Gaïa Bellugi), a shy, awkward young woman with no home or family of her own who, by happenstance, connects with Marcel and Jeanne's daughter Lucie. Gloria is invited and stays with the family. Gloria confesses to Marcel that reading his work, and the book Inexorable in particular, saved her life during its darkest moments. But as Gloria becomes increasingly involved in the family's affairs, a whole new darkness threatens to consume the lot of them. Bearing a resemblance to the 1970's film, Harold Prince's SOMETHING FOR EVERYONE but more sombre and chilling, INEXORABLE shares the common theme of a stranger entering a wealthy home and destroys it. Everyone loves a good mystery thriller but this one is a tad hard to swallow. INEXORABLE, though not without its flaws satisfies to a point.
Trailer: none
NOBODY HAS TO KNOW (Belgium/France /UK 2021) ****
Directed by Bouli Lanners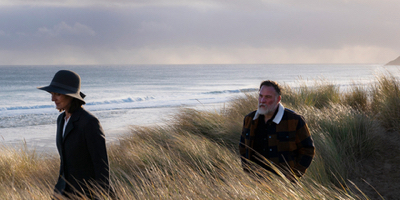 NOBODY HAS TO KNOW follows Phil (played by director Lanners) who suffers from amnesia following a strike. The amnesia might be temporary, says the doctor, as Phil slowly but surely remembers his past after a while. Do not expect the speed of a JASON BOURNE IDENTITY movie - this one is a pretty slow burn with lots of gloom and grey, typical of the Scottish environment. Phil works on a remote Scottish island and the story follows Phil's journey to recovering his memory — and the love story he's told along the way — lies at the heart of this tender, gorgeous film. Phil's boss's daughter, Millie (Michelle Fairley), helps him acclimate back to his life, reminding him of his origins, his likes and dislikes… and the fact that he and Millie were secret lovers. But the fact is kept whether that romance ever existed in the first place. NOBODY HAS TO KNOW is an extremely moving film both meticulous and sublime and comes highly recommended as a romantic drama about grabbing opportunity before it is gone forever.
Trailer: none
PETITE MAMAN (France 2021) ****
Directed by Céline Sciamma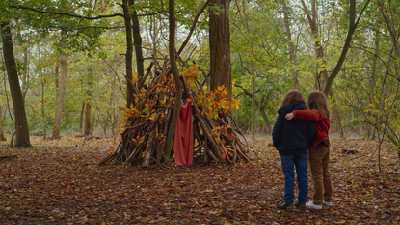 Mesmerizing, beautiful and magical, director Céline Sciamma's latest film about loss and discovery from the point of view of a young girl, Nelly (Josephine Sanz) is an unforgettable film that is a must-see. This is the director that has amazed critics with PORTRAIT OF A LADY ON FIRE and demonstrated her smarts with her script for the amazing animated MA VIE EN COURGETTE, nominated and should have won the Oscar for Best Animated feature. When Nelly's granny dies, she goes to her home with her parents and meets a girl her age, also long somewhat like her. As she plays and gets acquainted with Marion, but it turns out that the new friend is her mother when her mother was her age. The film moves in and out comfortably, between times, between personalities as Nelly learns about her mother. There is immense intelligence and sensitivity and remarkably thought-out scenes like the connection between the two girls while having soup or playing. The English translation of the title LITTLE MOTHER prepares the audience for Nelly to meet her maman when she is little.
Trailer:
SALOUM (Senegal 2021) ***1/2
Directed by Jean Luc Herbulot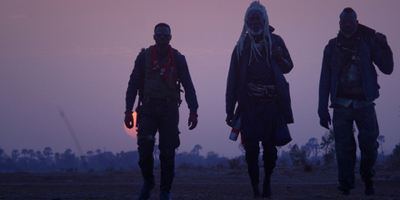 Shot mainly in French though set in the poorest regions of Africa. A trio of mercenaries navigate a mysterious region of Senegal, in Jean Luc Herbulot's perhaps coolest film of the festival. His film demonstrates great ingenuity and spirit with lots going on in each layered scene that what might be overlooked. Amidst Guinea-Bissau's coup d'état of 2003, Bangui's Hyenas, an elite trio of mercenaries, skillfully extract a drug dealer and his bricks — both gold and narcotic — from the chaos and make tracks for Dakar, Senegal. But when their escape plan is unexpectedly waylaid, the Hyenas find themselves and their bounty stranded in the Sine-Saloum Delta, a coastal river realm speckled with insulated island communities and steeped in myth and mystery. Believing they can keep a low profile at a nearby holiday encampment, they attempt to blend in with the tourists but are soon at risk of exposure with the arrival of both a suspicious police captain and an enigmatic Signing deaf woman who harbours secrets of her own. The film is not perfect, as it is messy and occasionally confusing, but SALOUM is definite evidence that Herbulot has the best that is yet to come.
Clip: https://www.vimooz.com/2021/09/15/watch-first-clip-for-saloum-senegalese-supernatural-thriller-at-toronto-fest/
STE. ANNE (Canada 2018-2020) **
Directed by Rhayne Vermette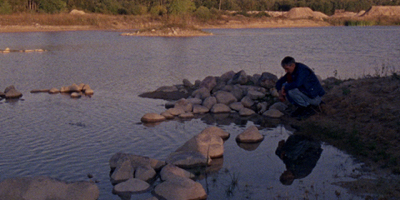 Selected to be in the Wavelength Category of TIFF , which means that the film has not much meaning and little story and lots of experimental visuals - STE. ANNE is exactly what one would expect from a Wavelengths film. Set and shot in Treaty 1 territory, which today includes Winnipeg and the nearby town that lends the film its title, this meditation is a deeply mysterious and alluring examination of home by way of places and people. The central revenant is Renée (Vermette), who returns to her young daughter Athene — now living with Renée's brother Modeste and his wife — after an unexplained absence of several years. The reunion is fraught, not in the least due to Renée's closely held secrets and obvious unease with the prospect of settling into a traditional role of mother or homesteader. The fragmentary (and at times fractious) nature of the dynamic is heightened by an approach that incorporates experimental diversions, as well as beguiling ambiguities and anachronisms that locate the film out of time. Filmed in French and English.
Trailer: none