ANNETTE (France 2021) ***1/2
Directed by Leos Carax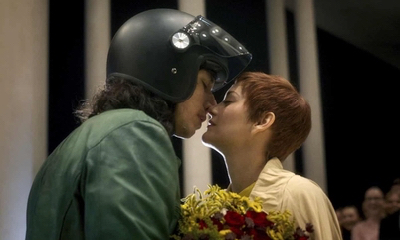 The film is set in present day, Los Angeles. Henry McHenry (Adam Driver) is a stand-up comedian with a fierce provocative humour and Ann (Marion Cotillard), an internationally renowned opera singer. Together, under the spotlight, they form a happy and glamorous couple. The birth of their first child, Annette, a mysterious girl with an exceptional destiny, will turn their lives upside down.
ANNETTE begins stupendously. A voice tells us to kindly remain silent throughout the show. This could be the show coming on in the film or be referring to the film itself. The voice tells the audience that breathing is not allowed during the show, so to then take a long deep breath. The film then commences with strobing lights with the two main leads Adam Driver and Marion Cotillard joining the chorus in song and movement. Music is by Sparks in what would turn out to be the strangest musical to be witnessed on the screen. ANNETTE feels like a rock opera. Carax intends to break all the rules of filmmaking. His enthusiasm and energy show. The film is more suited for cinephiles than for the mass commercial audience who might think everything is strange and not appreciate the enormous effort that have gone into arak's brand of filmmaking.
The introductory song goes: "Now may we start ? It's time to start…" Then Driver and Cotillard part ways to perform separately on different stage venues, one as a comic and the other, an opera singer.
One distinguishable feature of director Leo Carax's films is their energy. There are bounds of it as observed in his last feature HOLY MOTORS and his most famous feature LES AMANTS DU PONT-NEUF, which I would arguably consider one of the best love stories ever put on film. ANNETTE is also a love story - but a tragedy, between two show-biz celebrities. The lovers are portrayed with gusto by Adam Driver and Marion Cotillard respectively both willing to try anything for the purpose of art, as witnessed by the musical no holds-barred erotic love-making scene in the first third of the film.
Carax's fluid camera can be witnessed many times during the film, as in the driving of a vehicle as in through a tunnel and in other scenes. Carax is game to try new things like Ann performing opera walking on stage through the woods, where the woods turn into real woods as she trudges through the vegetation. The intercutting of the performances of Ann and McHenry are remarkably executed in style and aplomb. Baby Annette grows up, there is one scene where Annette is portrayed by a human girl.
ANNETTE went on to win Carax the coveted Best Director prize at Cannes. The film also won the prize for Best Cannes soundtrack. Though this is only my second film from Cannes that I have yet seen, I am sure Carax is well deserving of his grand Prize. I have always admired Carax and will continuously do so.
Trailer: