LE DERNIER MERCENAIRE (The Last Mercenary) (France 2021) ***1/2
Directed by David Charhon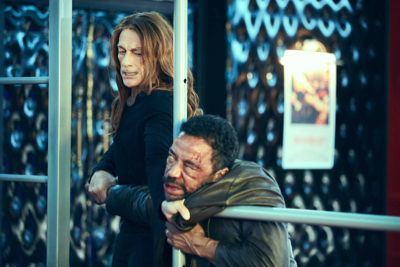 Two comedy action flicks make their debut this week, both available on streaming services. One is the much touted JUNGLE CRUISE opening in both theatres and Disney Prime and the other, coming out of nowhere, actually from France, a film that no one has heard of, a Jean-Claude Van Damme vehicle called THE LAST MERCENARY. Which one would you go see? If you picked the former, you would be one of the majority but the latter film is a much better and entertaining film, compared to the formulaic and bland JUNGLE CRUISE. Written by Ismaël Sy Savané and co-written by its director David Charhon, THE LAST DETECTIVE follows the footsteps of French action comedies similar to the OSS 117 spy flicks by the director of THE ARTIST, Michel Hazanavicius.
Van Damme is old now, as can be seen by the wrinkles on his face. But the action star has not lost his charm or agility. Van Damme can still do the splits as evident in one fight scene where he surprises two thugs by hiding above them by holding himself by doing a split on two vertical walls. Van Damme plays Richard, a mysterious former secret service agent who must urgently return to France when his estranged son, humorously named Archibald (Samir Decazza) is falsely accused of arms and drug trafficking by the government, following a blunder by an overzealous bureaucrat and a mafia operation. Archie has been granted immunity and given a generous monthly allowance for services rendered by his father Richard. But the father and son have never met. Archie has no idea that he can commit any crime or do any bad stuff, for the immunity he is given. Nor does he know where his allowance is coming from. Both benefits disappear as a result of some government error. All these exploits look totally ridiculous, and they are, but they bring laughs, nonetheless. The plotting gets sillier but goofy is good as long as the laughs keep coming and they do.
It seems that every actor in the film is a clown trying to outdo each other in goofiness. Van Damme himself, besides donning a tuxedo looking like a suave James Bond, also sports a fake muscle wearing library glasses in one scene and in another wears a dress, fighting off the thugs in drag. And there is Alexandre played by Alban Ivanov who is so funny, he almost steals the entire movie. After beaten up by Richard, Alex goes about with his tongue hanging from his mouth, uttering mumbled words as if he is some kind of spastic. The other supporting cast are funny too, with veteran actress Miou-Miou playing Richard's old flame.
The comedy and action blend well together. Van Damme shows himself still a master of martial-arts. There are also car chases and other well executed action sequences. The film runs at a lean hound 45 minutes.
Forget JUNGLE CRUISE this week and watch THE LAST MERCENARY on Netflix.
Trailer: