LA DECISION DE ALICE (ALICE) (Australia/France/UK 2019) Top 10
Directed by Josephine Mackerras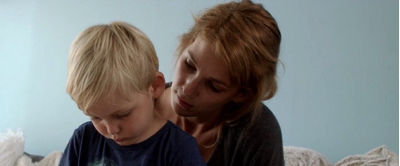 ALICE is a man-hating film and with reason.
ALICE is an Australian-French-British co-production. Australian writer/director Josephine Mackerras shoots her first feature in Paris, France and it is one wallop of a debut.
The film opens with what is seemingly a happy family. Alice (a powerful performance by Emilie Piponnier) is cooking while hubby, Francois (Martin Swabey) plays with their son, Jules (Jules Milo Levy Mackerras). Later at a party, Francois shows his passionate affection for his wife in front of all the guests. Then the unexpected happens. Alice is served with an eviction order and her husband disappears. Visiting the bank manager (Christophe Favre), she learns that her husband has stolen all her money and defaulted on the apartment payments. He is nowhere to be contacted and does not return Alice's calls. Alice finds out what happened. Francois had spent all her money (that she inherited from her father) on his addiction - escorts. Alice calls one of the agencies he visits and ends up working there to pay for her flat and support herself and Jules. Then just like in Robert Benton's KRAMER VS. KRAMER, the spouse suddenly appears half way through the movie and wants things back to normal. When refused, he threatens child custody. Enough said of the plot, and saying more would just spoil one's entertainment and the dramatic effect of the film, safe to say there is much, much more in the occasionally brilliant script that seems to demonstrate the power of women while also touching on their vulnerability. As strong a will that Alice possesses and utilizes, she is also subject to emotional feelings and hurt.
The film feels at times like Luis Bunuel's 1967 classic BELLE DE JOUR where Catherine Deneuve prostitutes herself during the day. But this film is different in theme and structure. Though Piponnier is an incredibly beautiful actress, ALICE is not an erotic film. The sex scenes are done with class and elegance, often with a touch of humour and much sensitivity. The only complaint is that all of Alice's clients are too nice and wealthy. She never encounters any abusive or physically unattractive clients. Director Mackerras quite trivializes the oldest profession in the world.
Director Mackerras teaches that domestic abuse can take different forms. Francois is shown at one point almost hitting Alice. But the abuse here is more than psychological. Francois had abused the trust she had in their marriage - and that is worse than any psychological and physical abuse any husband can inflict on a partner. The film hints of Alice forgiving him, especially when he appears sincere. Donc, quelle LA DECISION DE ALICE?
The film's best scene that deserves mention is the one where Alice confronts her best friend, Lisa (Chloe Boreham) over a wrong she perceived had been done to her. Another powerful scene is the one Alice makes to her mother, this one made even more powerful as it is only the dialogue that is heard on screen.
ALICE is full of surprises. One of the biggest ones is that this minor masterpiece cost less than $1 million to make. Australian director Mackerras filmed most of it in her own apartment with her own son playing Jules in the film. The ending too, is a solid surprise!
Distributed by Game Theory Films in Canada, Alice will be available to stream on Vimeo On Demand, iTunes and Apple TV beginning July 20. Visit gametheoryfilms.com/alice for more info.
Trailer: