COMMENT JE SUIS DEVENU SUPER-HEROS
(HOW I BECAME A SUER HERO) (France/Belgium 2021) ***
Directed by Douglas Attal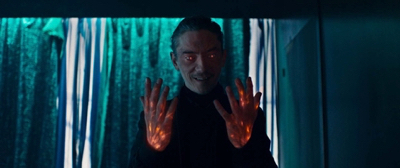 The French tackle the super action hero genre in this latest international Netflix original movie. The premise is a society (like Paris, the story's setting) where normal human beings and super powers heroes live together. Expect a different kind of film - as would be expected if such a film comes from a country different from the United States. And HOW I BECAME A DIFFERENT HERO is different kind of action hero film but in a good way.
First things first. It is best not to judge a book by its cover which means not to judge a film by its title. Though it may sound so, this is not a kids movie. It is an adult film with adult issues and some violence though teens form a major part of the story. The setting is a place where super powered action heroes and human live together. But not in harmony. A lot of the super powers are villains and those who are not - have not mastered their new powers, including the story's protagonist, Moreau. For teen with super powers, many have been abducted by a villain, Naja (Swann Arlaud) and their blood and powers sucked out for the use of evil.
Paris 2020, super­heroes are perfectly assimilated with­in soci­ety and want to be famous at all costs. A drug that gives superpow­ers to mere mor­tals is spread­ing all Paris. Lieu­tenants More­au (Pio Marmai) and Schaltz­mann (Vimala Pons) are investigating the case with the sup­port of two ex-super­heroes, Monte Car­lo (the always excellent Benoit Poelvoorde) and Cal­lista (Leila Bekhti). They'll do what­ev­er it takes to dis­man­tle the traf­fic. But More­au's past resur­faces and the inves­ti­ga­tion becomes more com­pli­cat­ed.
There is much to be liked and entertained in this movie. For one, there is more story here than in any of the Marvel super action hero Universe films. The film blends with the cop genre, another very popular one that the French have mastered. The French have done well in their touch detective buddy movies like the LES RIPOUX franchise. France's second last Academy Award for Best International Picture entry, Ladj Ly's LES MISERABLES was the best cop film in the last three years. In HOW I BECAME A SUER HERO, Moreau is a no-nonsense streetwise cop. His new partner is follow-the-book but intelligent detective, here female for political correctness. The two are initially at loggerheads with each other - (Boil his ass, she says of him at one point) but they eventually get along, with a romantic kiss at the end after they have worked together on the case.
As this is a lower budget film, the special effects, are modest but no less effective. The action sequences with all super powers in full view are well executed.
With humour and action, this French super action hero movie which blends in the cop genre is a welcome addition to the family of international Netflix originals.
Trailer: