THE LAVAZZA DRIVE-IN FILM FESTIVAL 2021 (ICFF)
The second edition of the Lavazza Drive-In Film Festival (part of the ICFF - International Contemporary Film Festival) will present a selection of films celebrating Canada's multiculturalism with a special 'Focus Italia' series from June 27th - July 17th, 2021.
The ICFF presented by Lavazza has teamed up with multicultural media company CHIN Radio/TV once again, in partnership with Ontario Place and the Embassy of Italy in Ottawa, for the second edition of the Lavazza Drive-In Film Festival, from June 27th – July 17th, 2021! This exciting event, presented in collaboration with Rogers Communications and Christie Digital, and funded by the Government of Ontario, offers Canadians an opportunity to reintegrate into society through a safe and socially engaging event. Multiculturalism is at the core of the Lavazza Drive-In Film Festival, which this year will stay true to its International program with a thoughtfully-curated selection of films representing Canada's cultural mosaic from variety of communities including: Americans, British, Koreans, Latinx, Africans, Chinese, French, Jewish, Japanese, Turkish, Indians, Iranians, Indigenous Peoples and Russians with a special 'Focus Italia' series.
The festival will open on Canada Multiculturalism day, and will maintain its focus on diversity and expand its reach to engage a wider range of communities and minorities. The film selection will guarantee to shed a light on the intricate texture of Canadian society, bringing forward a vast collection of multicultural stories which will reflect the values of inclusivity and acceptance. The festival will bring the best of contemporary International cinema along with immersive entertainment for guests with red carpet appearances, special guests, celebrity hosts, unique concessions, special events, brand new theatre venues and so much more!
All movies will be screened in their original language accompanied by English subtitles.
For the complete list of films, check the website at icff.ca
Capsule Review of Selected Films:
LUCA (USA 2021) ***
Directed by Enrico Casrosa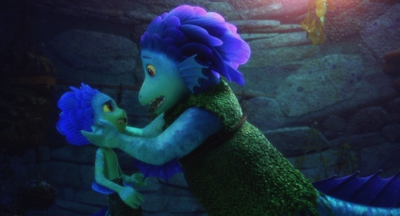 LUCA is new new Pixar film that opens the ICFF festival directed by Enrico Casarosa (in his feature-length directorial debut) and written by Jesse Andrews and Mike Jones. The film is dedicated to Italian musician Ennio Morricone (the famous composer of the Italian spaghetti westerns), who was originally considered to compose the soundtrack, but died before he was asked to do so. Set on the Italian Riviera between the 50s and 60s, the film centres on Luca Paguro, a sea monster boy with the ability to assume human form while on land, who explores the town of Portorosso with his new best friend Alberto Scorfano, experiencing a life-changing summer. The film tries to be everything Italian including an Italian-like soundtrack with an Italian song and Italian dialogue as the film opens. The film is described as paying homage to classic filmmakers like the Japanese Hayao Miyazaki who himself made a similar LITTLE MERMAID film called PONYO. The animation in the film is similar to Hayao Miyazaki's, of hand-drawn and stop motion works. One scene has an image of Italian star Marcello Mastroianni, again a nod to old Italian classics like those made by Fellini (like 8 1/2 that starred Mastroianni). Luca is charming summer fun in the sun - Italian style.
Trailer: poIXr72IQ9A
OK! MADAM (South Korea 2019) ***
Directed by Lee Cheol-ha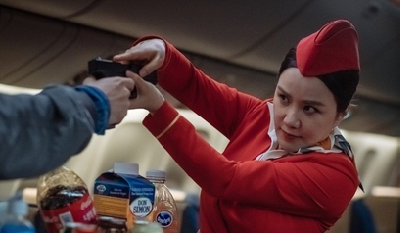 OK! MADAM starts off pretty badly. It begins with a Martial-Arts fight sequence that no one can tell what is going on, except that there is a lady that fights kick-ass. The film then moves to a silly family type comedy where a married couple (Uhm Jung-hwa and actor Park Sung-woong), a computer geek and a Chinese donut seller bicker abut not having money but still wish to go to Hawaii. Add their little daughter who gets into fights in school. They really need a vacation. Thankfully, this slapstick action family comedy gets much better once they board a plane for Hawaii and encounter bad guys from yes, North Korea. The plot contains surprises which makes up for the movie. The slapstick comedy works like DIE HARD on a plane where a hole is blown in the plane, the hero clambers the vent shafts and fights occur in the plane's economy aisles. The film progresses to quite funny and oddly this Korean film is the best in its middle portion before getting a bit too silly towards the end. Actress Uhm, a single is winning as the Martial Arts kicking heroine, looking very sexy in her flight attendant red uniform.
Trailer:
OUT OF MY LEAGUE (Sul Più Bello) (ITALY 2019) ***
Directed by Alice Filippi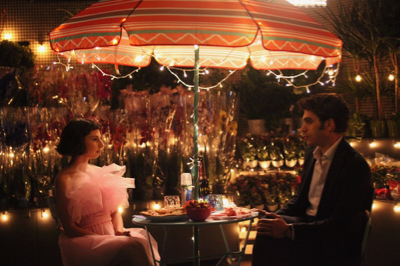 Marta — a young woman suffering from a lethal genetic disease, cystic fibrosis since birth — hopes to meet someone who will accept her. Despite her family and friends dissuading her from 'aiming too high,' Marta desires the unattainably handsome Arturo — who has also caught the eye of her rival Beatrice. Regardless of her loyal friends (one a lesbian and the other a gay male, the male looking like a you replica of Romain Duris) preparing her for disappointment, Marta overcomes expectations and gets closer to Arturo. She eventually is forced to face her toughest challenge: telling Arturo that time is not in their favour. Thee has been two other notable films about a not-so-good looking ir l chasing after a handsome beau. There is the French classic Francois Truffaut's 1975 L'HISTOIRE D'ADELE H. and the Italian
Ettore Scola's unforgettable 1981 PASSIONE D'AMOUR. Director Filippi does not strive for the great heights achieved in those two classics, aiming lower but still achieving an entertaining piece of young romantic comedy.
Trailer: (problem attaching trailer)
PEACE BY CHOCOLATE (Canada 2021) ***
Directed by Jonathan Keijser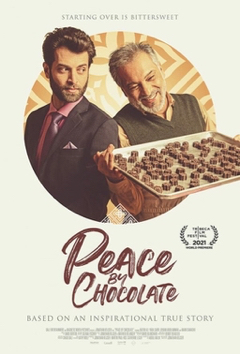 After the bombing of his father's chocolate factory, a charming young Syrian refugee struggles to settle into his new small-town life in Halifax, Canada, caught between following his dream and preserving his family's legacy. Tariq arrives in the middle o winter followed soon by his befuddled parents. The Canadian hosts are only too nice and helpful and even more so in aiding Tariq's father setting up a chocolate business. Based on a true story, it seems. PEACE BY CHOCOLATE shows Canada at her best, helping Syrian refugees re-settling s well as telling their story. There is also one scene with Prime Minster Justin Trudeau (on tv) giving a speech on what Canadians can do to help. It is all charming and at times too much overcharging for its won good. Are Canadians that nice? At its best, besides the artificially looking feel good movie supposedly true, the film does include what it is the plight of a refugee is like how one can lose their home, family and even ones dignity. The film is dedicated to the recently passed Hatem Ali, who played the father.
Trailer: (unavailable)
THE PEANUT BUTTER FALCON (USA 2019) ***
Directed by Tyler Nilson and Michael Schwartz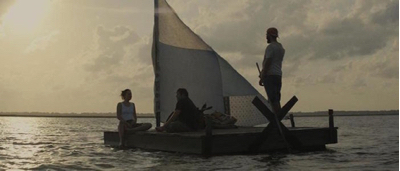 Written and directed by Tyler Nilson and Michael Schwartz, THE PEANUT BUTTER FALCON gets its inspiration from Mark Twain's THE ADVENTURES OF HUCKLEBERRY FINN. The setting is around the Mississippi River where crab fishing is common and boats motor around the high grown reeds. Tyler (Shia LaBeouf) is a crab fisherman who is upset with his work and lifestyle and acquaintances. The other character is Zak (Zack Gottsgen), a teen with Down's Syndrome. He is sent to a home under the care of a sympathetic social worker, Eleanor (Dakota Fanning). Zak escapes with the aid of a resident (Bruce Dern) with Eleanor in pursuit. Zak dreams of becoming a wrestler and hopes to travel to a wrestling school conducted by his hero, with the professional name Salt Water redneck (Thomas Haden Church). Gottsgen as the Down Syndrome kid is utterly winning and charming in his naive and goofy way, holing his own and often stealing the limelight from LaBeouf and his other co-stars. The impressive and authentic setting soundtrack brings together bluegrass, folk songs, and spirituals, for a mix of contemporary and timeless.
Trailer: https://www.youtube.com/watch?v
SEPTET (HK 2020) ****
Directed by 7 different Hong Kong directors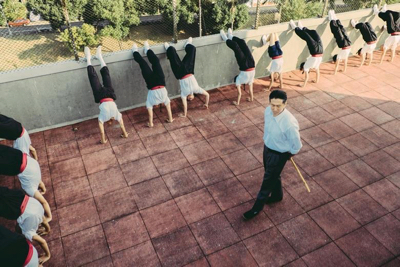 A septet is a formation containing exactly seven members. It is commonly associated with musical groups but can be applied to any situation where seven similar or related objects are considered a single unit, such as a seven-line stanza of poetry. The film, SEPTET is an anthology of 7 films made by 7 directors - all world renowned Hong Kong filmmakers. It is a tribute to the history of Hong Kong cinema and the city itself. Seven masters of Hong Kong cinema and seven stories set in the successive decades from the 1950s until today. The idea was conceived by Johnnie To, a remarkable creator of action cinema, who invited the other 6, Sammo Hung, Ann Hui, Patrick Tam, Yuen Woo-ping, Ringo Lam and Tsui Hark to collaborate. Of the 7 Ringo Lam is no longer with us, having passed away in 2018. Filmmakers returned to their artistic roots as "Septet" was shot entirely on 35mm film. The artists look with nostalgia at factors that influenced history of the region and shaped their own biographies. SEPTET combines traditions of Cantonese dramas and the boldness of Hong Kong New Wave with appreciation of action movies that gained so much love around the world. The anthology is amazing filmmaking and a must-see for those who love Asian, particularly Hong Kong cinema.
The 7 films are shown in order from the 50's to the 60's to the most recent decade. Though a few are better than others, SEPTET is a celebration of Hong Kong cinema with most of the directors offering their best.
EXERCISE - Directed by Sammo Hung
(see image above)
The first and my favourite of the 7 is a light hearted comedy that shows Martial-Arts training by a super strict Master. Likely based on Hung's personal experiences as he is well versed and has made several really superb Martial-Arts comedy flicks in his past, the film is about discipline and time. A nice surprise occurs at the end where Hung appears as himself talking about time. EXERCISE is a wonderful exercise on nostalgia.
HEADMASTER - Directed by Ann Hui
The only female director of the 7. Hui is a well respected serious director who here sets her featurette in 1962 with a classroom of rowdy boys. They learn to respect their teacher Miss Chan who eventually passes away due to illness. The film ends with the headmaster and students all grown up visiting her ashes.
TENDER IS THE NIGHT - Directed by Patrick Lam
The story takes place in the span of one night. The two young lovers are about to separate for the rest of their lives never to see each other again as the girl is emigrating with her parents. Very romantic, very real and very sad.
HOMECOMING - Directed by Yuen Woo-ping
The story follows an elderly man and his grand-daughter, he fondly calls 'Baby'. The man is a Martial-Arts expert and practises his art daily. When both are attacked by some youth, the man shows off his skills to the amazement of Baby. The two reunite years later. The film is an homage to Wong Fai-Hung, the legendary Martial Arts fighter who has appeared in countless films and TV series.
BONANZA - Directed by Johnny To
My least favourite of the lot sees a couple playing the stock market in Hong Kong with their naive broker. This story is linked to the decade when the market goes up and down and director To researches his story in detail.
ASHTRAY - Directed by Ringo Lam
This story pays tribute to Hong Kong where many old buildings and architecture have been demolished to make way for the new. As the words verbalized in the film: There are many places better than Hong Kong but nothing can replace home.
CONVERSATION IN DEPRESSION - Directed by Tsui Hark
The most playful of all the segments, displaying the crazy nature of director Hark that is softer found in his action films, the story is a clever nod on several levels on THE CABINET OF DR. CALIGARI where the patient and doctor roles are blurred. The setting is a mental hospital where a doctor and patient is observed by two doctors who are observed by an audience.
Trailer:
YOUR EYES TELL (Japan 2020) ***
Directed by Takahiro Miki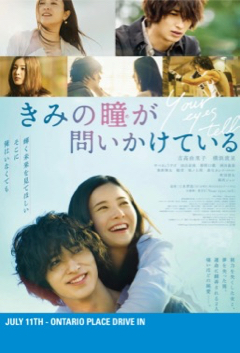 If tearjerkers are your favourite film genre, this very romantic romantic tale is right up your alley. Almost guaranteed to bring tears to your eyes unless you are a hardened critic like me. Still, one cannot help but root for the two hapless lovers, a kick boxer and his blind girl who might just regain her sight, and when she does, might not recognize him. In this Japanese remake of the South Korean film Always (2011), Rui — an ex-kickboxer and mob debt collector — is a perpetual loner. While at work, he meets a bright young woman named Akari, who had lost both her parents and eyesight in an accident years earlier. With each subsequent visit, Akari's optimism begins to rub off on the downtrodden Rui — pushing him out of his shell. As the two get closer, Rui's history begins to unravel, finding out that he is connected to her in more ways than one. Wonderful authentic performances from the young leads help the story's credibility. A bit longer at 2 hours running time, the film could have been trimmed. Be auctioned that this romance contains a few violent scenes because of the kickboxing element.