SLALOM (France 2020) ***
Directed by Charlene Favier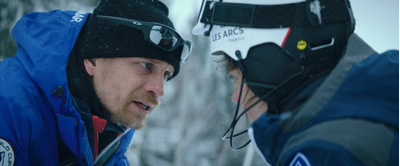 Slalom is an alpine skiing and alpine snowboarding discipline, involving skiing between poles or gates. These are spaced more closely than those in giant slalom, super giant slalom and downhill, necessitating quicker and shorter turns. Internationally, the sport is contested at the FIS Alpine World Ski Championships, and at the Olympic Winter Games.
Under the guidance of a strict ex-champion known only as Fred (Jérémie Renier) in the film a promising 15 year old girl Lyz (Noée Abita) trains as a professional skiing star. The question is whether she will be able to endure the physical and emotional pressures.
The effect of pressures of training for a particular sport on an individual has always been interesting fodder for film scripts. Just last year saw Nadia, an Olympic swimmer break down under enormous training and expectation pressures in Pascal Plante's Quebec entry NADIA BUTTERFLY.
SLALOM was the 2020 Cannes selection which allowed me to review the film then. SLALOM bears similarities with NADIA BUTTERFLY. But slalom skiing is a different sport from the butterfly stroke. Both films attempt for authenticity. NADIA, BUTTERFLY excess in this respect as the script is a closer and more scrutinizing study of human endurance while SLALOM focuses more on the protagonist Lyz, coming-of-age. There is a scene of the 15 year old having her period in the shower. The issue is also addressed by her coach, Feed who tells her the effects on her muscle during that time of month.
Needless to say, the skiing segments are exhilarating to watch. This point lifts the film above other sports films, as it is more difficult to shoot and to illustrate slaloms.
The story of SLALOM follows an all too familiar path, with a lot of incidents predictable as the story unfolds. The Lyz has an accidental first glance at her icao Fred totally nice taking a shower, one can tell that she will be involved sexually with him. As a pre-teen, one knows too that she will be pressuring Fred to continue the affair. Unfortunately, this fact undermines the severity of the coach's sexual abuse. Fred's abuse is revealed in stages. He notices her period. He measures her body fat with no-one else in the room. Lyz's rebellious nature towards her mother is also expected and leads to the same old story where the mother has found a new boyfriend and she is left jealous and abandoned, here during the Christmas holidays.
The sexual abuse is left hanging with the guilty left uncharged. The director has based her story on true events so one wonders if and how bad she herself have encountered in terms of sexual abuse.
SLALOM is an ok watch, not too demanding but unfortunately too commercial for many critics' liking. But it is a good sign to see more French films released in Ontario in what is a bilingual country.
Trailer: