DEUX (TWO OF US) (France/Luxembourg/Belgium 2019) ***** Top 10
Directed by Filippo Meneghetti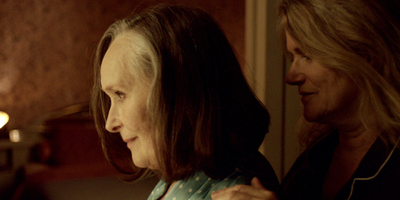 DEUX (TWO OF US) has already gone around the festival circuit winning accolades and dozens of awards, hard to believe as this is writer/director Filippo Meneghetti's first narrative feature. The film is also France's entry for the 93 Academy Awards for Best International Feature.
It is the story of two pensioners who live across each other in an apartment building. Their two decade clandestine love affair is challenged when an unexpected event changes their lives.
The film's best and brilliant segment occurs at the start when two young girls play hide and seek and Mado disappears from her hidng place to the astonishment of Nina - the dream-like sequence a metaphor of what will happen later when Mado gets lost suffering a stroke and Nina has to find her hiding place.
The above summary of the film makes it all sound boring - a romantic story of two aged lesbians with their love put to the test. Far from it. DEUX turns out to be a perfect little gem proving that love conquers all - not to sound so cliched. But this film, written and directed by Filippo Meneghetti has a plot even Hitchcock could be proud of. There are moments of intense suspense, emotions and mystery together with characters of questionable background and an ending with a twist to boot.
Nina (Barbara Sukowa) and Madeleine or Mado (Martine Chevallier) have hidden their deep and passionate love for many decades. From the point of view of those surrounding them, including Madeleine's meddling daughter (Léa Drucker), they are simply two neighbours sharing a hallway during their sunset years. The ultimate test of their love occurs when Mado has a stroke (that could have been caused by Nina in her outburst) and Nina not allowed to visit Made due to the interfering daughter and the caregiver nurse from hell, Muriel (Muriel Bénazéra).
German actress Sukowa (known for her Rainer Werner Fassbinder and Margarethe von Trotta films) is simply marvellous as the chain smoking widow who decides to take meddling to a new level. Martine Chevallier (de la Comédie-Française) is equally good, acting with the limited ability of a character who has suffered a stroke. Director Meneghetti centres the film on Madeleine for the first third before switching the protagonist to Nina after Madeleine's stroke. The script offers more background for Mado but Nina's is kept out of the picture. This makes her more mysterious. The audience cannot guess what is on her mind or what she would do next. She tells Mado's daughter a bit about her past, but keeps it private. The introduction of the caregiver Muriel into the story is a touch of sinister genius.
The Italian version of the 1963 Ricky Nelson song "I will Follow You" is used in the soundtrack a number of times. The English lyrics which include "I will follow you… no matter wherever you may go… there isn't an ocean so deep……a mountain so high it can keep, keep me away, away from my love…" tells of their love. The two had met in Rome and had planned to retire there and hence this is their Italian love song.
DEUX really arouses the emotions of the audience. It is simply not right that two lovers are prevented from spending the rest of their twilight years together because of prejudice. Clearly something needs to be done. And when Nina takes charge, everyone cheers.
If it all seems that director Meneghetti has taken too much on his plate, he actually brings all the elements neatly together - the suspense, the romance, the mystery and the excitement without making any part of the material too forced. The film also promotes LGBT relationships that they should be accepted and treated as normal for the benefit of all.
This one gets my vote for both Best International Feature as well as Best First Feature.
Trailer: