DOC NYC 2020 Coverage: Film: BARE
The site will not be covering the DOC NYC 2020 this year. However, one film will be mentioned and reviewed.
DOC NYC 2020 Film Festival (Special Review)
BARE (Belgium 2020) ***1/2
Directed by Aleksandr M. Vinogradov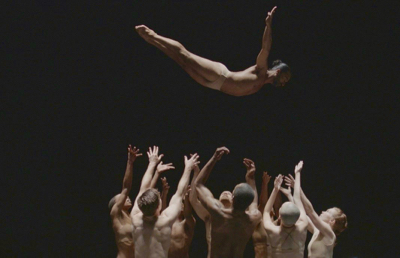 This eye-opening dance documentary begins with shots of parts of the male human body. With close ups, its takes time to distinguish which part of the body the camera is focussing on. When the image of a hairy penis appears, it would seem that one should be comfortable with male nudity to watch this doc - just as one should be comfortable with male nudity in order to appreciate the choreography of Belgian dance Master Thierry Smits.
The doc continues with a short clip of the auction process where the dancers are selected and the unsuccessful ones sent off. Practices ensue. During the process Smits, speaking in a blend of French and English is totally respectful and polite to the dancers. One would envision some friction between Smits and his dancers, but none are shown.
Eleven naked men audition, rehearse and perform for the premiere of master Belgian choreographer Thierry Smits's new contemporary dance piece called Anima Ardens. Mixing intimate rehearsal footage with extensive and breathtaking dance sequences, BARE follows the choreographer and his team as they work (from audition to premiere) to explore difficult, often taboo subjects through nudity and dance. It is a bold and enlightening exploration, erotic no doubt, with BARE skin on display, of artistic conflict, gender, and sexuality the one constant is the conceit that the body is the last bastion of personal freedom.
In the words of Smits, it is erotic nudity not obscene nudity but beautiful nudity on display.
Russian director Aleksandr M. Vinogradov is also of dance background. Together with Thierry Smits, they provide an unforgettable experience, with yet another insightful view of the art of dance.
The climax of the film is the premiere performance. This is reserved for the doc's last 5 minutes which only short clips of the dance are shown.
The virtual 11th edition of America's largest documentary festival, DOC NYC runs from November 11th to 19th and will be available online throughout the US.
Trailer: https://youtu.be/0sTZHMJge7A