Cinefranco 2020
Cinéfranco 23rd annual festival of International and Canadian Francophone cinema will be held online from Friday, November 20 – Saturday, November 28 with 17 features, 2 shorts programs, post-screening Conversations, and Panels, using the Eventine festival platform, accessed at www.cinefranco.com Two new films will be added daily with 48 hr for a household to view once a stream is activated. Closing Night on November 28 will see three new films on the platform.
Because of Covid-19, the films in Cinefranco this year will be screened virtually instead of in physical theatres. This allows for the first time, Cinéfranco to expand its reach across all of Canada, where lovers of French language cinema can also discover the Cinéfranco community.
Cinéfranco 2020's program includes feature films from Belgium, Canada, France, Lebanon, Morocco, and Senegal reflecting the diversity of the Francophone world. The festival also celebrates filmmakers from Ontario, Quebec and New Brunswick with the return of the popular Courts toujours (In Short) programs.
"In a year to remember, full of challenges for everyone, we at Cinéfranco are blessed and privileged to be able to continue bringing the best of International and Canadian francophone cinema to our audiences", said Marcelle Lean, Artistic Director and Founder. "During the pandemic we've stayed in touch with our community online, presenting films and conversations and are looking forward to embracing new audiences across Canada during the festival. The pandemic has given us all reason to pause and reflect as well as witness amplified inequities. We've curated this year's film selection with that, as well as a need for some levity, in mind."
Marcelle Lean, I am proud to say, is a personal friend of mine, whom I known since the festival's inception. She is always cheerful, helpful with an astonishing passion for film notably francophone films.
For complete information of the festival including descriptions of the films, please click the Link:
https://www.cinefranco.com/main-festival
CAPSULE REVIEWS OF SELECT FILMS:
(Keep checking the article for more updated reviews)
AU NOM DE LA TERRE (In the Name of the Land) (France/Belgium 2019) ****
Directed by Edouard Bergeon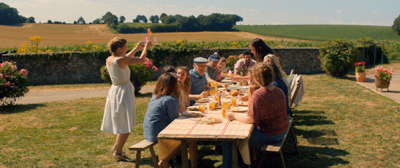 A modern JEAN DE FLORETTE tale of farming the land, AU NON DE LA TERRE tells the hardship of a farmer and his family. According to the film credits there is a farmer who commits suicide every 2 minutes in France. The film is based on a true story which will literally jolt you out of your seat at the film's climax when reading the tombstone. The film begins with a young Pierre Jarjeau (Guillaume Canet) returning home from Wyoming at the age of 25 to marry his fiancee (Veerle Baetens) and take over the family farm, Les Grands Bois (the grand woods) which he purchases from his strict no-nonsense father (Rufus). Pierre and family work extremely hard with their hired help with crops and goat breeding. The goats and kids are extremely adorable and thank God the audience is spared from seeing these any of these creatures slaughtered. It is the human beings that do the suffering as the farm goes into debt, followed by a huge fire that destroys the farm buildings. Director Bergeon captures the beauty and hardships of farm life aided by superb performances all around with newcomer Anthony Bajon as the young son deserving mention. Not an easy watch, seeing human beings suffer so much but the Jarjeau family story is a story that needs to be told.
Trailer:
BAAMUM NAFI (Nafi's Father) (Senegal 2019) ***1/2
Directed ny Mamadou Dia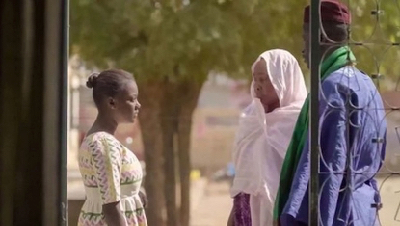 From theAfrican country of Senegal comes this Shakespearean ROMEO AND JULIET tragedy of a couple in love amidst warring families. The families in this case are two brothers, who live in a small town, one, Tierno, the acting imam and the other, his rich brother Ousmane who wishes to control the two by means of controlling the people by means of bribing them with money from who Tierno terms a terrorist. Nafi is Tierno's only high spirited daughter who is engaged to be married against his wishes to Ousmane's son. Tierno is totally against the marriage despite his wife and daughter's wishes. Politics get ugly and everyone suffers especially the young couple. The two brothers have affiliations to two different forms of Islam. Director Dia's drama is a slow burn but no less effective as he engages his audience to examine the detrimental effects of personal differences an personal and political gain. The film also provides a welcome change of an unfamiliar Senegal setting with a universal story with a strong message.
Trailer: https://www.youtube.com/watch?v=jpv49NtiHEo
LA BELLE EPOQUE (France 2019) ***
Directed by Nicolas Bedos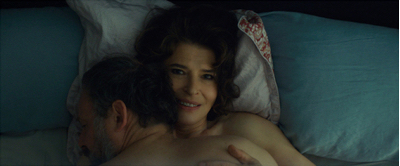 A high concept comedy that turns out too smart for its execution. This French comedy follows an old fashioned cartoonist, Victor (Daniel Auteuil) now out of work with print making way to websites that do not favour cartoons. To make matters worse, his wife, Marianne (Fanny Ardant) is totally modern with her self driving Tesla, virtual reality and artificial intelligence. She is bored with him. Victor engages in a service called 'Time Travellers' that takes clients to their desired past historical moments. Victor picks 1974 the time he had first met and fallen in love with his wife. Writer/director Bedos (MR. & MRS ADELMAN) creates an original premise blending modern technology with old-fashioned French romance. Bedos edits his film at quite the manic pace so that the audience has hardly any time to breathe, thus often missing the simplicity of comedy. Still this is Bedos' unique style that is still entertaining, nevertheless. Auteuil and Ardant are a delight to watch on screen.
Trailer:
LA BONNE EPOUSE (HOW TO BE A GOOD WIFE)(France/Belgique 2020) ****
Directed by Martin Provost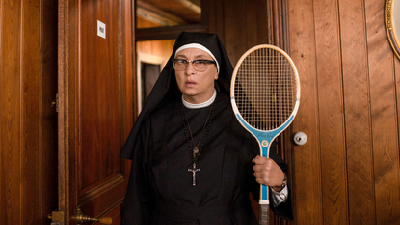 French director Martin Provost returns with his SERAPHINE star Yolande Moreau in a more playful yet no less engrossing piece centred on the role of the female in society. The society here is set in the year 1969 when life in France expects females to be selfless, obedient and docile. These 'ideal' traits are taught to young girls in an institute founded by Van Der Beck (François Berléand) who has a keen eye for young flesh. L'ecole is run by his wife, Paulette (Juliette Binoche), sister (Moreau) and a ultra-strict disciplinarian nun (Noémie Lvovsky). The girls are less than thrilled and like most girls of their age are more interested in mischief and sex. Binoche, Moreau and Lvivsky are so entertaining to watch that they cloud any appearance of the students and their antics. The film also questions when a good wife can become her own woman when the husband dies from choking from his sister's rabbit dish and she has to take control. Director Provost is here in lighter vein and in control of the subtle hilarity.
Trailer: https://www.allocine.fr/video/player_gen_cmedia=19585872&cfilm=271733.html
ÉNORME (France 2019) ***
Directed by Sophie Letourneur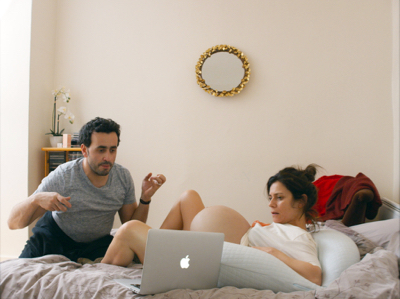 ÉNORME stars Jonathan Cohen and Marina Foïs s a couple expecting their first baby. Foïs plays the world famous concert pianist while Cohen plays her husband who also acts as her PR, assistant, manager. a baby is out of there question for the busy couple. But when the husband changes his mind after delivering a baby on board a plane, he tricks her into a pregnancy. She grew totally enormous as a result while he gains weight in the process. Sounds funny, and at times it is, especially for couples who have had a baby since they can relate to this kind of comedy. To her credit, Director Letourneur tries everything in her power to make her film funny, from gross jokes like smelling the water when the water is broken, to her actors hamming it out to the fullest. The camera angles showing the enormity of the wife's pregnancy are at times overdone but funny. Sometimes the humour works, and at other times it does not.
Trailer: https://www.allocine.fr/video/player_gen_cmedia=19585671&cfilm=258205.html
NADIA, BUTTERFLY (Canada 2019) ***
Directed by Pascal Plante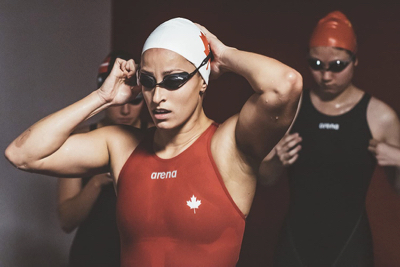 NADIA, BUTTERFLY begins with a lengthy 20 minute swimming session that introduces Olympic swimmer Nadia (Laterine Savard) ending with the race itself when her team of four win the bronze medal. The segment shows her doing laps, her arms plunging into the pool water, her arguments with her trainer and interview with the press. NADIA, BUTTERFLY has its setting in Tokyo 2020 where the Summer Olympics is held, according to the film. With all of Plante's efforts to give his film the feel of authenticity, the efforts fall flat since the Olympics in Tokyo had been postponed indefinitely. Plante could have changed its setting to the Olympics to the 4 years prior. The heart of the film is Nadia dilemma's of whether to continue or quit swimming. If she quits, she goes against the grain of her teammates and coach and if she continues, she will be untrue to herself. The success of the film also rests on the lead performance by Savard. Fortunately, being a Bronze medal swimmer herself, she looks the part and also must have given a lot of consideration to her role.
Trailer: https://www.youtube.com/watch?v=jWJQ_kQQLPo
TOUT SIMPLEMENT NOIR (Simply Black) (France 2020) ***1/2
Directed by Jean-Pascal Zadi and John Wax
The funniest film screened at Cinefranco, the documentary has the protagonist, a black Parisien, JP organizing a "Black Lives Matter' type protest in the heart of the city, at the Place de la Republique. There is one problem. He is not very bright and hence having lots of trouble trying to recruit anyone to show up for the protest. It does not help that he is not that good looking either, with his buck teeth that many insult him with, after her offends them with his personal views. Oddly he is himself racist only recognizing himself as black and others as not being black enough or mixed (black) raced. The film is extremely funny when he is filmed on camera or when he has altercations with those that do to agree with him. The film lags a little in the middle unable o keep up with the hilarious humour at the start. Omar Sy, the most famous back actor in France has a cameo at the end, though Sy's scene does not match up to the build up to his appearance. Still, TOUT SIMPLEMENT NOIR is an entertaining film allowing audiences to laugh at themselves in this politically incorrect rendering of current black matters. Cinefranco's Marcelle Lean told me she fought really hard to get this movie, so put this on your must-see list.
Trailer: https://www.cinefranco.com/tout-simplement-noir
QUEBEXIT (Canada 2020) ***
Directed by Joshua Demers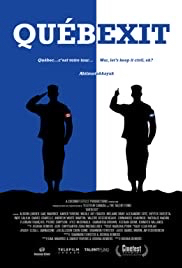 Hot on the heals of BREXIT news, comes director Joshua Demers ambitious comedy about Quebec trying to exit Canada as the province tried to in real life in many unsuccessful referendums. QUEBEXIT adds an additional element of the indigenous people. So there is the sovereign question of land as argued upon by the Quebecois, the Canadians (in this case New Brunswick) and the Cree indigenous people. The film requires the dialogue to be spoked in three different languages with actions that will show the diversity of Canada. All this takes place when the construction of an interprovincial pipeline results in a successful third Québec sovereignty referendum, a small road at the Québec-New Brunswick border becomes a lightning of conflict between the new Québec military, the Canadian Armed Forces and two indigenous women who cross the border frequently. The film is quite funny and relevant, typically for Canadians. In the film, the groups are loud and intolerant of each other, making cooperation an almost impossible task.
Trailer: