HOT DOCS (Virtual 2020)
(article with be updated with intro and more capsule reviews)
ALL THAT I AM (Alt det jeg er)(Norway 2020) ***
Directed by Tone Grøttjord-Glenne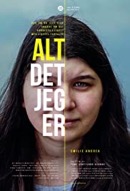 Emilie is a young 18-year old returning home to be with her mother and other siblings after living in foster homes for many years. This is the tale of Emilie as she speaks out of the difficult sexual abuse she underwent under her stepfather who was eventually jailed. ALL THAT I AM is a quiet and slow paced film that is by no means less effective. Director Tone reveals her subject as an ordinary teen but with not with a ordinary past. The past haunts her. The film's most difficult to watch segment is a quiet one where a young Emilie speaks of the abuse how he came into her three to four times a week. It is the voice of a child on the background of the screen showing snowing outside. Sexual abuse has never been more disturbing when examined from the victim's point of view. Well worth a watch.
Trailer: (unavailable)
BULLETPROOF (USA 2020) **
Directed by Jeff Chandler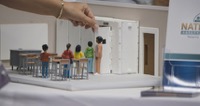 BULLETPROOF begins with an re-enactment (actually a poorly executed one) of a school shoot out. From homecoming parades and basketball games to lockdown drills and active shooter workshops, the landscape inside the American education system has drastically changed. Chandler's film weaves together incredibly uncomfortable moments that have become the new normal, Bulletproof is a cinematic meditation on fear and violence that asks the questions: What does it mean to be safe in school? But his film is quite a boring affair that appears aimless. One really wonders what the real message of the film is. The film does not really shock or educate in terms of exposing information that audiences are not already familiar with. Lynne Ramsey's film WE NEED TO TALK ABOUT KEVIN, though fictional challenges audiences more thus being more effective.
Trailer: (unavailable)
CAPITAL IN THE TWENTY-FIRST CENTURY (New Zealand/France 2019) ***
Directed by Justin Pemberton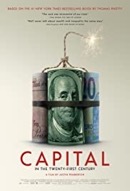 Adapting one of the most groundbreaking and powerful books of our time, CAPITAL IN THE TWENTY-FIRST CENTURY is aimed to be an eye-opening journey through wealth and power, that breaks the popular assumption that the accumulation of capital runs hand in hand with social progress, shining a new light on the world around us and its growing inequalities. The film begins with a brutal look at the fall of the Berlin Wall and the Soviet Union, emphasizing beatings of protesting citizens in the process. The music brightens up the mood to modern America and then back down to the depressing18th Century, where it is emphasized repeatedly how the ownership of land is owned by only too few of the wealthiest. Permberton's doc is an entertaining one, though too eager to please wth many pop-culture references coupled with interviews of some of the world's most influential experts.
Trailer: https://www.imdb.com/video/vi1268956697?playlistId=tt5723056&ref_=tt_ov_vi
iHUMAN (Norway 2019) **
Directed by Tonje Hessen Schei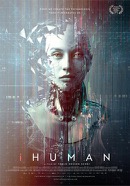 iHUMAN examines the explosion of A.I. Artificial Intelligence, the opportunities and challenges it brings and its impact on the global community. A.I. is a very relevant and interesting topic that unfortunately is not given a proper treatment by Norwegian director Tonje Hessen Schei. A.I. as taken in the film from anything from robots to information gathering, with whereas leading AI textbooks define it as a narrower field of the study of "intelligent agents": any device that perceives its environment and takes actions that maximize its chance of successfully achieving its goals i.e. a machine that learns from itself. Director Schei includes in her film, conferences and lectures by famous people including psychologists and scientists/engineers. Still, there is nothing really eye-opening in the film that audiences don't already know from the news of the world. She also seems obsessed by impressing her audience with technology flashing lights and the like. The film warns more on the evil of A.I. than its benefits.
Trailer: (unavailable)
THE PAINTER AND THE THIEF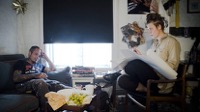 THE PAINTER AND THE THIEF is a new documentary that shows the odd and personal relationship between a famous Czech painter, Barbora who moved to Norway and finally made it famous with her paintings before two of her best works were stolen from the art gallery. The film's premise: an artist befriends the thief who stole her paintings. She becomes his closest ally when he is injured. But then when her paintings were never found. The tables turn. The Norway and Oslo settings makes a welcome difference. One question that audiences would wonder is which parts of the doc actually take place in real time and which are re-enacted. The film proves the point that how detestable and unlikeable people might be they are still are lost souls that need to find solace.
Trailer: https://www.imdb.com/video/vi1709882905?playlistId=tt11296058&ref_=tt_ov_vi
THEY CALL ME DR. MIAMI (USA 2020) **
Directed by Jean-Simon Chartier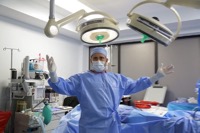 If the title this of this doc sounds cheesy, the film and the subject follows suit. So, THEY CALL ME DR. MIAMI should be taken as a silly entertaining watch and not as a film that is more serious delivery a message or change the world. Dr. Miami, otherwise known as Dr. Michael Salzhauer is a famous L.A. plastic surgeon practising in Miami who has used social media to further his practice. But since he posts ugly surgical operations as well as promote himself as a demi-God,. He infuriates his peers in the plastic surgery field while enhancing his practice. It is suggested at there is a 2-year wait for new patients. His line: "I am falling in love with myself again…" says it all. After 30 minutes of watching this egomaniac, even the silliness becomes a bore. At one point, he plans a 3-storey mural himself with a sceptre on a horse.
Trailer: (unavailable)