The Films of Robert Bresson
Robert Bresson, one of the most highly regarded filmmakers of all times has gained the respect of many directors like Jean-Luc Godard and Francois Truffaut.
Godard once wrote, "He is the French cinema, as Dostoevsky is the Russian novel and Mozart is German music."
In the Sight and Sound International Film magazine's critics poll, three of Bresson's films, A Man Escaped (1956), Pickpocket (1959 and) Au Hasard Balthazar (1966) were ranked among the Best 100 greatest films ever made. These three films are capsule reviewed below and they are really excellent films.
Bresson's films are minimalist, but full of emotions regarding human hardships. Depressing undoubtedly, but these are films that will leave one moved.
CAPSULE REVIEWS of Selected Films:
AU HASARD BALTHAZAR (France 1966) ****
Directed by Robert Bresson
This dramatic portrayal of innocence lost in AU HASARD BALTHAZAR makes one of the most riveting of all the Bresson films that I have seen and which remains one of my dearest favourites. There are two innocents in the film - one a young farmer's daughter (Anne Wiazemsky) who loses her virginity and innocence to a black jacket delinquent who is as evil as evil can be. On the other hand, this her coming-of-age story and she matures to a woman of knowledge who eventually learns how to use people like the old ugly man she gets food and shelter from. The other innocent is an animal - a donkey who is abused under different owners. The donkey is christened a saint. The segments showing the animal abuse is a real difficult watch. Bresson shows evil in man as what it is, often with no hope or redemption for the ma. Life is also shown to be cruel and heartless, with the dignified man (the farmer) coming out at a loss at the very end. Whether one agrees with Bresson's look at life in his film, one cannot but emerge emotionally moved by the experience.
A MAN ESCAPED (UN CONDAMNE A MORT S'EST ECHAPPE) (France 1956) ****
(altenatuvetitle: LE VENT SOUFFLE OU IL VENT)
Directed by Robert Bresson
When the film opens, the audience is informed of the late number of French prisoners-of-war who have lost their lives during the German Occupation. Director Bresson himself spent over a year in a prisoner-of-war camp−an experience which he utilizes in the movie. Lieutenant Fontaine is imprisoned and awaiting news of his trial. Fontaine is locked solitary in his cell where he plans his escape using a spoon stolen from his meal. Just on the day when all appears clear fort he escape, his cell is doubled up with another prisoner. Fate has put Fontaine in a prison cell and Fontaine decides to change his fate with his ease but fate again turns the tide on him. Quite the depressing film, but nevertheless compulsive watching for the care and detail director Bresson provides. A MAN ESCAPD is one of Bresson's best films and anyone who sees it will concur.
PICKPOCKET (France 1959) ****
Directed by Robert Bresson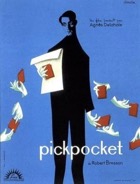 PICKPOCKET feels a little like Vittorio De Sica's THE BICYCLE THIEVES as both films deal with making a decent honest (or dishonest) living. In PICKPOCKET, the audience wishes the subject never to be caught as director Bresson invests so much of the film into the subject's character ((Martin LaSalle) that it is almost impossible not to dislike him. The character also believes himself so good that he is above moral reproach. Bresson also shows the mechanics of the pickpocketing art (director Cockteau calls it 'the ballet of thievery'), though not entirely credible, still looks incredibly smooth, camera-wise. Bresson gets away with it. One of Bresson's finest, admired by many French directors of the say and one that should be seen.
QUARTRE NUITS D'UN REVEUR (FOUR NIGHTS OF A DREAMER) (France/Italy 1971) ***1/2 Directed by Robert Bresson
Based loosely on Fyodor Dostoyevsky's 'White Nights', Bresson's rare colour film follows 4 nights in the adventures of one dreamer called Jacques. At the Point Neuf in Paris one night, he saves a girl called Marthe from suicide. He falls in love with her while learning the reason for her attempt was the no-return of her lover. She eventually falls in love with Jacques but her lover returns. Dostoyevsky's is reset in Paris and it works. The film is stunning to look at with Paris par nuit beautifully captured by cinematographer Pierre Lhome. Bresson gets into his characters, both the boy and the girl while keeping the film artistic at the same time. The innocence and nativity of youth are celebrated at the same time.