TERRA WILLY: PLANETE INCONNUE (France 2019) ***1/2
Directed by Eric Tosti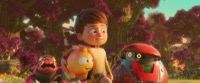 Note that the film also known as ASTRO KID is also known by its French title 'Terra Willy: planète inconnue'.
French animator Eric Tosti who has helmed other children's classics like SPIKE (2008) and THE JUNGLE BUNCH (2017) returns with an imaginative boy's space adventure, that takes nods from the famous TV series LOST IN SPACE.
The film begins on the spaceship of an explorer space family. The boy age-10, Will loves video games and has the nickname of Captain Arrowboard. When the spaceship is hit by an asteroid storm, the boy and his trusty robot is hurled in a pod into outer space, landing on an unknown planet. But there is more the meets the eye. Upon closer examination, TERRA WILLY is actually the coming-of-age story of 10-year old Will as he matures from a kid playing video games to one understanding survival, friendship, loneliness and other human values. "You are right, Buck. I cannot keep doing what I want," says Will at a key point during the film.
At this point, the film could be an episode (out of the total 84) taken from the LOST IS SPACE series that aired on TV from 1965 - 1968. In LOST IN SPACE, the Robinson family (headed by actors Guy Williams and June Lockhart) travel through space with their son, also named Will played by child star Billy Mumy. The family often land on unknown planets where adventures begin. Will is also accompanied by a faithful robot. One of the key lines in the movie is the robot warning the boy: "Danger, Will Robinson…… Danger, Will Robinson!!" One would expect similar words coming out of Will's robot as well.
Director/animator Tosti's imagination is at its peak in TERRA WILLY. The unknown planet with unknown creatures and vegetation allow Tosti to use his entire palette of colours to feed his imagination. There are orange, blue heart-spotted like human companions like Flash similar to a dog (or even Toothless in the HOW TO TRAIN YOUR DRAGON films) but with two tails and 8 legs, pink butterflies, glow-flies and a myriad of colourful fruits that often have side effects when eaten, even after analyzed to be non-toxic by Buck, the robot.
The film might appear a bit too childish for the average adult but Tosti's imagination more than makes up for it. There is new wonder around very corner and in an unknown planet, any kind of animation can pop up.
The film is made in two versions in the French and English versions, with different actors (French and English) doing the characterizations. Timothy Von Dorp and Edouard Baer voice Will and Buck in the French version while Landen Beattie and Jason Anthony do the English honours. The film also contains a couple of songs ('Everlasting Holiday' and 'Flash and I').
Trailer: https://www.imdb.com/video/vi845265433?playlistId=tt8329148&ref_=tt_ov_vi