IL PLEUVAIT DES OISEAUX (AND THE BIRDS RAINED DOWN) (Canada 2019) ***1/2
Directed by Louise Archambault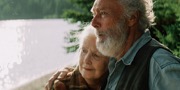 Director Louise Archambault's elegiac and charming AND THE BIRDS RAINED DOWN based on the award winning novel by Jocelyne Saucier is a tale of lonely old people with a slow pace to match. The film runs a little over two hours and requires some patience to watch though it comes wth a few rewards. The film is shot in Quebec showcasing some magnificent landscapes and in French, thus its French title. The film has been selected Canada's Top 10 by the Toronto International Film Festival poll.
It takes a death to bring all the film's characters together. In fact two deaths, though it is a bit confusing at the start as it appears that the two deaths were the same person. One death brings in the local hotelier Stephen (Éric Robidoux) with his aunt Gertrude (Andrée Lachapelle).
The other death is Ted, one of three hermits living in cabins in the Quebec countryside, miles from civilization. The hermits are Tom (Rémy Girard), Charlie (Gilbert Sicotte), and Ted (Kenneth Welsh) all of whom fled society years ago. They grow pot and sell it to the closest locals with help from Stephen.
All four come together resulting in several interactions, one of these being a senior romance between Gertrude and Charlie. Warning: There are sex scenes that includes old people nudity. To the director's credit, these are taken slowly and executed in good taste.
The film is so called because of fires that often rage through the forested area. One previous huge fire affected many of the characters including Tom who survived the fire but witnessed his entire family dying from it. The heat and fumes were too much for the birds that just rained down, dropping on those below.
This is a lifestyle that is increasingly endangered by nature, infirmity, and age. Into the picture arrives photographer/ researcher Ange-Aimee (Eve Landry). She threatens to disrupt their lives when she starts looking for survivors of this catastrophic blaze.
One thing noticeable about the film is the way more and more stories creep into the plot. The final one involves yet another fire that once again threatens the existence of the hermits. Cops arrive, clearing people from danger.
Each character has his or her own story, or baggage as better described. Tom is the local guitarist/singer who appears stuck there perfuming his tunes, one of which belongs to Tom Waits' famous collection - "Time" and another of which is Leonard Cohen's "Bird on a Wire". Apparently, these two songs were performed live by Girard. Charlie had been ill, near death but survived. Gertrude had been institutionalized and had never found love, though have had no shortage of sex inner younger days. All these stories make intriguing fodder, though they take their time to unfold.
As director Archambault's film comes to a close, it becomes apparent that it is not the stories of the lives of the characters that make the movie but the surprises that these stories of life brings that makes the film worth watching.
Trailer: https://www.youtube.com/watch?v=7kj_Wq8FfI8