VARDA PAR AGNES (France 2019) ****
Directed by Agnes Varda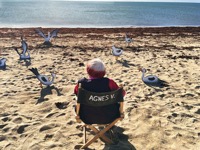 Agnes Varda talks about film and about her films to an audience in a grand cinema auditorium. This is the documentary - a doc about film, life and inspirations.
Agnes Varda mentions the three words that are all-important to filming: inspiration, creation, and sharing. Without inspiration, there is no film. Varda, obviously gives examples from her past work, mentioning how she immediately wants to film her uncle Varda the second she met him. She started visualizing colours, camera angles, shots and all. The film the shows segments of that encounter. Varda also mentions the difficult part of creation, getting the finance needed to make a film. She confesses that she often had to work with small budgets. She came up with her film CLEO IN THE AFTERNOON filmed in real time of 90 minutes, to cut cost. CLEO turns out to be one of her most successful ones. The third element of sharing, she is currently doing, communicating to her audience in the auditorium.
Directors have their niche. Some directors make action films, some comedies and some documentaries. It is the latter category for Agnes Varda. In her film, JANE B. PAR AGNES V., there is one exquisite scene she captures while Birkin is walking with her son on the beach. A woman is lying flat on the beach with a Bible on her chest while two men stoop each by her side. The boy questions the mother for the reason, and she replies that she does not know. The film does not indicate any reason for the image either. Varda sees images like these, captivating and occasionally without reason, but to Varda, this image needed to be captured. It is these little intricacies that make Varda the artist that she is, as well as give this doc its great pleasures. Varda's segment on her potato exhibition is nothing short of extraordinary.
Though at the age of 90 at the time of filming this doc, Varda still emanates her characteristic vibrant energy. She offers a wide-ranging journey through her world: her filming process, her feminism, her fine-art photography, her long-time relationship with director Jacques Demy. There are signature flourishes of animation, and formal detours into the dreams that form the integral basis of her reality.
Varda died only a month after Varda by Agnès premiered at Berlin, and with this in mind, it's hard not to see it as a eulogy. Yet, like all of Varda's work, it brims with life. And its takeaway is not a past-tense legacy, but a sense of how Varda lived through her films, of what she brought to the art form, and — the greatest gift — of finding the extraordinary in the ordinary. "Nothing is banal if you film people with empathy and love," Varda once said. This is the inspiration she has left us with. Many of her best films are on display here, from CLEO DE 5 A 7, SANS TOIT NI LOIT (English title VAGABOND), THE GLEANERS to VISAGES, VILLAGES, her last and BEST film in 2017. Sandrine Bonnaire from SANS TOIT NI LOIT appears as a guest talking to Varda.
For those who grew up with Varda and her husband Jacques Demy, VARDA PAR AGNES is a pleasure.
AGNES PAR VARDA is a true film on how life imitates art (in this case, film) and how art imitates life. Varda passed away with this doc marking this film her swan song. There are too many pleasures in the film to be mentioned, so best to see this film for oneself.