TIFF Cinematheque Presents - Aki Kaursimaki
TIFF Cinematheque presents an exhaustive retrospective of films by Finland's best known director Aki Kaursmaki. Well known for his deadpan comedy style, His films are often minimalist with little dialogue. He has also made a silent film JUHA. He has a few favourite actors who appear repeatedly in his films.
After graduating in media studies from the University of Tampere, Aki Kaurismäki started his career as a co-screenwriter and actor in films made by his older brother, Mika Kaurismäki. He played the main role in Mika's film The Liar (1981). Together they founded the production company Villealfa Filmproductions and later the Midnight Sun Film Festival. His debut as an independent director was Crime and Punishment (1983), an adaptation of Dostoyevsky's novel set in modern Helsinki. He gained worldwide attention with the very funny Leningrad Cowboys Go America (1989).
Kaurismaki is one of my favourite directors. I love hunter and he provides the best.
The rear starts on January the 31st. For more information on the films, venue, ticket pricing and program, check the TIFF website at:
https://www.tiff.net/the-review/aki-kaurismaeki-finds-laughter-in-the-dark/
His full list of feature films:
Feature films:
Crime and Punishment

, 1983

Calamari Union

, 1985

Shadows in Paradise

, 1986

Hamlet Goes Business

, 1987

Ariel

, 1988

Likaiset kädet (Les mains sales), 1989 (production for Finnish TV)
The Match Factory Girl

, 1990

La Vie de Bohème

, 1992

Drifting Clouds

, 1996

Juha

, 1999

The Man Without a Past

, 2002

Lights in the Dusk

, 2006

Le Havre

, 2011

The Other Side of Hope

, 2017
My BEST Kaurismaki films:
DRIFTING CLOUDS
THE OTHR SIDE OF HOPE
ARIEL
LENINGRAD COWBOYS GO AMERICA
THE MAN WITHOUT A PAST
Film Review of Selected Films:
ARIEL (Finland 1988 ) ***** Top 10
Directed by Aki Kaurismaki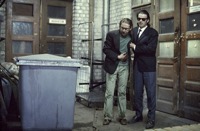 Like DRIFTING CLOUDS, ARIEL is a hilarious deadpan comedy on unemployment in Finland. The film follows the path of one loner, a poor soul who loses work when the mine closes for good. he is robbed from all the money he draws from the bank. But he has the ownership of a car his ex-boss gives to him before he commits suicide. Yes, it is that deadpan funny. He almost gets a parking ticket but earns a date from the traffic officer and they go on a date. She tells him she hates the officer cap and chucks it away. The film contains arguably the funniest one night stand segment. After sex in the morning, she asks: "Are you going to disappear in the morning?" "No this is forever," he replies. "Good, I got to work early in the morning," she retorts. He gets imprisoned after attempting to get the money back from the man who robbed him. ARIEL is to be credited as perhaps history's funniest depression film. Besides the laughs, Kaurismaki also captures the desperation of the lovers bringing in suspense and thrills to the story as well. A total delight!
JUHA (Finland 1999) ***
Directed by Aki Kaurismaki
Kaurismaki's films have little dialogue. So it would seem a matter of time till Kaurismaki makes a silent movie like JUHA. JUHA has a simple story, a morality tale of sorts based on a famous 1911 Finnish novel by the Finnish author Juhani Aho . Marja (Kati Outinen) is a simple peasant woman married to her older limping husband Juha (Sakari Kuosmanen). They lead a very simple country life, spending most of their days farming and tending to their livestock. In one wordless scene, they dance with each other their arms outstretched with the words seen on screen: "They are happy as children." Marja's world is turned upside down when Shemeikka (André Wilms) comes to the happily married couple asking them for help with his broken down sports convertible and a place to spend the night. As Juha works to repair the car, Shemeikka attempts to lure Marja to leave Juha and come to the city with him. A hesitant Marja does not want to leave her husband at first but ultimately gives in to temptation after dreaming of a wonderful new life in a big city. Marja ditches Juha. Shemeikka and Marja leave for the city but Marja's dream quickly becomes a nightmare when Shemeikka enslaves her in a brothel. JUHA is not the best of Kaurismaki but still contains certain traits of the Master's genius. The last segment with Juha storming Shemeikka's stronghold is are deadpan Kaurismaki.
LENINGRAD COWBOYS GO AMERICA (Finland 1989) ****
Directed by Aki Kaurismaki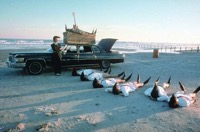 When LENINGRAD COWBOYS GO AMERICA first premiered at the Toronto International Film Festival, Kaurismaki was little known and this odd piece of absurdist deadpan comedy did not well with many critics. But this comedy grows on you. As such, I have seen LENINGRAD COWBOYS GO AMERICA seven times and it gets better at each viewing. This is arguably Kaurismaki's funniest entry with little plot but lot of comedic setups. The film follows a troupe of musicians as they leave Siberia to find wealth and fame in America. The trouble is that they only know polka music. Their manager tells them: "Here they do rock and roll," as he hands them a book on rock and roll continuing: "Read this book." The group travel around America in this road trip kind of film doing music gigs in taverns and bars including one only ' as the manager says," Because Kenny Rogers cancelled." Is the band any good: "They're the best," replies the manager to a bar owner when asked the question. So successful this comedy turned out that Kaurismaki made LENINGRAD COWBOYS MEET MOSES, which fortunately is not as funny as this one.
LENINGRAD COWBOYS MEET MOSES (Finland 1994) ***
Directed by Aki Kaurismaki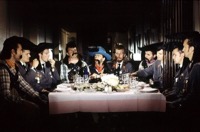 Not as good as LENINGRAD COWBOYS GO AMERICA, this sequel is no less funny. What makes it distinct as a laugh-laugh-out loud comedy is its irrelevance. The manager of the Leningrad Cowboys has died in the desert and been reborn as Moses. Moses runs down the band as Moses, quoting scriptures and still given the band a hard time. He wants the band to return to Siberia and plans their trip home. Nothing makes much sense, but the film is terribly funny. The Cowboys also perform quiet a few hilarious gigs as well. If that is not enough, Elijah also appears adjoins Moses one because he could provide Moses a cigarette when he needed one.
THE OTHER SIDE OF HOPE (Finland 2017) ***** Top 10
Directed by Aki Kaurismaki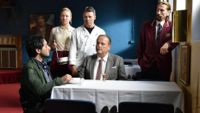 The latest film by Master of deadpan comedy Aki Kaurismaki tackles the issue of the refugee crisis in Europe. As the film opens, the audience sees a Syrian refugee, Haji pull himself out of a coal dumpster in ship docked at a port in Finland. Khaled (Sherwan Haji) seeks refugee status but is ironically refused on the basis of peace in his region, just as news on the TV report multiple bombings in his town with dozens of casualties. At the same time, a Finnish middle-aged man is seeking a new life for himself as he leaves his wife, wins money at poker and buys a restaurant business. The two meet after a fight and Haji is aided by the restaurant owner. This is Kaurismaki's most serious film to date and it sends an urgent message of the refugee status. Kaurismaki has still not lost his sense of humour as illustrated in an important scene in the film when Khaled says: "I love Finland like nothing you can imagine, but please get me out of here!" For those familiar with Kaurismaki, there are familiar segments in this film that are found in his other films like the gambling, starting up a new restaurant business, the cute pet dog and the folk music.

Trailer: https://www.youtube.com/watch?v=qtiFG6utst8

TAKE OFF YOUR SCARF, TATIANA (Finland 1994) ***
Directed by Aki Kaurismaki

TAKE OFF YOUR SCARF, TATIANA is one of Karusimaki's shorter and lesser known films, lasting just around the hour mark. There is little plot but many observations to be noted in this somewhat anti-romantic tale of two very different couples. The 2 couples are two awkward men and two differently awkward ladies from different countries. The men (two heavy drinkers - one of coffee and the other of liquor) pick up two ladies (who want some fun, dancing and romance) in their car and go on a sort of road trip. The men have no idea what to do with their dates while the ladies grow more and more impatient and frustrated as the men's lack of interest and non-existent social skills. Watching the 4 of them interacting is simply hilarious. Even when going on a date, the two men arrive at the restaurant together with the women arriving later. The maitre'd seems to know what is going on.

}