CINEFRANCO 2018 (from October 2018)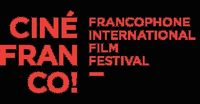 Now in its 21st year, Cinefranco is one of the longest running film festivals in Toronto. One must give praise and credit to the ever cheerful and tireless directrice du festival, Marcelle Lean who is always present to say 'bonjour' to Cinefranco fans. It is hard to survive in this festival eats festival world, but Cinefranco has got a loyal base of sponsors that come back year after year not to mention a good selection of films from France, Quebec, Belgium and Africa.
The films this year will be screened at the Carlton Cinemas at Carlton and Yonge right downtown in a very central location. The emphasis this year is the 'thriller' while in the past comedy and romance were the favourite.
For complete program information, ticket pricing and bookings, please check the Cinefranco website at:
http://2018.cinefranco.com/en/
And don't forget to say 'Bonjour' to Marcelle.
Bon Cinema!
CAPSULE REVIEWS:
(Trailer links provided at the end of each review)
CARBONE (CARBON) (France 2017) ***
Directed by Olivier Marchal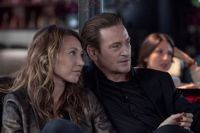 The title of this dark thriller CARBON comes from the fact of France trying to limit carbon emissions by industrial companies. One such company that meets the quota belongs to the protagonist of the film, Antoine Roca (Benoît Magimel), Unfortunately the firm is in huge debt and he cannot meet the daily cash flow. It is a family business from his in-laws who treat him as a loser. His father-in-law is played by no less than Gerard Depardieu who is a real meanie in the story, belittling Antoine and cutting him off from his son. Antoine's wife is not sympathetic either. Faced with the threat of losing his firm, Antoine mounts a scam which will become the burglary of the century. Entangled with gangsters, he must cope with betrayal, murder, and settling of scores. The selling of carbon is a bit confusing but the film still works as an entertaining thriller. Depardieu shows his star power stealing every scene he is in.
Trailer: https://www.imdb.com/title/tt6183834/videoplayer/vi859944985?ref_=tt_pv_vi_aiv_1
COMMES DES GARCONS (LET THE GIRLS PLAY) (France 2018) ***
Directed by Julien Hallard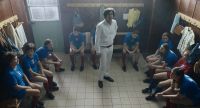 This definite crowd pleaser set in the late 60's is the story of how the first all-female football team was formed in France. (Other European cities like Italy, England and Ireland already had theirs). The film centres of Paul Coutard, a 30-year-old sports journalist sporting the Betales-like haircut of the 60's at daily newspaper Le Champenois. Charming, childish and a womaniser, he does exactly what he pleases. When his boss forces him to plan the newspaper's annual fair together with Emmanuelle Bruno, the discreet and beautiful executive assistant, Paul has the crazy idea to organize a women's soccer match for the first time. A romance begins between Paul and Emmanuelle. The film has nothing that audiences have not already seen before, including the current degrading of females by male chauvinist administration. But the comedy should be taken in all good fun, entertaining as it is.
Trailer: https://www.youtube.com/watch?v=YqVD-XL67EM
LE FINALE (IN THE GAME) (France/Belgium 2018) ***
Directed by Robin Sykes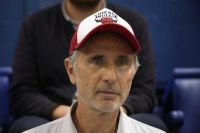 The final game referred to in the film title is the FIFA 1998 World Cup in which France won. Trouble is that this is the year 2018 and for Roland (Thierry Lhermitte) who suffers from Alzheimer's, that game is still to be played. The whole Verdi family is caring for Roland, the grandfather, who is affected by Alzheimer's disease. JB, the family teenager (Roland's grandson) has only one goal: to go to Paris to play his basketball final. But his parents want him to give it up and keep an eye on his grandfather as they are busy this weekend. JB decides to take him with him. During this trip, nothing will happen as planned. The film is better than it sounds. It is quite funny with slid humour on the disease as well as some racists jokes throne in for good measure. Excuse is that Roland with memory problems can make them. The Chinese have it the worst, but me, being Chinese still find it laugh-out loud hilarious. Truthfully, they are quiet harmless. A sweet segment in the film involves two Alzheimer's patients, falling in love.
Thierry Lhermitte (DINER DE CONS, ZEBRA, RIPOUX CONTRE RIPOUX) is excellent. This is the kind of French comedy that calls for a Hollywood remake. But who could tell that France would win the World Cup again this year in 2018?
Trailer: http://www.allocine.fr/video/player_gen_cmedia=19577015&cfilm=257438.html
UNE PART D'OMBRE (THE BENEFIT OF THE DOUBT)
(France/Belgium/Switzerland 2017) ***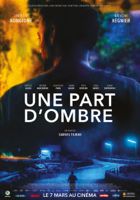 A woman in a car is murdered. David is a happy young father who has a wife he loves, two adorable young children, and a tight-knit tribe of friends who David and his family always go away on holiday with. However, on returning from their last trip away in the Vosges, David is taken in for questioning by the police as part of the woman's murder investigation. Before long the investigation reveals that all is not what it seems behind the happy and respectable facade of David's life. David has been having an affair in Poland unknown to his wife. Davids character is not perfect. He often loses his temper that results in arguments with his family and friends. The ultimate is whether David is guilty, the answer to which director Tilman keeps the audience guessing right to the very end. The audience wants David to be innocent, but his character is questionably and annoying, so that his innocence is also doubtful to the audience. This way, Tillman's film works best as a psychological thriller. Though Tillman is a male director, he captures very well the feminine points of view in all the events. The film ends with the court's decision on David whether guilty or not guilty, but this not not mean that he committed the deed or not. Lots of clues for those who love mysteries.
Trailer: http://www.allocine.fr/video/player_gen_cmedia=19577040&cfilm=262688.html
PLACE PUBLIQUE (France 2017) ***
Directed by Agnès Jaoui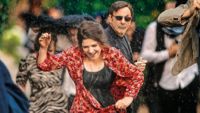 At one point in the film one character tells her husband: "Lay off the cynicism." But the film is full of cynicism. A grand open daylight housewarming party that goes into the night is held in the magnificent grounds 35 minutes drive from Paris (or more or as the crow flies as a guest remarks after taking an hour and a half drive) is the setting of PLACE PUBLIQUE where dysfunctional friends and guests gather together. There is an orchestra band with cello, two violins, base and drums with hors d'oeuvres where the olives have sticks inserted in each. The party is filled with lots of pompous and pretentious guests making sarcastic and insinuating remarks who annoy each other completely while unshy to bare their emotions. If the guests are unbearable, the staff fare no better. A waitress pines over one of the guests, a has-been successful talk show who reveals everything about his guests through his questioning. This is classy French comedy occasionally smug and brilliant though manipulatively so.
Trailer: https://www.youtube.com/watch?v=xjVFqIXNnkE
PRENDRE LE LARGE (CATCH THE WIND) (France 2017) ****
Directed by Gael Morel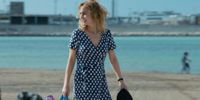 CATCH THE WIND is a personal look at what happens when companies second source to a cheaper country. The story concerns Edith (Sandrine Bonnaire) informed that the job she's held for her entire adult life is being relocated to Morocco. She refuses to accept a healthy severance package. Against the advice of her colleagues, her self-absorbed son and even the consultant hired to fire her, Edith instead opts to follow her job to Tangier. Arriving with the naïve energy of a teenager on their first overseas trip, Edith realizes before long what she's up against: the expected subpar working conditions and subpar pay, but also an adjustment to new social and cultural realities — nuances that her failure to grasp would mean her job and, more importantly, her dignity. The film works for two factors. One is the detailed account by director Morel on what living is like in Tangier - the factory corruption, the poverty, the strife to support families and the danger on the streets. The second is Bonnaire's calculated and worthy performance. Brutal yet sensitive, PRENDE LE LARGE finally gets Morel's characters a happy ending but not without sheer determination and strong will.
Trailer: https://www.youtube.com/watch?v=LsfAPoCk5AA
TUEURS (KILLERS)(ABOVE THE LAW) (Belgium/France 2017) ****
Directed by François Troukens and Jean-François Hensgens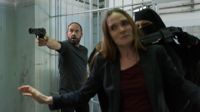 The new English title of the film is ABOVE THE LAW though the old title and direct translation of TUEURS is KILLERS. The film follows a master criminal, Frank Valkan (played by Belgian actor famous for his Dardennes Brothers films like Le Fils) escaped from prison and framed for killing a judge investigating political corruption. So Frank and another cop join forces to expose the guilty in this very slick and classy cat-and-mouse detective crime action thriller. The film takes a while to get its footing but once the plot is in place and the story becomes clear, the action moves full throttle all the way. Outstanding too is the way the film captures the agony of what it is like to face (as in Valkan's case) a prison sentence, The story is unpredictable and no one can guess who is going to be killed next. An otherwise good but surprising ending closes this highly entertaining and tense thriller. Both the leads Gourmet Lubna Azabal, Olivier Gourmet are superb!