INSIDE OUT LGBT Film Festival Toronto 2018
The 28th annual Inside Out Toronto LGBT Film Festival, one of the largest events of its kind in the world, runs from May 24 to June 3.
Opening the festival is the international premiere of Silas Howard'sA KID LIKE JAKE.
To close the festival, Inside Out will host the Canadian premiere of HEARTS BEAT LOUD from director Brett Haley. This year's Centerpiece Gala will be the world premiere of Christiaan Olwagen's CANARY and the annual Women's Gala will feature Amy Adrion's acclaimed documentary HALF THE PICTURE.
For the complete schedule of films click on the link:
https://www.insideout.ca/torontofestival/films/schedule-of-films
The 2018 feature film program includes a total of 49 films. The lineup includes 5 world premieres, 7 international premieres and 27 Canadian premieres from 27 countries.
"This year's program offers up an impressive lineup of some of the year's most anticipated LGBTQ+ films, with world premieres alongside award winners from the world's top festivals such as Sundance, Berlin, and SXSW," said Andrew Murphy, Inside Out's Director of Programming. "As industry and distribution models continue to evolve, so too must Inside Out as we strive to offer thoughtful, interactive, and meaningful film and networking opportunities to our queer film communities and allies."
28 narrative and 21 documentary features will debut over the course of the 11 day festival. The feature program includes 6 Galas and Special Presentations, 10 Premieres, 6 Icons, 4 Spotlight on Canada and 23 International Showcase. The festival will also screen 84 Shorts from a wide variety of exciting emerging and established LGBTQ filmmakers.
Single tickets will be on sale Friday, May 4th at 10:30 AM ET via insideout.ca or by phone at 416-599-8433.
Here are the brief descriptions of the major films:
CLOSING NIGHT
HEARTS BEAT LOUD, directed by Brett Haley. (USA) - International Premiere. Frank and Sam are the coolest of father/daughter duos. Frank owns a record store in Brooklyn, Sam is months away from heading off to UCLA pre-med, and every week the two get together for family jam sessions. The only problem? Frank's store is failing and he finds himself in need of a new career path. When he and Sam write a particularly catchy song during their weekly session, Frank has an idea. They should start a band! As Sam struggles to balance her studies, her budding romance with Rose and her father's sudden intense interest in creating music together, their relationship begins to crack. And when that catchy song goes viral, they are forced to make some major life decisions. With Kiersey Clemons, Sasha Lane, Nick Offerman, Ted Danson, Toni Collette.
CENTERPIECE
CANARY (KANARIE), directed by Christaan Olwagen. (South Africa) - World Premiere. Set in South Africa in 1985 against a backdrop of apartheid, religion and war, Canary is a charming musical drama that chronicles one teen's struggle to find his voice.
OPENING NIGHT
A KID LIKE JAKE, directed by Silas Howard. (USA) - International Premiere. While preparing applications to private schools for four year-old Jake, Alex and Greg are told to focus on what makes their child unique, which, according to their preschool advisor, Judy, is Jake's gender-expansive play. When Jake begins acting out in preschool, Alex and Greg must come together to lend support and not lose each other in the process. With Claire Danes, Jim Parsons, Octavia Spencer, Amy Landecker, Ann Dowd, and Priyanka Chopra.
WOMEN'S GALA
HALF THE PICTURE, directed by Amy Adrion. (USA) - Canadian Premiere. The documentary goes further than merely offering up disappointing statistics. The story told in Amy Adrion's vital debut feature is one that manages to paint a clear picture of the severity of the damage while instilling hope for the future. Featuring compelling interviews with some of our most prolific female directors, this film takes an inspired look behind the camera and into the careers of your favourite filmmaking women. With Ava DuVernay, Jill Soloway, Gina Prince-Bythewood, Lena Dunham, Jamie Babbitt, Miranda July, Nisha Ganatra, Kimberly Pierce.
Following are capsule reviews of Selected Films:
(These will be updated with new capsule reviews added.)
LOVE, SCOTT (Canada 2018) ***
Directed by Laura Marie Wayne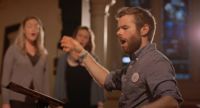 LOVE, SCOTT is a sad documentary made by the NFB (National Film Board of Canada) following the life of director Wayne's friend, an openly gay musician Scott Jones, three years after he was the victim of an attack outside of a club in Pictou County, Nova Scotia. Now paralyzed from the waist down, Jones's curiosity, charm and sense of humour remain intact, as do the family and community that surround him. The voiceover narration is provided by both Wayne and Jones. It is clear that Wayne loves the musician, which is the reason this film got made. In the film's one moving and disturbing scene, Jones describes the incident (a very common one) that led to his beating. He was checking out a straight guy who caught him when their eyes met. Still it is no reason for any straight to stab a gay guy for being checked out. Worse of all, is the fact that the assailant was never charged with a hate-crime. Wayne's documentary not only addresses the small-town homophobia and the failings of the justice system but reveals Jones's resilience and courage to survive against all odds. A sad but occasionally inspiring film.
Trailer: (Unavailable)
A MOMENT IN THE REEDS (Tämä hetki kaislikossa), (Finland 2017) ***
Directed by Mikko Makela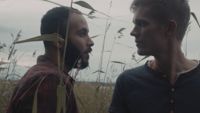 MOMENT IN THE REEDS opens with gay undergraduate student Leevi (Janne Puustinen) revisiting his hometown in Finland to help renovate the family's lake house. When his father (Mika Melender) drives him to the house, it is revealed that his father does not approve of his son's sexual orientation but there is nothing he can do about it anyway. Leevi helps in the innovation but is not particularly good at it, storming off at one instant when hitting his finger with the hammer. (Most gay men are not good in this field of work!) The dad has hired a helper (Boodi Kabbani), who shows up unable to speak much Finnish. The father is unable to communicate with him but the help and son speak English. Dad is suddenly called away. No surprises then when the helper, who is a Syrian refugee turns out to be gay and he and Leevi have really hot sex before the father returns. If his film was made 20 years ago, the son would not have come up to the father. Despite the familiar well-worn theme, the film is quite an entertaining watch, primarily for the reason that it does not aim high. Coming-of-age, father/relationship, refugee problems are just a few issues tackled in this film.
Trailer: https://www.youtube.com/watch?v=5oyJodhVRok
OCTAVIO IS DEAD! (Canada 2018) **
Directed by Sook-Yin Lee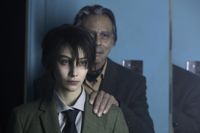 Sook-Yin Lee, best known as the actress in the hit HEDWIG AND THE ANGRY INCH directs this odd film produced and starring Sarah Gadon who broke into fame with David Cronenberg's COSMOPOLIS. Gadon plays, Tyler the daughter of an obsessive over-spirited mother (Rosanna Arquette). She decides to leave her mother for Stelton City (Ontario's Hamilton standing in for the city) to learn about the father she never met. She discovers his ghost, trapped and unable to escape his apartment. They forge an uneasy bond, but by communicating with him, and learning about his tumultuous and secret past, Tyler discovers new ways to engage with the world, to seek love in unexpected places, and to explore life in new and unfamiliar territories. Love is discovered in death! She falls for the cute blonde student that had an affair with his father, who she learns left both her mother and her because he was gay. The supernatural angle fails to blend with the coming-of-age drama. Nicely shot, but the film fails in that it leads nowhere and turns terribly annoying Lee's attempt to create a moody atmosphere.
Trailer: (Unavailable)