TIFF Cinematheque Presents - Filmmaker in 5: Sidney Lumet
In the first of the series Filmmaker in 5, the late director Sidney Lumet is selected with 5 of his notable films to be screened from March 10-16th.
The films are:
12 ANGRY MEN
PRINCE OF THE CITY
SERPICO
DOG DAY AFTERNOON
NETWORK
Though Lumet has never won an Oscar for any singular film, he did receive a Life Achievement Oscar. Yes, he has made over 50 or so movies including MURDER ON THE ORIENT EXPRESS recently screened by TIFF Cinematheque. He is well-known to be able to elicit the best performances from his actors. His last film BEFORE THE DEVIL KNOWS YOU'RE DEAD with the late Philip Seymour Hoffman was a minor classic.
Thee are many fond traits that can be observed from his films. For one, he is a kind director who examines the sufferings of the common individual. His films are thus,often angry films such as NETWORK where people scream outside their windows: "I am as mad as hell, and I am not going to take this anymore!" or SERPICO where the angry cop, mad at the corruption of the NYC Police Department takes it out on his girlfriend. His girlfriend is given a 3-minute rant as Beatrice Straight did in NETWORK winning her a Best Supporting Actress Oscar. Lumet's films often contains very angry individuals or as many as 12 as in 12 ANGRY MEN. Lumet was kind enough to offer a sensitive look at the gay man, in one of the earliest films to deal with homosexuality with sensitivity and positivity.
A more complete series would perhaps be something TIFF Cinematheque should look at. I have not seen Lumet's controversial EQUUS (the play about a young man blinding horses) or BYE BYE BRAVERMAN.
Below are capsule reviewed my favourite 3 of the 5 films to be screened.
DOG DAY AFTERNOON (USA 1975) ****
Directed by Sidney Lumet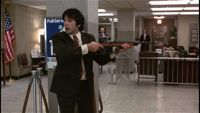 My personal favourite Lumet film that was banned in movie anal-retentive Singapore where I was living at when DOGDAY AFTERNOON was released. It was banned of the reason the bank was robbed in the film - the money used to pay for a sex change operation for one of the homosexual robbers (Al Pacino). The entire film is the robbery and attempted getaway. As expected Lumet's film is a compulsive watch from start to finish not only from the excitement of the robbery but equally from the drama of the robbers and the hostages. The entire enterprise is treated by Lumet as a circus with spectators cheering the robbers (the other played by John Cazale) on. The cops are clearly the and guys who cannot be trusted. The audience is also on the robbers side. Pacino and Cazale deliver outstanding performances with Lumet accomplishing a rare achievement of a lengthy credible sag baed on jet a magazine article of the robbery.
Trailer: https://www.youtube.com/watch?v=CF1rtd8_pxA
NETWORK (USA 1976) ****
Directed by Sidney Lumet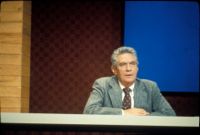 Lumet's most outrageous film (understandably being based on a Paddy Chayefsky script), a farce on the dealings on a TV network that came away with 4 Academy Awards including three for acting. Beatrice Straight won the Best Supporting Actress for what was a 3-minute performance. "I am as mad as hell, and I am not going take this anymore!" This is the magic line that also won Chayefsky the Oscar for Best Original Screenplay. This script contains many monologues she he actors get to dream and strut their stuff. Peter Finch (who won the Oscar posthumously for Best Actor) plays a news anchor that sends his news show ratings soaring sky high after he threatens to blow his brains up on live television. The madness escalates in all ways leading to a crazed climax. The film's last line which summarizes the entire film: This is the story of Howard Beals, the man who was killed on live television because he had poor ratings. The film did not get as high praise as expected likely because it was all too crazy, but its is undoubtedly extremely entertaining and totally amusing.
Trailer: https://www.youtube.com/watch?v=1cSGvqQHpjs
SERPICO (USA 1973) ****
Directed by Sidney Lumet
Written by Waldo Salt and Norman Wexler, adapting Peter Maas's biography of NYPD officer Frank Serpico, who went undercover to expose corruption in the police force, SERPICO is a film about another very angry man by Lumet. Serpcio (a brilliant performance by Al Pacino) is so mad because almost everyone in the NYPD is on the take and there is no one he can turn to. After witnessing cops commit violence, take payoffs, and other forms of police corruption, Serpico decides to expose what he has seen, but is harassed and threatened by his peers. His struggle leads to infighting within the police force, problems in his personal relationships, and his life being threatened. Finally, after being shot in the face during a drug bust on February 3, 1971, he testifies before the Knapp Commission, a government inquiry into NYPD police corruption. Lumet's film traces all the events with conviction and gusto, even inciting the audience's anger at the corruption going on.
Trailer: www.youtube.com/watch?v=LtTRYns