The 42nd edition of the Toronto International Film Festival runs from September 7th -17th. 55 feature films (28 majority coproductions) and 11 short films will be on view.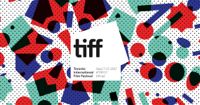 Keep checking the site for updated Capsule Reviews of the French related films.
French talent that will be present incudes Sandrine Bonnaire, Xavier Beauvois, Nathalie Baye, Gilles Lelouche, Michel Hazanavicius, Louis Garel, Robert Guédiguian, Ariane Ascaride, Tonie Marshall and Alain Gomis.
FILM REVIEWS at the bottom.
The FULL LIST of films is listed below followed by capsule reviews of selected films:
Gala :
Contemporary World Cinema :
Discovery :
Masters :
Midnight Madness :
Special Presentations :
Wavelengths :
Platform :
TIFF Docs :
Court métrage - Sélection officielle :
Court métrage - Wavelengths :
Discover the complete selection and screening schedule at tiff.net.
CAPSULE REVIEWS of Selected Films:
ANGELS WEAR WHITE (China/France 2017) ***** Top 10
Directed by Vivian Qu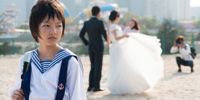 A brilliantly told tale full of emotional angst that also reflects China's unknown beach culture. The huge statue of Marilyn Monroe at the beach which is finally taken down for repair serves as a metaphor of the film's broken characters in need for a better life. It all begins when a seedy hotel worker witnesses on closed circuit camera a man trying to force himself into the room rented by schoolgirls. An assault occurs and the cops are trying to pin the crime on Commissioner Lu. Lu is rich and has connections with money and the local mob. Writer/director Qu weaves an engrossing tale involves multiple layers, all of whom have something to hide. The truth of Chinese culture where what appears on the surface is always unclear is clearly reflected by the goings-on. Broken marriages, hotel fronts, the under-aged sex trade and illegal employment are just a few issues on display here. The actress playing the attorney, the super-efficient, caring and brilliant mind steals the show. Top marks credited to all departments in this excellent and powerful debut by Vivian Qu, a film force now to be reckoned with.
Trailer: (unavailable)
BPM (120 BATTEMENTS PAR MINUTE) (France 2017) ****
Directed by Robin Campillo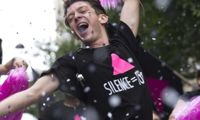 BPM, 120 battements par minute (beats per minute) centres on the French chapter of the protest organization ACT UP, and the dynamics, personal and public, amongst this disparate group of men and women affected by AIDS. The film begins with one of its protests followed by a meeting that analyzes its effectiveness. In it, Campillo introduces his characters, its two leaders before concentrating on HIV positive Sean (Nahuel Pérez Biscayart). Sean is a charismatic and very oratorical young militant who wades fearlessly into action, bolstered by the courage of his convictions. To make his film more personal as well as effective, Campillo puts faces into the organization of ACT UP. Sean meets (at a rally) Nathan and has sex, beginning a relationship. The film also documents different reactions to the ACT UP activities. BPM, one of the best films of TIFF is definitely also its most powerful one. Those who are HIV positive have the members of ACT UP and other activist groups to thank for the progress made as of today. For a film that deals with the topic of death, BPM is full of life. A film that deserves to be angry for the fact that the privilege of living for many has almost been taken completely away.
Trailer: https://www.youtube.com/watch?v=2fhO2A4SL24
CANIBA (France 2017) ***
Directed by Véréna Paravel and Lucien Castaing-Taylor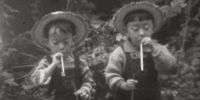 Directed by duo Véréna Paravel and Lucien Castaing-Taylor (LEVIATHON), who are also anthropologists, CANIBA is about Issei Sagawa, the notorious Japanese cannibal now living a reclusive life as a paralytic and seeking atonement for his gruesome crimes. The film begins with his confession, his face in extreme closeup so, that one can also see all the defects in his face, with him talking about his crime and the reason for it. Issei was deported from Paris in 1981 after being held in prison for two years for murdering and cannibalizing Dutch student Renée Hartevelt (as told in voiceover). The film is extremely slow and the action or non action is unveiled grainy, cinema-verite style. The brother now takes care of Issei and now semi-paralyzed, housebound on the outskirts of Tokyo, and seeking atonement. The link between sexual fantasies and cannibalism is also examined in the film. Not for everyone! The film ends, appropriately, with a karaoke song about madness!
Trailer: (Unavailable)
C'EST LA VIE (LE SENS DE LA FETE) (France 2017) ***
Directed by Olivier Nakache and Eric Toledano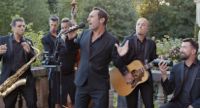 Directors Olivier Nakache and Eric Toledano can best be remembered for their bubbly comedy LES UNTOUCHABLES. The target this time is an extravagant wedding at a chateau where all the servers have (and forced to wear) valet costumes including white wigs. The story is told from the point of view of the the wedding caterer manager, Max (Jean Pierre Bacri) a battle-weary veteran of the wedding-planning racket. This gig turns out to be a hell of a fête, involving stuffy period costumes for the caterers, a vain, hyper- sensitive singer who thinks he's a Gallic James Brown, and a morose, micromanaging groom determined to make Max's night as miserable as possible. His personal life also comes into chaos as Joisette (Xavier Dolan regular Suzanne Clément), seems to have written him off, coolly going about her professional duties while openly flirting with a much younger server. This is an ensemble work, like Robert Altman's THE WEDDING, but more commercial, more French but less of a biting satire. The comedic set-ups are funny enough, most of them working and keeping the audience happy with laugh-out loud humour.
Trailer: https://www.youtube.com/watch?v=e3Kzarm0hRM
COCAINE PRISON (Bolivia/Australia/France 2017) ***
Directed by Violeta Ayala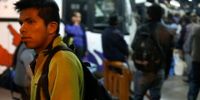 Shot in Bolivia — including inside the notorious San Sebastian prison — over five years, Violeta Ayala's COCAINE PRISON takes a close look at two subjects - the cocaine trade and the conditions of the prison. What the audience sees is definitely shocking in this engaging film. The film follows Hernan and his sister Deisy, two Bolivian teenagers going to high school in Cochabamba with dreams of starting a band. Hernan gets caught and put to jail after attempting to carry two kilograms of cocaine across the border to Argentina. He is sent to San Sebastian prison, a scarcely staffed open-air facility where the prisoners make most of the rules. Prisons in Canada, in comparison look like a summer relax camp. In San Sebastian, inmates have to cough up US$2000 to buy a cell in the prison grounds or sleep outside with the risk off getting mugged. Director Ayala also follows the drug trade emphasizing the workers harvesting the leaves to the mules like Hernan who get imprisoned while the real drug dealers go free. There is a sort of happy ending for Hernan as he gets pardoned but things on the whole do not look good for anyone else, including Hernan after he is released. Director Ayala taught English in the prison, which gave her access to filming inside it.
Trailer: https://www.youtube.com/watch?time_continue=14&v=WgZJWuFgMew
LES GARDIENNES (THE GUARDIANS) (France/Switzerland 2017) ****
Directed by Xavier Beauvois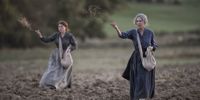 LES GUARDIENNES (THE GUARDIANS) is director Xavier Beauvois' (LE PETIT LIEUTENANT) handsomely mounted period piece of World War II told during the period of 4 years from 1916, the start to end. It is a story that needs to be told - of what effects the war as well as modernization had on a typical farm family in France. The women of the Pardier farm, under the deft hand of the family's matriarch (Nathalie Baye in arguably her best role), must grapple with the workload while the men, including two sons, are off at the front. Her husband, daughter and , grand-daughter remain with her. She seeks the aid of an outsider, a strong 25-year old orphan, Francine (Laura Smet) who turns out to be an excellent worker. When Francine and on of the sons fall in love, the trouble starts. Beauvois' film is almost perfect in he creation of the war atmosphere and of rural France. The harvesting and planting seasons are beautifully captured on film. The film also does not gear towards the typical Hollywood ending but a realistic credible one instead.
Trailer: (unavailable)
LE GRAND MECHANT RENARD ET AUTRES CONTES (THE BIG BAD FOX AND OTHER TALES) (France 2017) ***1/2
Directed by Benjamin Renner et Patrick Imbert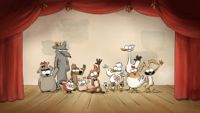 French dessin anime at its best! Filmmaker, animator and cartoonist Benjamin Renner (ERNEST & CELESTINE) adapts his own comic strips for this trio of laugh-out-loud farm animal adventures. The film opens with the cartoon characters opening a 3-act stage play. The players are not ready as they cannot find the baby and the tree prop appears in front of the opening curtain. Very funny and inventive and primes the audience for more of the best to come. There are a total of three animated stories. In "A Baby to Deliver," Rabbit, Duck, and their wise but easily annoyed friend Pig are tasked by Stork with returning a human baby to its parents in Avignon. In "The Big Bad Fox," a fox lacking the smarts to catch a hen is persuaded by a wolf to steal her eggs, hoping to eat them when they hatch. In the final act "The Perfect Christmas," In the final act, Rabbit and Duck are playing in the snow in the lead-up to the holiday season when they believe they accidentally killed Santa Claus. To fix their mistake, they decide to take his place, delivering presents to everyone with very funny consequences. All three are entertaining, even for adults with my favourite being the first for its goofiness and introduction to Renner's characters.
Trailer: https://www.youtube.com/watch?v=x3QkSzpNGW8
HAPPY END (France/Germany/Austria 2017) ****
Directed by Michael Haneke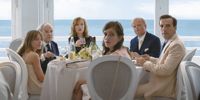 HAPPY END can be seen as a film that infuses many of the traits of Haneke's previous films. When the film opens, the audience sees what is happening though the recording on a cell phone, the routine of a 12-year old (Fantine Harduin) similar to the video surveillance in Haneke's film CACHE (HIDDEN). This 12-year old is not one to be tampered with. She has a mean streak, spying on her father's (Matthieu Kassovitz) computer and discovering his affair. This is reminiscent of the power of children in Haneke's THE WHITE RIBBON. The family is held together by Anne Laurent (Isabelle Huppert), the father's sister. But suicide is in the mind of Anne's father, Georges (Jean-Louis Trintignant). In Hanake's first film, THE SEVENTH CONTINENT, the whole family committed mass suicide after a banquet meal. The dysfunctional family is all reminiscent of FUNNY GAMES in which a family is disrupted by a home invasion. All the events are seen from the point of view of the 12-year old, which brings the film to a good focus. The ending is just as funny and shows that life goes on, happy or not. What constitutes a HAPPY END, is the question Haneke poses.
Trailer (en Francais): https://www.youtube.com/watch?v=W0hv8I9YbDk
THE HOUSE BY THE SEA (LA VILLA) (France 2017) **
Directed by Robert Guédiguian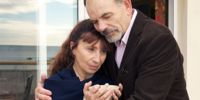 Robert Guédiguian's films always make it to TIFF but never get shown otherwise. Those familiar with him can expect more of the same though his latest is a bit of a disappointment not for want of trying. Three grown children gathered at the picturesque villa of their dying father in Marseille (where most of his films are set) reflect on where they are, who they have become, and what they have inherited. His political stand as a committed leftist and former Communist can be observed clearly in many scenes where his characters verbally express their dissatisfaction on certain issues like the military and the refugee situation. His wife Ariane Ascaride and Jean-Pierre Darroussin are two of the elderly characters who manage to attract younger suiters. The film does not successfully combine the dysfunctional family, love relationships and refugee statements.
Clip: https://www.youtube.com/watch?v=vt3wVETIfWs
IF YOU SAW HIS HEART (Si tu voyais son coeur) (France 2017) **
Directed by Joan Chemla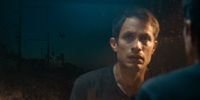 The film begins with a lively wedding celebration where the audience is introduced to Daniel (Gael Garcia Bernal), a man reeling from grief from the death of his closest friend (shown multiple times in flashback, as if we need reminding) in an accident for which he feels partly responsible. He has been cast out of his insular traveller community. Living in a rundown rooming house and always behind on rent, Daniel gets by through scams and minor burglaries. His building is populated by colourful misfits and losers, all living on the edge like him.When davidnmeets an equally damaged and fragile young woman, Francine (Vacth), life is then something to hope for. If You Saw His Heart is based on Cuban author Guillermo Rosales' 1987 novel Boarding Home (a.k.a. The Halfway House). Director Chemia creates the moody atmosphere of the living conditions that reflect Daniel's feelings well, but the film suffers from continuity. Her fond use of flashbacks and revealing the story in non-chronological order is not only confusing but breaks a mood or effect that has been created thus far.
Trailer: https://www.youtube.com/watch?v=S_1kv27NBa0
L'INSULTE (THE INSULT) (France 2017) ****
Directed by Ziad Doueiri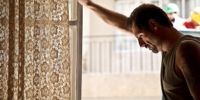 The film is financed from France and has a French tile but the film is shot in Arabic. Set in Beirut with references to Darfour, the story all started with an insult. One afternoon in the dog days of a Beirut summer, Tony gets into an altercation with Yasser, a foreman in construction over a broken drainpipe. Tony is a car mechanic and a Christian. Yasser is a construction foreman and a Palestinian. When Tony, hard-nosed and hot-headed, refuses to accept Yasser's half-hearted apology, two bruised male egos begin to swell. Tony utters an unforgivable insult to Yasser. With a speed neither man could foresee, their personal argument escalates through the neighbourhood and the city to the national stage. The dispute comes to encapsulate the lasting legacy of the Lebanese Civil War — and becomes a lightning rod for people with more power than either man to pursue their own agendas. The film contains lots of courtroom scenes with great arguments that provoke the audience to think about other important issues. The plot is not without its twists like the attorneys of the defendant and plaintiff being father and daughter. THE INSULT ends up as an often brilliant peace that in the end, shows more about tolerance and forgiveness.
Trailer: https://www.youtube.com/watch?v=lwVCaD971Eo
LAISSEZ BRONZER LES CADAVRES (Let the Corpses Tan)
(Belgium/France 2017) **
Directed by Hélène Cattet, Bruno Forzani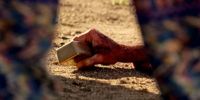 The film credit sequence begins with the title splattered on the screen one word at a time sets up the stage for what audiences are to expect in the upcoming 92 minutes gore fest. An extreme close up of events and we are talking seeing a screen of a close up of a close up like a the teeth in a mouth. This effect can be terribly annoying if one is sitting up close to the screen, so best be at least in the middle to thee back of the theatre when viewing this one. The story is simple enough. A gang of thieves absconding with 250kg of stolen gold arrives at the abode of a listless artist caught in a bohemian love triangle. The scenario quickly escalates into a desperate day-long firefight between cops and robbers throughout the remote ruins of a Mediterranean hamlet — and genre and art-house tropes collide in a relentless reverie of action spectacle. It should be noted that as bloody as this film is, it is not as bloody as the other Midnight Madness, nor is it as inventive. Hélène Cattet and Bruno Forzani are also fond of using colour saturated silhouettes as in the spaghetti westerns.
Trailer: https://www.youtube.com/watch?v=8Cx48AN5_y8
JUSQU'A LA GARDE (Custody) (France 2017) ***** Top 10
Directed by Xavier Legrand
CUSTODY draws from three films - KRAMER VS. KRAMER, NIGHT OF THE HUNTER and THE SHINING. The film begins with the custody session with two attorneys, the councillor and husband and wife present. It is a one act 20-minute session that introduces the audience to the situation at hand. Miriam and Antoine Besson have just divorced. Their young son, Julien, sits in family court reading out a letter denouncing his father. His sister, Josephine, having recently reached the age of majority, is not part of the dispute. Antoine is described as a violent monster, yet in court appears to be a model of calm reserve. Despite Miriam's appeals for sole custody — also Julien's preference — the judge (after asking both parents who is the better liar) gives her decision of the parents shared custody. But Antoine is not a two-dimensional beast. He tries to re-establish a relationship with a son who feels paralyzed by the competing emotional demands of his father and his mother, who will stop at nothing to remove both Julien and herself from her ex-husband's life. Legrand researched through interviews with councillors an abused victims to come up with material for this film, making what occurs on screen real and scary but relevant. CUSTODY tells a story of divorce and abuse that needs be told. A stunning tribute by a director whose own personal style and imprint is one to be reckoned with.
Trailer: https://www.youtube.com/watch?v=5DXV-bGvF7s
LOVELESS (Russia/France/Germany/Belgium 2017) ****
Directed by Andrey Zvyagintsev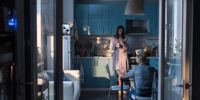 Russian director Andrey Zvyagintsev's latest film of a boy gone missing, is one that appears simple on the surface but is in reality an extremely powerful film on the tragedy that emerges from the result of a lovelessness. When the film begins, Boris and Zhenya are in the midst of a nasty divorce. They still live together which makes matters worse. In one of their fights, they argue that their 12-year old boy, Alyosh was a mistake. Neither one wants custody of the boy and the father remarks that he best be sent to boarding school, in preparation for the army afterwards. She says she never wanted him in the first place. The boy, meanwhile, in the film's most moving scene is shown crying his eyes out, after hearing what has been said by his parents. He is clearly, in his opinion unloved. He disappears. Boris and Zhenya are forced to come together to search for their missing son. One can only wonder where their love (if ever they had any) had gone. Zvyagintsev explains in one scene that this love never existed in the first place. Meanwhile Zhenya has another man while Boris another woman. They do not find the boy but life must go on. LOVELESS is a powerful film that instead of showing the power of love, shows the opposite, how life cannot survive with love. A terrific movie that won the Jury Prize at Cannes!
MARLINA: THE MURDERER IN FOUR ACTS (Indonesia/Malaysia/Thailand/France 2017) ***1/2
Directed by Mouly Surya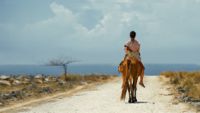 Marlina (Marsha Timothy), recently widowed is unable to pay her husband's funeral services. A troupe of ugly and unforgiving men use this excuse to take her livestock and have their way with her. But they are not prepared for the fury of this woman, in this revenge fantasy where women are warriors and will take no shit. Marlina poisons them with a soto ayam (local chicken soup dish) dinner and beheads Markus, the head of the gang, as she is riding him.
Marlina the Murderer in Four Acts (Marlina si Pembunuh dalam Empat Babak), titled THE Robbery, The Journey, The Killing and The Birth is a slow moving, arty though no less engaging piece of storytelling that will grab one from start to end. Humour is deadpan and always present
as Marlina takes a bus with the head of Markus to make a report at the nearest police station. She meets a pregnant neighbour who also has man trouble. A stylish but violent film proving Surya as a fantastic storyteller. The film is set on an island in East Indonesia shot in Malay.
Trailer: https://www.youtube.com/watch?v=Ikgy2Xukwng
NUMERO UNE (NUMBER ONE) (France 2017) ***
Directed by Tonie Marshall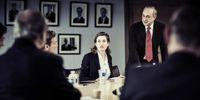 Tonie Marshall's corporate drama NUMERO UNE has high hopes for women, the director herself being one of the top French directors today. The story charts the climb to first place of a female business executive, Emmanuelle (Emmanuelle Devos) to head a top CAC 40 (French Stock Market) company. She is very good at her current job, as seen in many sequences, even speaking and singing Chinese songs with Chinese executives in her environmental friendly wind turbine company. She is wooed by a feminist group to head Athena, though this comes at a cost of her husband (John Lynch) losing his job and other nasties. The film itself has high hopes but gets bogged down by having one too many subplots which include, Emmanuelle's sick father (veteran actor Sami Frey), her marriage problems, blackmail and other assortment of problems. Still Devos (READ MY LIPS, KINGS AND QUEENS, UN PROPHET), as always is a pleasure to watch, and so is the film, despite its flaws.
Trailer: http://www.dailymotion.com/video/x5zu63n
PRENDRE LE LARGE (CATCH THE WIND) (France 2017) ***1/2
Directed by Gael Morel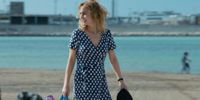 CATCH THE WIND is a personal look at what happens when companies second source to a cheaper country. The story concerns Edith (Sandrine Bonnaire) informed that the job she's held for her entire adult life is being relocated to Morocco. She refuses to accept a healthy severance package. Against the advice of her colleagues, her self-absorbed son, and even the consultant hired to fire her, Edith instead opts to follow her job to Tangier. Arriving with the naïve energy of a teenager on their first overseas trip, Edith realizes before long what she's up against: the expected subpar working conditions and subpar pay, but also an adjustment to new social and cultural realities — nuances that her failure to grasp would mean her job and, more importantly, her dignity. The film works for two factors. One is the detailed account by director Morel on what living is like in Tangier - the factory corruption, the poverty, the strife to support families and the danger on the streets. The second is Bonnaire's calculated and worthy performance. Brutal yet sensitive, PRENDE LE LARGE finally gets Morel's characters a happy ending but not without sheer determination and strong will.
Trailer: https://www.youtube.com/watch?v=LsfAPoCk5AA
LE PRIX DU SUCCES (THE PRICE OF SUCCESS) (France 2017) ***
Directed by Teddy Lussi-Modeste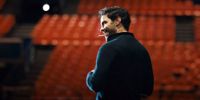 THE PRICE OF SUCCESS benefits from the performance of two of the best Arab stars in French films today - Tahar Rahim and Roschdy Zem.. They play brothers fighting (lysically as well as verbally) with each other. A popular stand-up comic, Brahim (Rahim) from a working class French family balances fame, ambition, and expectations while feeling his loyalties pulled between his manager-brother (Zem) and artistic-director girlfriend (Maiwenn). Mourad supported and promoted Brahim for 15 years, but is he now thinking too small? Too Arab? Too immigrant? And is he willing to let go of the brother who has defined his life? The film could have been funnier with more laughs from Brahim's stand up comedy. Brahim's comic routines on show that were supposed to have shot him to fame, are not really funny or impressive. The film does not quite come together despite the confrontation scenes.
Trailer: https://www.youtube.com/watch?v=hFDgo0TZwgM
REVENGE (France 2017) ***1/2
Directed by Coralie Fargeat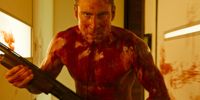 REVENGE borrows from many classic films like MAD MAX, THE HUNTING PARTY and female stalker movies to provide another gore fest in which victim becomes hunter with a few more tricks on display. This is Carolie Fargeat's debut feature and an impressive one at that. A rich businessman, Steve takes his mistress )Italian model Matilda Lutz) on a getaway in a gorgeous mansion by a desert. His two hunting friends show up and abuse her while he goes off for two hours. Instead of being on her side, Steve takes his friends side. When she threatens to tell his wife, Steve's pushes her off a cliff. She survives. They hunt her down while she, turns the table on them. The film is the real BATTLE OF THE SEXES, not the one with the same title centred on tennis, also at this year's TIFF. A few gory set-ups include one where a man extracts chards of glass from the base of his foot and another with her tending to her wounds with the metal of a red hot beer can. The climatic scene is full of inventive cat-and house chasing complete with Steve applying Saran wrap around his wounds. REVENGE is perfect Midnight Madness fare and had the theatre howling during the screening.
Trailer: (unavailable)
PLONGER (France 2017) ***
Directed by Melanie Laurent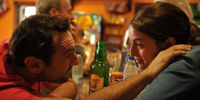 PLONGER refers to scuba diving, the sport featured in the film and in the relationship between Paz (María Valverde) is a Spanish photographer seeking adventure and César (Gilles Lellouche), a French war correspondent, but he is now looking for a quieter life. The two are very different people. They fall in love. Wen Paz is pregnant, their reactions are different. PLONGER looks at birth from a whole different perspective as well as the relationship of the couple. Though the film centres on Paz, the story is related from the man Cesar's point of view, which is interesting as this is a female director's film. Pensive and full of insight despite, PLONGER is well worth a look. The film is an adaptation of Christophe Ono-dit Biot's novel of the same name. The film also contains stunning underwater photography.
Trailer: (unavailable at time of writing)
TA PEAU SI LISSE (A SKIN SO SOFT) (Canada/Switzerland 2017) ***
Directed by Denis Cote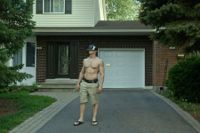 Director Cote follows his most known BESTIEIRE, a film about zoo animals in rural Quebec with another study of beasts, the beasts this time around being over dedicated and often over-obsessed body-builders. The film follows 5 of these super bodies as they train, pose and go about their daily routines. The film can bet be described as an observational documentary, as there are no messages or narrative in the doc. The film provides an insight on the training each man goes through. The film culminates with the five entering a competition at the end, but to each, every man is a winner in his own right. Cote's A SKIN SO SOFT is as his other films, always fascinating and accessible, while being incredibly sensitive and occasionally humorous. A different kind of documentary, which is the reason the film is in the Wavelengths section.
Trailer: https://www.youtube.com/watch?v=0V3ktCx63Kw
VISAGES, VILLAGES (Faces Places)(France 2017) ***** Top 10
Directed by Agnes Varda and JR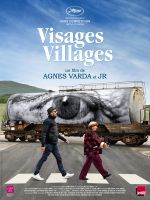 Faces Places have received high critical praise from critics at Cannes, many calling it a masterpiece. That might be too big a term to use for this little personal film but VISAGES VILLAGES is simply the most delightful and personal film at the festival. Director Agnes Varda (wife of the late Jacques Demy), now 89 is famous for her films, photographs, and art installations that focus on documentary realism, feminist issues, and social commentary with a distinct experimental style. In this latest and perhaps her last doc (she is losing her vision), she and fellow friend and artist known as JR travel around France, particularly the North in their photo camion to take pictures of the people they visit. At Le Havre, for example they photograph the images of three wives of the dockworker and paste them on stacked containers. In a deserted mining town, they paste the photograph of the last woman (wife of a miner) still staying in the old house district. When asked the reason she does this, she replies it is too demonstrate the power of imagination. No doubt about that, this film is personal, inspiring, powerful, sad and happy and perhaps 'masterpiece' might be really an accurate term to describe this film.
Trailer: https://www.youtube.com/watch?v=dmHG5HXYc9w