TIFF Cinematheque presents - The films of Jean-Marie Straub and Danièle Huille
A rare and a first!
The littler heard of but no less talented French directors Jean-Marie Straub and Danièle Huille get their first retrospective at the TIFF Bell Lightbox courtesy of TIFF Cinematheque. Though French, their talky films are shot in other languages, for example SICILIA! in Italian and BACH in German.
"Straub's films share with the greatest music, and the greatest painting, an effect of elevation."
— Richard Roud
"Works of exquisite beauty, starting originality, and exceptional rigor."
— P. Adams Sitney
"Straub-Huillet films are meant to raise ethical questions on subjects as varied as proper camera placement and the appropriate political approach to the subject."
— J Hoberman, New York Times
"Even those of us bereft of the duo's formidable erudition can be ecstatically overcome by their films' bracing clarity: encountering their sparely composed images and scrupulously natural soundscapes, one often feels as if
one is seeing or hearing for the first time."
— James Quandt, Senior Programmer, TIFF Cinematheque
Known for their unwavering commitment to cinematic clarity, Jean-Marie Straub and Danièle Huillet created one of the most important, challenging, and controversial bodies of work in the history of cinema. Cited by critics as the film event of the past year when it premiered at New York's Museum of Modern Art, this first ever Toronto retrospective showcases 16 feature films and 26 short films, many of them to be seen in the city for the first time.
- Curated by James Quandt, Senior Programmer, TIFF Cinematheque,
Highlights include:
A new 35mm print of Chronicle of Anna Magdalena Bach (1967), an account of the difficult last 27 years of the composer's life starring the late virtuoso harpsichordist Gustav Leonhardt as Johann Sebastian Bach and Christiane Lang as his second wife Anna Magdalena.
Their brilliant first film Machorka-Muff (1962), an acerbic character study of a former Nazi officer who arrives in Bonn to visit his mistress and clear the name of a Nazi colleague.
The hypnotic Class Relations (1983), an adaptation of Kafka's first novel Amerika, which fuses the Czech writer's dreamlike vision with a Marxist analysis of master-servant relations.
Cézanne. Conversation with Joachim Gasquet (1989), a moving and profound personal essay that combines passages from Joachim Gasquet's memoir of his friend Cézanne with photos of the artist taken by painter Maurice Denis.
Straub-Huillet's pair of odes to the great Expressionist composer: Introduction to Arnold Schoenberg's "Accompaniment to a Cinematographic Scene" (1972), which combines a recitation of Arnold Schoenberg's 1923 letter to Wassily Kandinsky with Bertolt Brecht's 1935 speech to the International Congress in Defense of Culture to create a fierce condemnation of anti-Semitism and German crimes against humanity; and Moses and Aaron (1974), a fully stylized and realized cinematic version of the Schoenberg opera shot in a Roman amphitheatre with an Austrian chorus and orchestra. The screening will be preceded by a live performance of an Arnold Schoenberg operatic work by Against the Grain, Toronto's acclaimed opera company Against the Grain. The performance will feature soprano Adanya Dunn with Topher Mokrzewski on piano.
Too Early/Too Late (1980), a diptych about two revolutions, in France and Egypt respectively, shot in the tense period after the Camp David Accords and just before the assassination of Anwar Sadat.
From Today Until Tomorrow (1996), Straub-Huillet's second adaptation of a Schoenberg opera, in which the composer combines a Noël Coward-like situation with modernist music to chronicle an evening of needling jealousy between a middle-class couple who have just returned from a party.
Sicilia! (1998), a four-part "road movie" that follows an immigrant returning home to the title island after 15 years in America. The film is based on Elio Vittorini's 1939 novel Conversations in Sicily (which was banned by the Fascist government).
A selection of Straub's films (made after Huillet's passing in 2006), including his most recent feature, Kommunisten (2014), which premiered at the Locarno Film Festival.
For the complete listing of the retrospective, ticket pricing and venue, please check the TIFF website at:
Capsule Reviews of Selected films below:-
THE CHRONICLE OF ANNA MAGDALENA BACH (Germany 1968) ***
Directed by Jean-Marie Straub and Danièle Huille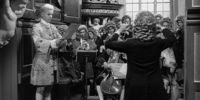 Gustav Leonhardt plays Johann Sebastian Bach in this no-nonsense musical that contains excerpts from Bach's works. The film is so-called because the excerpts are played in chronological order and linked by Anna Magdalena's fictitious chronicle. All the works are presented in a single, often immobile take, with the musicians performing in the locations where many of the works were premiered, dressed in period costumes. Strictly for music lovers, especially for those who love Bach, who will likely find this film spellbinding. A voiceover narrates a history of Bach's life as the music is played.
CLASS RELATIONS (Germany/France 1983) ***1/2
Directed by Jean-Marie Straub and Danièle Huille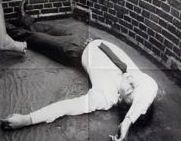 A rather lengthy 2-hour adaptation of Kafka's first novel 'Amerika', the film fuses the Czech writer's dreamlike vision with a Marxist analysis of master-servant relations. There have been many KAFKA films, but Straub and Huille's talky (shot in German) version is one of the most sombre ones but by no mans less effective. The film follows a young German as he immigrate to NYC in America (though the film was shot in Hamburg). He gets an odd job as an elevator attendant, while being invited to the room of about to be wed bride for sex. The strange new world is as odd as can be expected to be anything from Franz Kafka. An intriguing and absorbing film!
VISIT TO THE LOUVRE (France 2007) ***
Directed by Jean-Marie Straub and Danièle Huille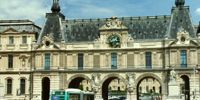 A VISIT TO HE LOUVRE is a short 47- minute film that is suitable to those that are either in the knowledge of famous painters or who have the pateince to listen the directors rambling (whether valid or not, depends on the audience) with their biased points of view.
Each painting is given its due time lasting from 2 - 8 minutes. The monologue tells whether the painting is liked or disliked; the context of the painting or its painter; how the painting was done, example using strokes or contours; an elaborate explanation of the painting itself and the effect the objects in the painting affect have on the viewer. This procedure. is repeated for all the painting chosen - why these are chosen is left unexplained. So, the film contains a series of still images of the paintings in the Louvre with a voiceover for each. The favourite painters include Giotto and Cézanne foremost, but also Murillo, Tintoretto, Veronese, Delacroix, and Courbet and of those reviled (including Ingres). The film ends on a strangely on a classic Straubian circular panorama of a Tuscan landscape.
SICILIA! (France/Italy 1998) ***1/2
Directed by Jean-Marie Straub and Danièle Huille

Running at 66 minutes, SICILIA! is a talky Italian black-and-white film that follows a man (Gianni Buscarino) returning to visit his native Sicily, after living in Northern Italy for many years. The film is an adaptation of Elio Vittorini's anti-fascist novel Conversations in Sicily, which was first published in 1941. film mainly about an elderly Sicilian woman (Angela Nugara), questioned by her son. The woman gives her explanations when asked question on different topics, that include her family life, her husband bit mostly her infidelity, which she deems is nothing wrong. The camera is superb at catching the facial expressions and emotions of the characters. Most impressive is the one shot of the old woman's look as she reveals the death of one of her suitors. The film was first screened in the Un Certain Regard section at the 1999 Cannes Film Festival and is considered the directors' best work.