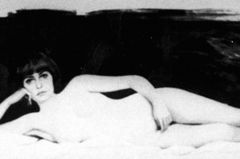 LA MARIEE ETAIT EN NOIR (THE BRIDE WORE BLACK) (France 1967) *****
Directed by Francois Truffaut
My personal favourite Truffaut movie and French film of all time sees sultry siren Jeanne Moreau do away with the 5 killers who accidentally shot her bridegroom on her wedding day. The Bride has 5 men to hunt, to lure and to kill. Julie Kohler (Moreau) methodically tracks them down one by one and does away with them without remorse. Truffaut gives her femme fatale more human feelings than necessary as she almost falls in love with one of them.
Five of France's most popular actors of the time (Claude Rich, Charles Denner, Michel Bouquet, Daniel Bouloanger and Michel Lonsdale) play 4 of Julie's victims, with Jean-Claude Brialy the common friend to two of them. It is a great delight to watch all of them on the screen again.
This film is Truffaut's tribute to Hitchcock after he interviewed and the Master of Suspense wrote the book Hitchcock. Using Hitchcock's frequent composer Bernard Herrmann, the film has the complete Hitchcock feel.
Truffaut includes the element of guilt, a key element in a Hitchcock film in the scene where Julie confesses her crimes to a priest in the confessional box. in the scene, she claims that she is dead after her groom, David was shot.
The most emotional scene is the one in which Julie realizes that she has fallen in love with one of her groom's killer, Fergus (Denner). It is something she had not expected but she cooly brushes it away determined to complete her lifeline quest.
Truffaut has been described as the kindest of film directors and this film illustrates why. He does not let the innocent characters die. The cleaner who steals and drink from the bottle that holds the poisoned liquor is emptied by Julie. When the school teacher (Alexandra Stewart) Julie impersonates to do away with a victim is arrested, she calls the police to prove her innocence. The film's best and most touching scene has the teacher enter the school gate after release only to be swarmed by all the children of the school offering their hugs and love.
The only thing missing in the story is how Julie managed to find the identity and whereabouts of the killers. Perhaps this is best left out as it might damage the credibility of the story if too much is explained.
THE BRIDE WORE BLACK is unfortunately Truffaut's least favourite film as he had a big argument with his cinematographer on the look of this movie, but to this critic the film is still perfection! I have not hailed more than 5 films in my lifetime as masterpieces but THE BRIDE WORE BLACK is surely a Masterpiece!
The film will open the Truffaut/Hitchcock tribute at the Bell Lightbox in July 2016.
Trailer: https://www.youtube.com/watch?v=xbb7LBLJvoc
(Special Screening July 28th ONLY at TIFF Bell Lightbox)